Spring Camp Notes & Observations: Day 5
4 min read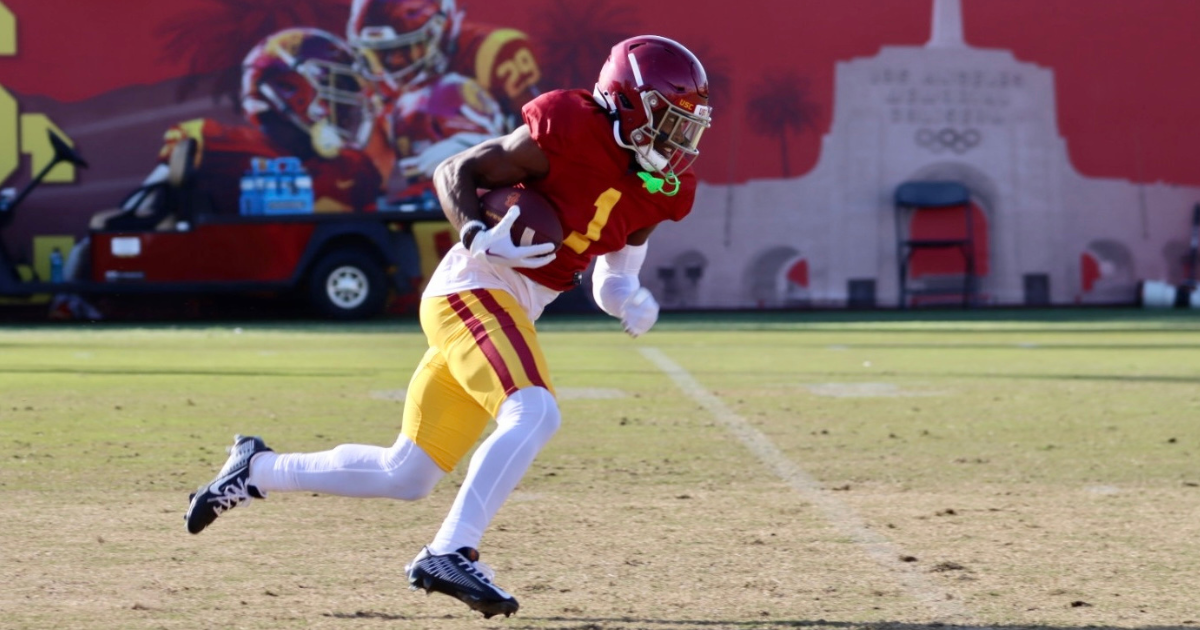 **I probably arrived a little too early for spring camp day 5. The practice was set to begin at 3:35 but at 3:24 Katie Ryan lets us know it's been moved back to 4:00.–That means 4:20 because the media isn't allowed in when practice starts.
**The weather was perfect. The sun was out with a little breeze, around 65 degrees, so compared to Tuesday's weather, "perfect" works. Although it did start to spit-sprinkle at the very end when I was interviewing Roy Manning.
**I want to add this now since I mentioned Coach Manning.–In the Day 4 report, I described Manning teaching Sam Greene how to read and break down. Manning talked about this very aspect during the interview. He explained how the defense "almost made the play" last year.
**On Day 5 the team is wearing full pads and everyone knows which field they're practicing on today.–Everything is on Howard Jones.
**There wasn't any tackle-to-the-ground in our presence. Although there were still a bunch of thud drills working on fundamentals.
**I observed this on Tuesday; Gino Quinones is one of the last guys to show up to the McKay Center for practice when he zips up on his scooter and right down the ramp at 3:15. That gives him 20 minutes to get taped and dressed.
**Annie Hanson has her work cut out for her on Thursday. The list of recruits at USC's practice was long, and it's probably why the start was pushed back; so the coaches and players can shmooze. One recruit to keep an eye on is 2026 QB, Brady Smigiel. I normally don't pay attention to sophomores, however, he passes the eyeball test and I'm told he can run well too. I noticed Josh Henson with him and his family after practice.
**Another 2026 recruit with an offer from USC, safety Brandon Lockhart from Loyola HS in Los Angeles is here.
**King Drew HS also has a presence with a few guys.
**From the 2025 recruiting class, Mark Iheanachor and Chinedu Onyeagoro were watching. Chinedu is a physical specimen!
**There was a massive young OL recruit by the name of Marqise Thorpe Taylor getting extra attention.
**There was a heavy St. John Bosco presence including Marcelles Williams and Jordan Lockhart walking around before practice. Former Bosco Brave and USC Trojan Chris Steele was also hanging out at practice.
**The RBs coming out all have a different look. Austin Jones was first and then Marshawn Lloyd. Lloyd is built differently with really thick thighs, and I swear, when he walks, it sounds like he's wearing corduroy pants.
**When we're let inside I immediately see Raleek Brown, Tahj Washington, Quinten Joyner, and Dorian Singer fielding kickoffs off the legs of Denis Lynch and new specialist Eddie Czaplicki.–(it's pronounced this way.) Coach Kiel McDonald is "yelling" at each returner, "elbows!!" The emphasis was to keep them close and tight to the body.
**Zachariah Branch came over after his punt return drills with Luke Huard and Domani Jackson to work with McDonald who was helping Branch understand where the sideline was and when to field the kick or let it go. I'm willing to go on record and say that Branch will play a significant role this season.
**So Rich Paul founder of Klutch Sports Group was watching practice. He is a big name in the NIL realm and his list of clients is long. Just a quick note about high-profile transfers.—It's usually the NIL people that are persuading players to leave one school and go to another.
**Mark Sanchez and Jordan Addison were hanging out. When Addison left practice he looked like he lost something, and then one of the team assistants came running out with his NFL football.–"WE FOUND IT!"
**Alex Grinch and Donte Williams have the DBs two-hand punching the guy in front of them and screaming, "hit him with the hands!" They also worked on angle pursuits forcing to the sideline and then trying to punch the ball when the sideline became a defender.
**New defensive analyst Greg Brown was at practice on Thursday. He was officially announced by USC on Wednesday.
**Instead of tackling someone's ankles, the linebackers are diving at a blocking pad someone is dragging on a rope to simulate the same technique. They then move into a pass coverage drill, and this is where Tackett Curtis's fluidity stands out. He moves in and out of his cuts so easily.
**I can see the DLine group doing a lot of sled work. Lots of cross-training between the DLine and the Rush Ends. Class of 2023 commit Elijah Hughes is watching intently while his soon-to-be position coach Shaun Nua goes through the routine with the group.
**I took a moment to watch the QBs throwing deep seem routes all the way at the other end of the field, and Lake McRee hauled in a beautiful 40-50 yard throw like a graceful slot receiver.
**Eric Gentry made an appearance on his scooter and his foot in a walking boot.
****As I continue to go through my notes I'll add more so keep coming back!
The post Spring Camp Notes & Observations: Day 5 appeared first on On3.