Spring Outlook: Iowa Running Backs
3 min read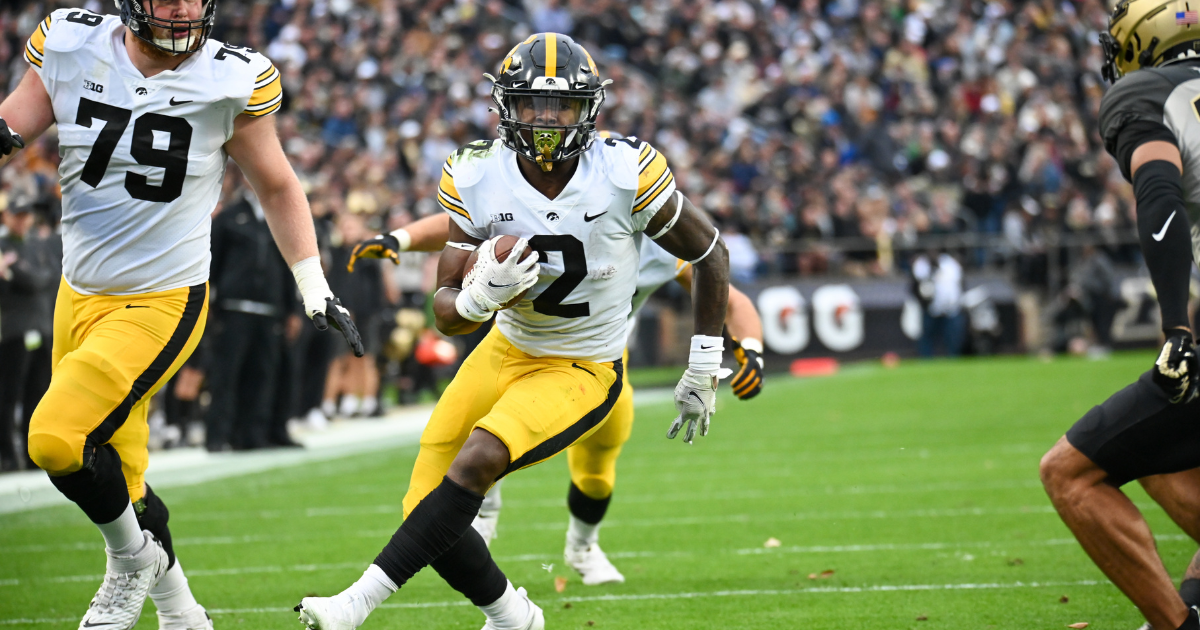 Last year was a bit of a mixed bag when it came to the Iowa ground game. Coming into the season most expected Gavin Williams and Leshon Williams to lead the way in the rushing attack. Instead it was true freshman Kaleb Johnson who emerged as the leader in the backfield.
His emergence led to Gavin Williams hitting the transfer portal and landing at Northern Illinois. This spring, Iowa will have a true three headed monster at running back with Johnson leading the way and Leshon Williams not far behind. Also emerging into a larger role will be redshirt freshman Jaziun Patterson, who played a solid game in the Music City Bowl.
While the offensive line remains a question mark this spring, if they are able to improve the level of blocking up front, this group could easily move Iowa from averaging 2.9 yards per carry last year and under 100 yards per game on the ground to 4.0 yards per carry and up near 150 yards a contest.
THE DEPTH CHART
RB: Kaleb Johnson, Leshon Williams, Jaziun Patterson
FB: Eli Miller
THE NUMBERS
Last year, Kaleb Johnson led the Hawkeyes with 779 yards rushing, averaging 5.2 yards per carry, and six touchdowns. He had a career best 200 yards rushing against Purdue. Leshun Williams rushed for 413 yards and averaged 3.5 yards per carry. He also had a pair of rushing touchdowns. He had a career best 72 yards in the season opener against South Dakota State. Jaziun Patterson had 47 rushing yards last year and averaged 3.4 yards per carry.
THREE QUESTIONS FOR THE RUNNING BACKS
KALEB JOHNSON LOOKS LIKE A WORKHORSE BACK, BUT WILL HE BE?
For whatever reason, Iowa has tended to look to be more of a backfield by committee rather than a workhorse back who gets the bulk of the carries. Tyler Goodson might have come close to it in his time at Iowa, but even then he was splitting time.
There could be a pretty decent case made that Johnson needs to get the vast majority of the carries this season. For starters, he has the build to do it. Johnson is a solid 6 foot and 212 pounds and when you watch him run, defensive players tend to just bounce off him.
He also seems like one of those backs that gets better as the game goes on and the carries pile up. Last year he had only two games where he had over 20 carries. One of those was the 200 yard contest against Purdue.
While Leshun Williams certainly merits a decent workload, it seems pretty clear that Johnson probably needs more carries to get the most out of his abilities.
WHAT ABOUT A PASS CATCHER OUT OF THE BACKFIELD?
With a pretty thin group of wide receivers, Iowa could certainly use some pass catching help out of the backfield. They haven't been shy about lining up running backs as essentially a wide receiver in the past, but it's not a regular occurrence.
Having said that, are any of the top three backs capable receivers out of the backfield?
Last year, Leshun Williams caught 11 passes for 78 yards. Johnson caught 4 passes for 27 yards and Patterson was on the receiving end of one pass for one yard. The numbers would suggest that Williams has the best chance to be that guy, but from a skill set perspective and to increase his usage, it feels like Patterson could be the guy. This will be an area of interest this spring.
WHAT ABOUT FULLBACK THIS YEAR?
Iowa is one of the few schools that still uses a fullback on a pretty regular basis. It is interesting that they only list one fullback on the depth chart this spring. That one player is Eli Miller.
Miller moved from linebacker to fullback and emerged on the depth chart late in the season, including getting a start against Nebraska.
Iowa can't live having just one fullback, right?
Denin Limouris is listed on the roster as a fullback, but not on the two deep. Could a linebacker move over? I think that's certainly possible given the depth at the position. Maybe one of the true freshmen walk-on players becomes a candidate. Perhaps someone like Nolan DeLong from Durant could be a candidate.
The post Spring Outlook: Iowa Running Backs appeared first on On3.