Steve Sarkisian admits Oklahoma crowd noise 'spun' first Red River Showdown matchup in 2021
2 min read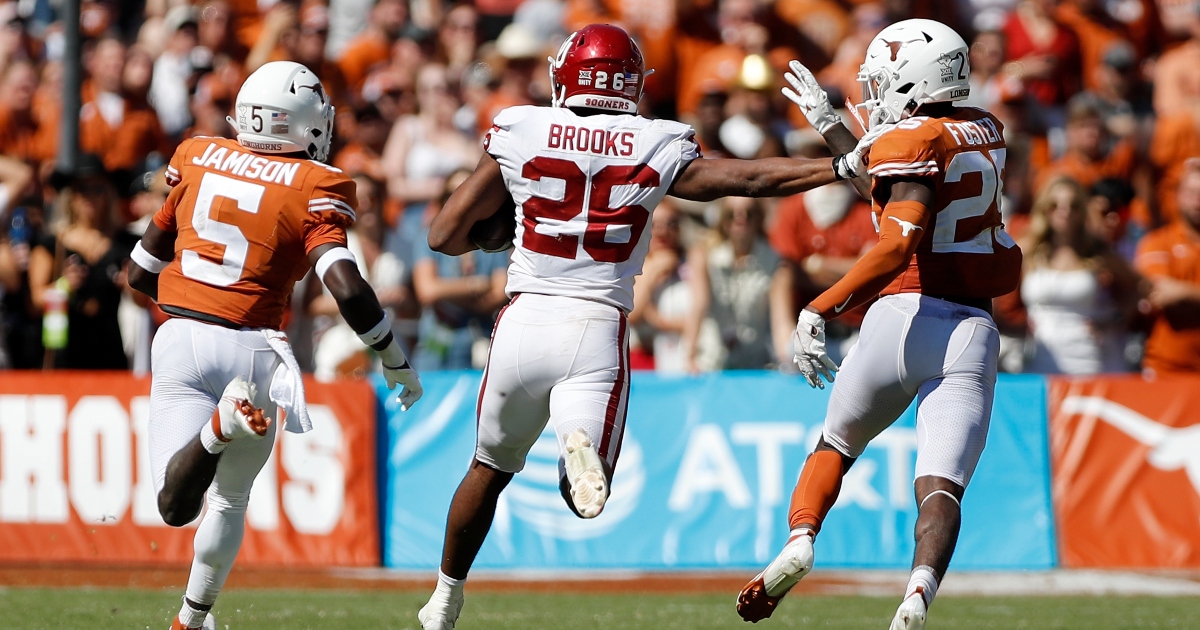 There's a learning curve when it comes to rivalry games, just ask Steve Sarkisian and Brent Venables. Both lost their first Texas–Oklahoma games in disappointing fashion over the past two seasons. While Venables has coached in the game as an assistant coach, Sarkisian entered the Cotton Bowl with no prior experience.
One of the best parts of the rivalry was also something Sarkisian struggled with during his first experience. Half of the stadium is in burnt orange, supporting Texas. The other half are Oklahoma fans are both sides can get loud. Split right down the middle, home-field advantage can change based on what yard line the football is on.
While Oklahoma was making its massive comeback in 2021, Sarkisian admitted he could not fully grasp the noise coming from their half of the stadium.
"They're split at the 50-yard line," Sarkisian said during an interview with the Bussin' With The Boys podcast. "So, in one end of the field, it's a home game. You get to the other end of the field, it's a road game. I mean that. I had to learn that the first year. I mean, we were false starting. I'm like 'what is going on?' We were stuck on their end of the field. That ultimately spun the game in the fourth quarter there too."
Texas held an 11-point lead heading into the fourth quarter. In what eventually became a common theme of the season, Sarkisian then saw his team collapse as Oklahoma came all the way back in incredible fashion. Kennedy Brooks broke free in the final seconds, scoring what wound up being the game-winning touchdown.
In the fourth quarter, Texas spent the entire period attacking toward their end of the stadium. Unfortunately, that meant most drives were started on the opposite end and had to deal with the Oklahoma crowd noise. The Longhorns wound up with six penalties in the game for 28 yards.
Texas fans likely do not enjoy remembering the 2021 game against Oklahoma, causing massive heartbreak. But Sarkisian made up for the game in a big way just a season later, beating the Sooners 49-0 last October.
Sarkisian made sure to take the Oklahoma crowd out of it early, building a 28-0 first-half lead. Instead of allowing any kind of comeback, Texas kept its feet on the gas and got the statement victory of the head coach's short tenure in Austin.
The post Steve Sarkisian admits Oklahoma crowd noise 'spun' first Red River Showdown matchup in 2021 appeared first on On3.