Steve Sarkisian: Nick Saban saved my career, I plan to extend that olive branch
2 min read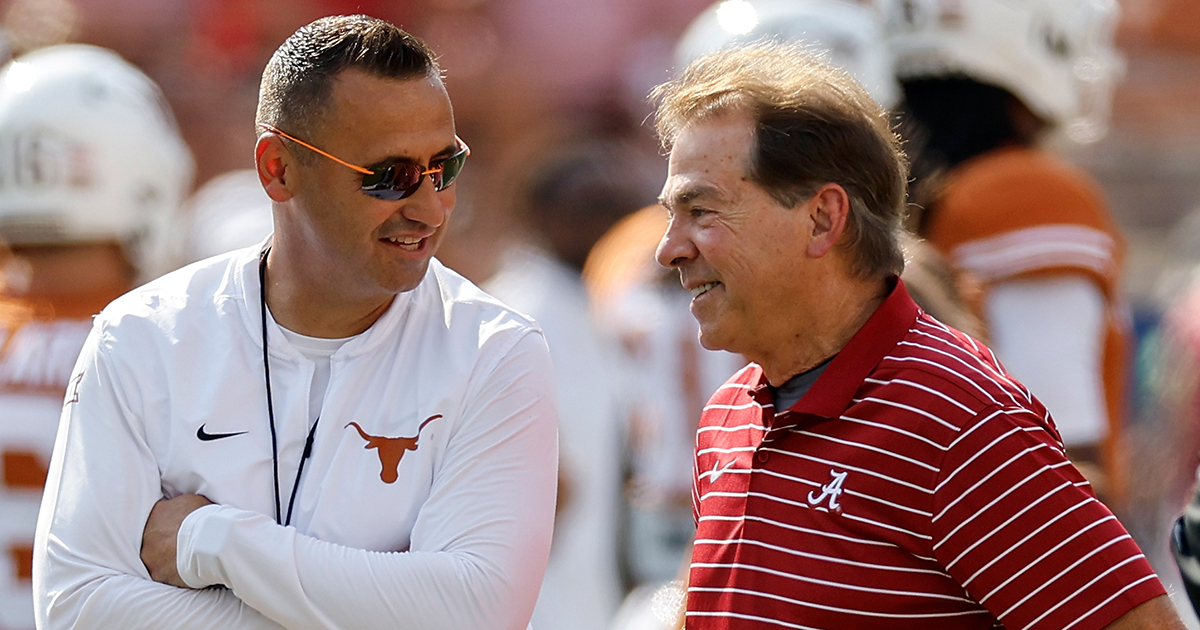 Steve Sarkisian finally has the Texas program moving in the right direction. On the field, expectations are once again high in Austin heading into the 2023 season. In addition, Sarkisian has brought in back-to-back top-five recruiting classes and continues to go after high-level national prospects. To this point, things are clicking for Sarkisian.
None of this would be possible without Nick Saban according to Sarkisian. In fact, he says the Alabama headman "saved" his career by extending a job back before the 2016 season. While it was just an offensive analyst role, Sarkisian eventually became an NFL offensive coordinator before coming back to Tuscaloosa and eventually accepting the Texas job.
"In 2015, as I came out of that and had gotten fired at USC," Sarkisian began. "Gone to recovery, starting working on me, personally. And then coming out of that, not being able to get a job. Somewhere in there, someone has got to extend an olive branch to you. In 2016, I was ready to go do TV. I couldn't get an interview for a job. And Nick Saban saved my career and he offered me an analyst job… I'm forever indebted to him."
Sarkisian spent one season as the Atlanta Falcons' play caller before moving back to the college ranks and working with Saban again. There, he produced two of college football's top offenses during the 2019 and 2020 seasons. Saban even trusted him as acting head coach for the 2020 Iron Bowl when sidelined due to COVID-19.
Texas took notice and hired him to be their next head coach.
Now, Sarkisian is hoping to bring the game grace into his own program. He believes everyone should get a second chance and have the opportunity to work through struggles. He remembers Saban being there for him when dealing with players.
"It totally changed my perspective," Sarkisian said. "It changed my perspective how I coach, how I deal with our players. Because everyone is going through stuff, everybody's got stuff. Whatever your stuff is, you just try to get through it. If I can be that guy who can extend that olive branch to our players are we go through this journey… I always lean back to that time."
Sarkisian and Saban faced off last year and will do so again in September. Once Texas moves into the SEC, they will see each other every other year. While they might be competing for conference titles on the field, there will always be respect between the two.
The post Steve Sarkisian: Nick Saban saved my career, I plan to extend that olive branch appeared first on On3.