Steven Sipple: As we learn about Matt Rhule, his hire of Donovan Raiola makes more and more sense; and NU's "happy place" vibe good only to a point
5 min read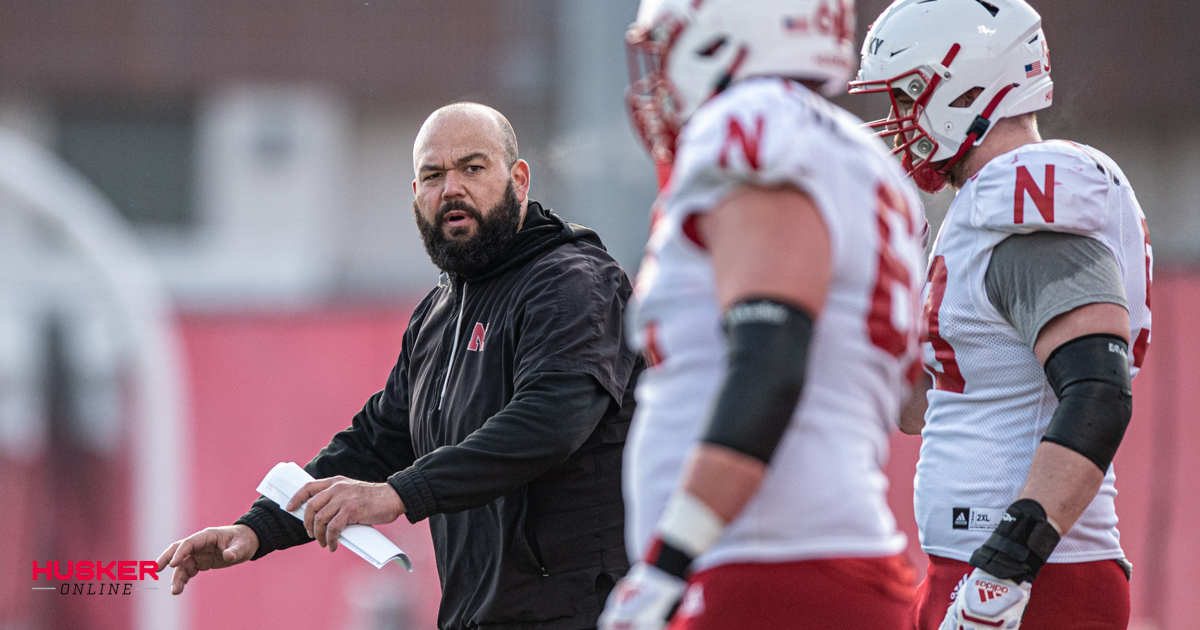 Things I know, and things I think I know: Donovan Raiola doesn't exactly embrace the Nebraska football media limelight.
Oh, he's pleasant enough. But my guess is if he had his druthers, he wouldn't do interviews at all.
He's an example of a Nebraska assistant coach whom we may never get to know all that well.
At any rate, we'll watch him and his group closely this coming season.
In fact, when Nebraska plays its annual Red-White Spring Game on Saturday, the offensive line will be a focal point, led by a second-year Husker assistant coach who prefers to let his group's actions do the talking.
"He's an old-school, blue collar-type grinder, and his guys play together," Husker defensive coordinator Tony White told reporters last week as the spring season moved into the final stages. "It's really making us better. It's fun to go against those guys because you can see them working. You can see them constantly getting better, challenging the defense.
"They're making us really know the game and really know what we've got to do."
The 3-2-1: What will the spring transfer portal window bring for Nebraska?
Matt Rhule expresses confidence in Donovan Raiola
New Nebraska head coach Matt Rhule expressed confidence in Raiola and his offensive line essentially as soon as Rhule stepped foot on NU's campus in late November. Rhule seems to genuinely believe that talk of the offensive line's struggle in 2022 is overblown.
The new staff praises what is now a veteran O-line group, and three linemen in particular draw Rhule's praise — junior tackle Bryce Benhart, senior guard Nouredin Nouili and junior center Ben Scott, a transfer from Arizona State.
Of course, Nebraska fans have heard it all before: The talk of a Pipeline resurgence. The linemen's "no more excuses" bit. On and on.
Raiola, though, mostly keeps his head down and works.
Soon after Rhule was hired, as he was in the midst of formulating his staff, he noticed how Raiola just kept showing up to work, day after day, even though Raiola at the time didn't know whether he would be retained or not.
"He's just a blue-collar guy," White said. "He's not all about the softness, all about the fluffiness. He's all about getting his guys on the field and doing things together. Let's work, let's be physical, let's get this right. It's kind of cool.
"Coach Rhule is kind of like that, too. He's like, 'Let's make no excuses. The game is won this way, so let's be about it.'"  
As we learn more about Rhule, his hire of Raiola makes more and more sense.
They're old-school football men in a lot of ways.
If you're a Nebraska football fan looking for reasons to be optimistic about the program's future, you may do well to start with Rhule's mindfulness of strong play in the trenches. Granted, virtually every big-time college coach is mindful of strong line play. But it becomes a matter of degrees.
Rhule emphasizes it to a high degree.
Let's see how it looks Saturday.
Rhule's emphasis on hitting isn't just lip service
Blocking and tackling. That's the essence of football, although we often try to overthink it.
I still remind myself at times to keep it Sipple, er, simple.
Rhule gets it.
"Coach (Rhule), he's kind of an old-school guy in terms of, hey, the game is won physically," White said. "We practice physically. So, the very first thing we do on defense is always getting off a block and knowing how to make a tackle."
He added, "Everything we do is about physicality."
This apparently isn't just lip service. In Dennis Dodd's recent article about Rhule, Ted Carter, NU's system president, recounted the 2016 AAC Championship Game. Rhule's Temple team defeated Navy 34-10, much to the chagrin of Carter, who was superintendent of the Navy at that time.
"I remember Temple doing drills before the game, actually hitting each other," Carter said. "It got everybody's attention. That's like something you don't see. And then they played that way the entire game.
"They took out our starting quarterback and one of our running backs in three plays. And we lost to Army for the first time in 15 years the next week."
Seasoned Nebraska fans remember the days when the Huskers played with such brute physicality that opposing coaches expressed concern about the game that was next on the schedule.
That was long ago. Too long ago.
Rhule: We have to be relevant again
Dodd refers to Nebraska football as a "diminished giant," and that's a good way to put it. But Nebraska is still a giant in the college game. Still a blueblood. Blueblood status is hard to obtain, so it makes sense that it's hard to lose.
Rhule clearly has the proper reverence for the program. He says he feels an obligation to make it relevant again. "We have to be relevant again," he told Dodd.
I like the sound of that.
Nebraska needed demanding boss, and has one
As we learn more about Rhule, Rhule is learning about Nebraska as a program and especially the vibe that surrounds it.
"It's a very happy place," he said. "We have a great fan base. We have great everything."
One element of the "happy place" vibe is many Nebraska players tend to be treated like kings well before they earn exalted status.
The "happy place" vibe can mask harsh realities.
In that regard, you get the feeling Rhule is frank with his players.
"I just want to make sure they understand that we're 4-8, you know what I mean?" he said Saturday. "That's not a negative thing. We have to earn the right to say we're a good team. We have to fight to be a good team."
He doesn't want his players to relax. He doesn't want his staff to relax, either.
"I think sometimes we have a tendency to be like, 'Ah, well, things are going to be better now,'" Rhule said. "We've got to make them better. We're not a great team yet."
He has the reputation of being a demanding boss. I can see it.
That's a change Nebraska needed.
Never miss breaking news or another HuskerOnline article again. Click HERE to sign up for HuskerOnline's Daily and Breaking News Newsletters.
The post Steven Sipple: As we learn about Matt Rhule, his hire of Donovan Raiola makes more and more sense; and NU's "happy place" vibe good only to a point appeared first on On3.