Steven Sipple: If you listen closely to Matt Rhule, he clearly likes his first Nebraska team, and that's not always the case with coaching changes
5 min read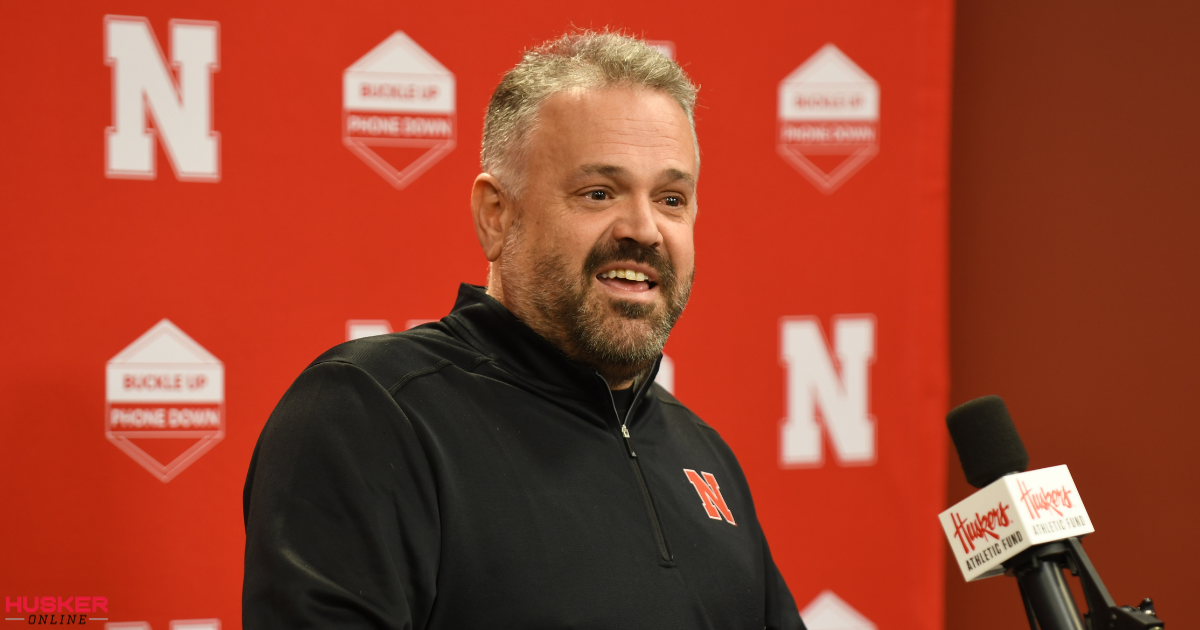 If you follow Nebraska football at all, you might already understand the obvious: Matt Rhule is a reporter's dream. He's loquacious. He routinely offers valuable insight into his team. Heck, he seems to enjoy offering insight. He seems to genuinely embrace the deal-with-the-bothersome-media part of his job.
There's also this: If you've listened closely to Rhule this spring, you can't help but conclude that he likes the team he inherited. That's obviously not always the case when there's a coaching change. But it appears to be the case in Lincoln.
If Rhule doesn't feel strongly about the team he's inherited, he fakes it incredibly well.
Following a scrimmage Saturday at Memorial Stadium, Rhule was asked a question regarding Nebraska's special teams. He expects the Huskers to be potent in that area. The reason he expects his team to be proficient in that area was telling.
"I think we have a lot of fast guys," he said. "I think we have a lot of pro football players, guys who want to be pro football players (and) who can be. I expect that they can contribute on special teams."
Nebraska hasn't exactly been an NFL talent factory in recent years. So, his comments capture the imagination.
Matt Rhule sees NFL talent on both sides of ball
In past interviews, Rhule has talked openly about no fewer than four players whom he thinks have NFL futures, with senior corner Quinton Newsome leading the list. Rhule also has mentioned junior safety Myles Farmer in that vein. Offensively, he's attached possible NFL futures to junior quarterback Jeff Sims and junior tackle Bryce Benhart.
Based on Saturday's comments, Rhule obviously feels there are others.
This isn't only a pure talent discussion. Back in February, Rhule noted the cumulative GPA for returning Nebraska players was 3.124 (on a 4.0 scale).
"I think anytime you have a football team that is above a 3.0 GPA, you have a really good culture," he said, noting 61 of 98 returning players had a 3.0 GPA or above last fall.
A really good culture? Rhule doesn't have to speak in glowing terms about this group. But he clearly believes he walked into something other than a train wreck. If he thinks he did walk into a train wreck, if he has major concerns, he hides it all incredibly well.
"This group's awesome," the coach said Saturday.  "It's really hard to buy into a new coach. It's just really hard, right? Because they haven't seen it work. So, how do they know that what I'm asking them to do will work?
"These are the teams I always love."
The Weekly Rundown: Nebraska hits the home stretch of spring practice
"I really appreciate these guys," head coach says
Rhule, hired Nov. 26 as the program's 31st head coach, said he loves players "who buy into what we're asking them to do without any evidence of it working."
"And I love the recruits who commit to us before we're successful."
If you've listened to Rhule this spring — Nebraska's first practice was March 20 — the only conclusion is Nebraska players have bought in well to what he's emphasizing. That was evident Saturday after the team's second major scrimmage of the spring.
"I really appreciate these guys," he said. "They're trying so hard."
At that point, Rhule once again graced us with his characteristic insight about his team.
"They get in a fight in a scrimmage, and we've got guys running the stadium steps (for punishment), like in the middle of the scrimmage," the coach said. "They just do it, man."
No questions asked.
"They're awesome," Rhule said.
My heavens, I hope this part of Rhule, the loquacious and insightful part, lasts through thick and thin. I mean, I've seen Nebraska chew up a few head football coaches and even a few assistants. Let's be honest, this place isn't for everyone.
Nebraska fan base craves coach's insight
Rhule, though, seems to embrace it. Whereas Bo Pelini was taken aback by the size of the Husker football media corps and never warmed to it, Rhule seems to enjoy the grand stage.
C'mon, do you think Scott Frost enjoyed a single minute of the media glare? Be real.
Rhule, though, not only seems to like it, but he's good at handling it (so far, anyway). He genuinely enjoys talking about football in depth, and that's what the Nebraska fan base craves. Keep in mind, Rhule's father was a Nazarene minister who had to raise money for the church, Rhule told Dennis Dodd in 2017. Being an eloquent and impassioned speaker is perhaps in the coach's genes.
To be sure, the new Nebraska coach has a way with words. He's thoughtful. He talks fast and sometimes super-fast, so you've really got to listen intently. And as much as we listen to what he does have to say, we also should note what he doesn't say.
He never talks about Nebraska's previous strength and conditioning program. The former head strength coach, Zach Duval, was quickly shown the door by Rhule. The same goes for Dave Ellis, the previous director of performance nutrition. They weren't given any chance at all to return.
We know for sure that Frost and his coordinators, Erik Chinander (defense) and Mark Whipple (offense), weren't hitting on all cylinders last season. Chinander simply seems to have lost his way, while Whipple found himself in a challenging situation that he didn't handle especially well.
Enter Rhule. I'm not making any predictions for Nebraska for 2023. But it's meaningful to me what Rhule says about his first Husker team, and I will say that I'm confident he's tightening screws — little screws and big ones.
"We won't win at the level we want to win if we turn the ball over," Rhule said Saturday. "We will win if we don't turn the ball over."  
He said it with unmistakable confidence. Yeah, he truly likes this team. If he doesn't, he's got me fooled.
Never miss breaking news or another HuskerOnline article again. Click HERE to sign up for HuskerOnline's Daily and Breaking News Newsletters.
The post Steven Sipple: If you listen closely to Matt Rhule, he clearly likes his first Nebraska team, and that's not always the case with coaching changes appeared first on On3.