Taylor Tatum Details Impact of the USC Spring Game Visit
6 min read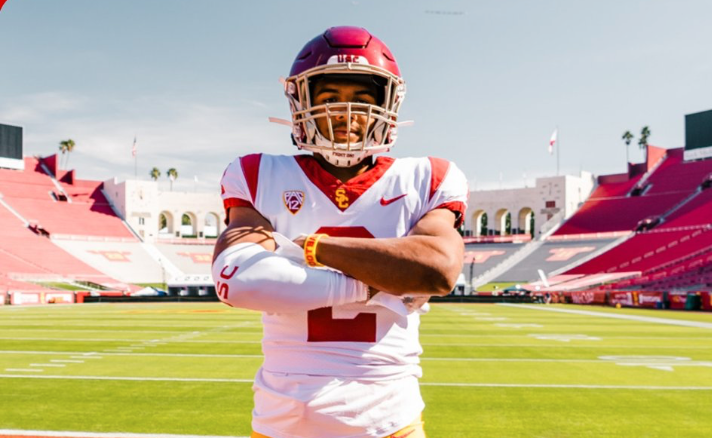 On300 No. 43 junior running back Taylor Tatum hit the road last fall and one of the stops was in Los Angeles. He took his first unofficial visit to USC in early November.
Tatum, On3's No. 2 running back in the country in the 2024 recruiting cycle, attended the USC vs Cal game at the Coliseum. He arrived early enough to get in a photo shoot.
USC's one of a handful of major contenders in the mix with the four-star running back along with Texas A&M, Texas and Baylor. He's largely been recruited by and visited regional schools, but boasts a national offer sheet with overtures from the likes of USC, Oregon, Tennessee, Texas, Tennessee, Michigan St., TCU, Auburn, Oklahoma, Stanford, Ole Miss, Penn State, Notre Dame and many more.
First USC Visit Led to Another
Typically not many have considered USC a serious threat for the elite prospects in Texas, but Lincoln Riley and his staff have definitely changes that dynamic. And USC is one of the strong contenders for Tatum. 
"Coach (Kiel) McDonald has been recruiting me hard since the beginning of June when USC offered me," said Tatum. "The communication between Coach McDonald and I has been really good. l like talking with coach (Lincoln) Riley as well. So, it seemed like a visit had to made."
Until elite out of state prospects visit a school, it's impossible to know if the first visit will lead to a second, but it did with Tatum. He was back at USC Saturday April 15 for the Spring Game at the Coliseum.
USC Unofficial Visit No. 2
As mentioned above, a second unofficial visit from a highly ranked prospect from out of state is typically a really big deal. That's definitely the case with Tatum. His interest in USC has grown pretty strong since Kiel McDonald joined Lincoln Riley's staff in early 2022.
"It's more impactful going back for a second time," Tatum said. "Me and Coach Mac talk every day, me and Coach (Lincoln) Riley talk every other day, so it's those connections that really brought me back. It was great getting back there to talk to them in person, look at some film and Coach Riley talked about his plan for me."
USC's Plan for Tatum
Obviously not every running back offers a program the same qualities. Tatum's impressive versatility somewhat sets him apart from most, and Riley's plans for him are intriguing.
"Their plan is to use me in ways they can't use every running back," said Tatum. "I'd still be getting my carries in the backfield, but I'd do more stuff like Raleek (Brown) did last year. Line up in the slot, go in motion, run screens and routes out of the backfield. But then still get carries out of the backfield."
NFL Running backs come and go more frequently than any other position. That's just the nature of playing a role where you're essentially involved in a car crash 20 times per game. Through all that turnover, one RB has remained dominant, Christian McCaffrey.
In 11 games with San Francisco, McCaffrey posted 746 yards and six scores on the ground while adding 52 receptions, 464 yards, and four touchdowns via the air. Lincoln Riley and Kiel McDonald see a similar role for Tatum.
"Coach Riley kind of emphasizes that coming to USC will prepare you for the NFL," Tatum said. "The playbook, the schemes and NFL coaches come to Coach Riley to talk about plays. So, there's a lot of those connections with him. And his pro-style system is exciting."
Lincoln Riley the OC
It's no secret many of the top offensive prospects are impressed with Riley's offensive prowess. Tatum is among the impressed after two visits.
"See his offense work in person and seeing all the different stuff he does with everyone, is impressive," Tatum said. "Also the behind the scenes stuff and learning about his thought process. How him moving certain players around will cause the defenses to react a certain way. We got into that while we were put there, too. So getting a chance to be kind of inside his head was cool."
Kiel McDonald's Impact
"The film speaks for itself with what Coach McDonald has done," Tatum said. "What did at Utah, what he did with Travis (Dye) and what he's doing right now. And not just with highly-ranked athletes. At Utah he didn't have a bunch of four and five star guys. He did it with a lot of three-stars who are playing in the NFL right now. His track record is really cool."
Texas RB Pipeline Continues?
With WeAreSC submitting a prediction for 4-Star McKinney (TX) RB Bryan Jackson, landing two lone-star backs could be a reality again in 2024.
In December USC signed Texas running backs Quinten Joyner and A'Marion Peterson. A few years back the Trojans signed Ronald Jones and Aca'Cedric Ware. Could it be Jackson and Tatum in 2024? Time will tell, but there a chance for sure.
"Coach McDonald preaches to me that he doesn't care how long you've been at a school," Tatum said. "He'll teach you the playbook and the rest is on you to earn your spot. He made it clear at the Spring Game that Quinten has been getting a lot of reps and looks explosive. Just seeing that made it clear I can earn a spot no matter how long I've been there.
"I also love that his plan isn't to always line me up the backfield. I'm not really worried about depth though."
More to the Latest Visit Than the Game
"I was at USC yesterday until about eight talking with Coach Riley, Coach Mac and new went out to eat," said Tatum. "But most of the time we were just talking."
Upcoming June 2 Official Visit
Over the years we've been told a prospect can't experience what they do on official visits, no matter how many unofficial visits were taken. Tatum hasn't visited USC as many times as the local guys, but he's spent a significant number of hours there now. He shared what he hopes to take away from his upcoming June 2-4 official visit.
"We'll probably talk more about commitment," Tatum said. "Like what would a commitment look like. Obviously if you're taking an official to a place, it's already in the air for that. I'll also get to spend some more time with the coaches, but I think having an opportunity to spend time with the players will be as big as anything. Speaking with the players is one off the only things I haven't done yet."
La Opinion de la Familia
Tatum's family joined Tyler on the visit last weekend and will be back with him in June for the official visit.
"My mom and dad were there with me," said Tatum. "My sister will join us on my official visit. I'm really close with my parents and they like Coach Lincoln and Coach Mac a lot. Coach Mac and my dad talk every other day. Coach Mac always texts with my mom, so that relationship with them obviously helps out a lot. And they actually like L.A. and they like the branding and connections at USC, too."
What's Ahead?
Tatum told WeAreSC he has two or three more unofficial visits to take before he announces his top schools and takes his June 2 USC official. He's set for a June 9 official visit to Oklahoma and he'll schedule one soon for Michigan.
The post Taylor Tatum Details Impact of the USC Spring Game Visit appeared first on On3.