TCU's football success has reverberated through campus and made the Horned Frogs 'a national brand'
5 min read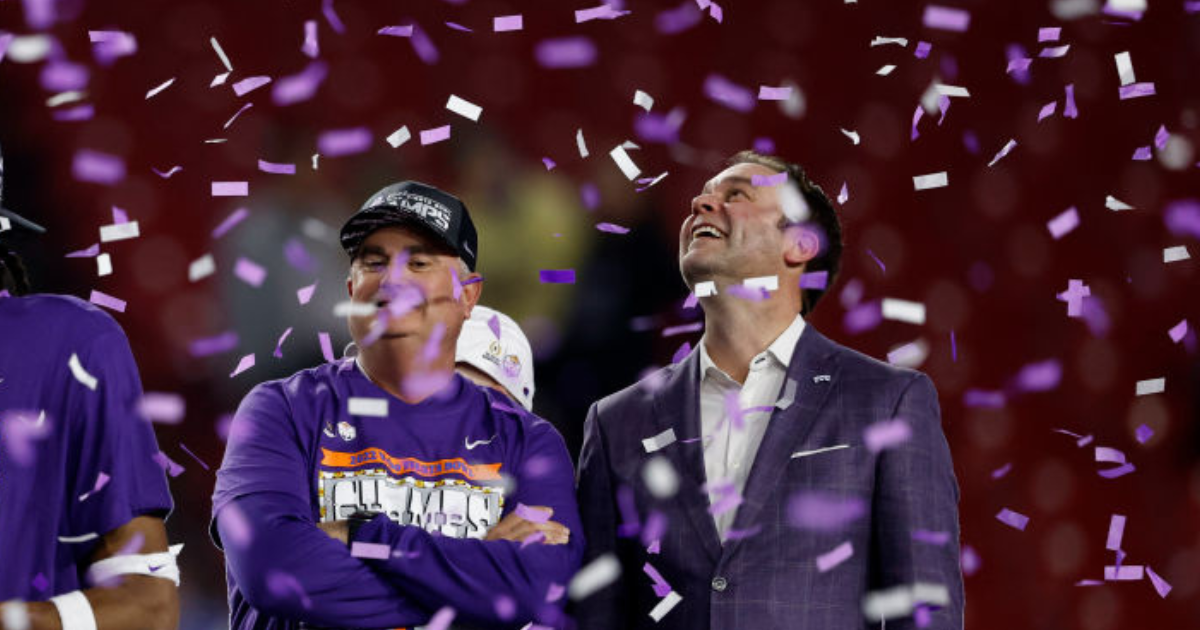 When a donor agreed to a request for $2 million to the TCU athletic department, Horned Frogs athletic director Jeremiah Donati realized he had screwed up.
"I broke the fundamental rule in fundraising," Donati said with a laugh. "You ask for more than the dollar amount you think they can give you. I asked a donor for $2 million, hoping to get $1 million. He said 'yes.' I was kicking myself coming back from the meeting."
TCU faithful succumbed to the magic of the Horned Frogs' move from predicted mediocrity to the precipice of No. 1. The fans did not disappear when TCU got overrun by Georgia in the College Football Playoff National Championship. From admissions to attendance, from fundraising to merchandise, from media impressions to website visits to emails opened, the benefits of a 13-2 season have poured into the Fort Worth campus.
"When I first got here, we were a good local brand," Donati said, who arrived at TCU in 2011, shortly after the Horned Frogs had completed a 12-0 season by beating Wisconsin in the Rose Bowl. "This puts us as a national brand. I'm not saying we're Texas or Georgia. We've become a national brand."
The evidence for that may be in the 29.2 billion-with-a-b media impressions that TCU made last season (estimated worth: $3.4 billion), or the hundreds of orders from coast to coast that the TCU bookstore filled daily in December, or the 40 percent increase in visitors to TCU.edu – not gofrogs.com, the athletic website, but the university website – during the week of the Fiesta Bowl, where TCU beat Michigan 52-49 in a CFP semifinal.
"People were sniffing around," Donati said. "That tells you a lot."
No 'pretty pictures' needed
It all happened so fast. Don't forget – TCU didn't enter the AP Top 25 until the first week of October. By coincidence, that's when the athletic department began a $40 million fundraising campaign to renovate the current Human Performance Center and build a Football Performance Center.
"That was a project that we thought would probably take us 15 months in a normal cycle," said Michael Levy, the associate vice chancellor and associate athletic director for development and the Frog Club. TCU reached commitments for $40 million in six weeks. Usually, Levy said, you commission a drawing of what the facility might look like, "pretty pictures" that you use to get a couple of major donors to make gifts, and only then do you begin a real design.
"We raised the money before we even got to that," Levy said.
The department raised the money so quickly that officials are considering the creation of an endowment that would fund the department's ability to keep the performance centers at the forefront of research and technology.
"I have no doubt when we cut that purple ribbon in late 2024 that it will be the best facility in the country," Levy said. "We also know in 2026 there will be some can't-miss technology or feature that we have to have to stay competitive."
Success leads to more donations – a lot more
Those gifts came through the Investors Society, a program begun last spring in which TCU asked for a minimum $50,000 commitment over and above what boosters pay for tickets and parking. When the season began, the Investors Society had 24 members. It now has 111, who have committed a total of $51 million. The athletic department also has sold 200 more club seats ($3,000 per, plus a capital gift ranging from $12,500 to $25,000), which means more than $3 million in new gift revenue.
Levy joked that he plans to claim credit for the increases in his annual review. Actually, the truth is that the athletic department took steps a year ago to be ready for success. For instance, when was the last time you heard of a ticket seller chasing away more than 3,000 season-ticket holders?
"We took a pretty decent haircut," Levy said. Given that 2022 season tickets ranged in cost from $270 to $1,200, that's a seven-figure haircut.
"We looked at all of our ticket data. If you sold a certain percentage of seats over a certain number of years on a consistent basis, we pulled your tickets," Levy said. "There are a lot of Texas, OU, Oklahoma State grads in our backyard, Texas Tech grads, (more) than there are TCU alums, and our stadium felt that way."
Like buying stock futures, TCU began reaping the benefits last season. The average attendance of 46,562 at Amon Carter Stadium represented a 17.8 percent increase over 2021. Put another way, the Frogs attracted more attendance in six games in 2022 (279,373) than they did in seven games in 2021 (276,704).
"Last year, our crowds felt more 'TCU' and hopefully that's a trend that can continue," Levy said.
Not to mention that all 3,000-plus of those pulled season tickets have been sold to TCU fans.
TCU admissions trending up
By December, when TCU reached the College Football Playoffs, the effect of Frog Hysteria could be seen in the 250% increase in emails opened, click-throughs and form submissions. It could be seen in the hundreds of fans who began lining up outside the campus bookstore at 2 a.m. to buy special edition jerseys with the No. 15 worn by quarterback Max Duggan, the Davey O'Brien Award winner.
Follett, which operates the TCU bookstore, guards sales data as if it was nuclear codes. Store director Rawn Johnson described the Duggan jersey sales and the success of pop-up stores at the Fiesta Bowl and in Santa Monica during championship game weekend.
"I met a family from New York in the store yesterday," Johnson said via email. "They had no connection to TCU, but their child became a fan during the playoff run and they made it a point to come by while visiting family in Dallas."
Heath Einstein, the dean of admissions, said it's too early to measure for a "Flutie Effect," named for the rise in applications at Boston College in the mid-1980s when Eagles quarterback Doug Flutie won the 1984 Heisman. Come back next fall, Einstein said. But he pointed out that TCU currently is seeing a 2.5 percent increase in the number of accepted applicants who informed TCU that they are coming.
"Because our yield started trending ahead fairly early, coinciding with our playing in big game after big game," Einstein said via email, "we adapted our enrollment model and admitted fewer students in the later application rounds so as not to over-enroll next year's entering class. Therefore, our admit rate will go down this year, making TCU more selective in admission."
Which is, of course, the desire of every admissions department.
"Over time," Einstein wrote, "the perception of greater selectivity can drive demand and ultimately mean increased net tuition revenue."
Over time, if coach Sonny Dykes makes TCU the bell cow of the reconfigured Big 12 – the one without Texas and Oklahoma and with BYU, Cincinnati, Houston and UCF – the effect of football success will continue to reverberate through campus. Expect Donati to continue to raise his ask.
The post TCU's football success has reverberated through campus and made the Horned Frogs 'a national brand' appeared first on On3.