Team talk: Miami Hurricanes women's basketball ready for LSU challenge – "We're tough, too"
5 min read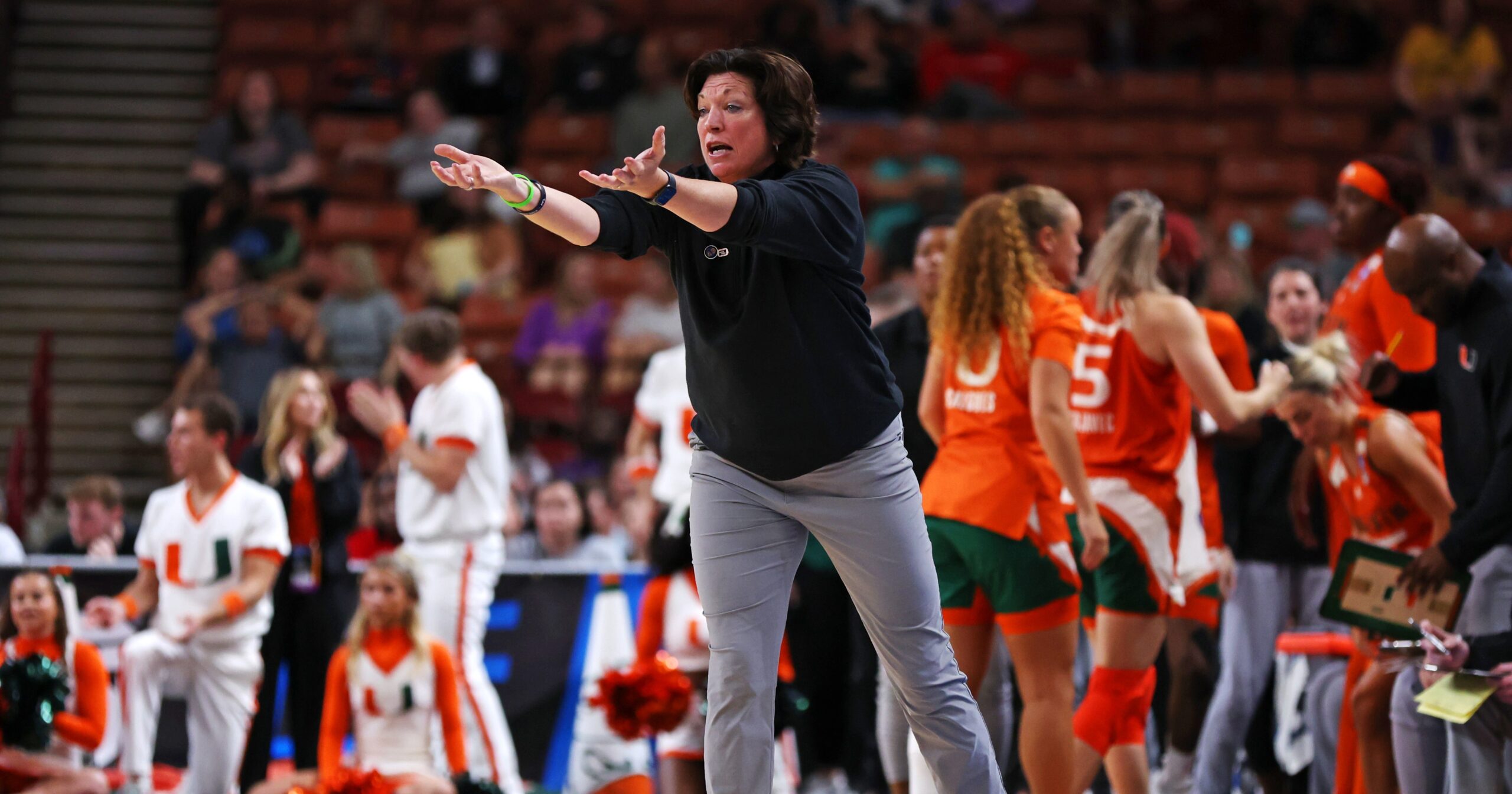 ANALYSIS: Road to Final 4 for women's hoops goes through talented LSU team that was ranked as high as No. 3 in the nation this season
The No. 9 seeded Miami Hurricanes reached the Elite Eight for the first time in program history with Friday's win over Villanova. But don't take that accomplishment to mean this team is anywhere near satisfied.
The next challenge: No. 3 seed LSU tonight at 7 p.m. in Greensville, S.C., with a Final Four berth on the line.
"Got a lot of work to do for sure, happy to have this opportunity, be in this situation for sure," Miami coach Katie Meier said. "Running up against an amazing team."
The Tigers ranked No. 9 in the nation, were dominant in the first two rounds of the NCAA Tournament. The team took down 14 seed Hawaii in the opening round, 73-50, and then dispatched 6 seed and 18th ranked Michigan, 66-42.
On Friday the team beat No. 8 ranked Utah, the 2 seed, in a 66-63 nailbiter. 
The game featured 12 lead changes and 11 ties.
"Some familiarity with LSU, some of the players," Meier said. "Excellent talent, incredible coaching, tons of passion, tons of grit. If it's about toughness,  you have two great examples of it in LSU and Miami."
The Lady Canes surpassed expectations to this point with some close hard-fought games. UM won the first round game against Oklahoma State by one point, then beat top seed Indiana on a last-second bucket by Destiny Harden.
In the Sweet 16 game Miami opened a 21-point lead against Villanova only to see the Wildcats battle back to take the lead.
But the Canes preserved and won, 70-65.
"That was a heck of a game with a lot of storylines to it," Meier said. "We're going to move forward, do it really quickly and really well.
Miami will probably go about as far as Harden and point guard Haley Cavinder can take the team.
Cavinder averages 12.5 points, 4.9 rebounds and 2.5 assists; Harden averages 12.2 points and 5.9 rebounds.
"We're playing together, relying on our defense and starting off games really, really strong," Cavinder said. "Just keep going, keep getting stops.
Jasmyne Roberts also has the ability to put up points – she averages 8.9 points per game and had a team-high 26 points on 10 of 16 shooting in the most recent win.
"It's a really exciting time for both our men's and women's teams," Roberts said. "Hopefully we can keep going and both make it to the Final Four."
Lola Pendande (8.2 PPG, 4.2 RPG) also has been a big impact this postseason with her length and ability in the post.
"Lola is pretty cerebral, a lot goes on inside her head," Meier said. "(She is) underestimated. A stop – that gives me face. There's a Lola stop that ignites our team, something she does that just anchors us. Yeah, there's going to have to be quite a few Lola stops."
Of course, this is the first time Miami has made the Elite Eight in both men's and women's basketball.
"This is a really, really big deal," Meier said. "The two programs have a lot in common, we are very competitive, get that way with each other and I love it. … It's elevated both of our programs."
As for the challenge of facing LSU? Well it's a team that averages outscoring opponents 82.7-57.2 and hits on 46.5 percent of shots while giving up a 35.5 shooting percentage.
The rebounding edge? 46.5-30.5 in LSU's favor.
So it will take a full team effort by Miami on both sides of the court.
"We are doing it together – we are going to keep riding out together," Harden said. "We can always say this group is coach Meier's first ride in March Madness."
Miami will have its hands full trying to slow down 6-3 forward Angel Reese, who averages 23.5 points and 15.6 rebounds per game along with 1.6 blocks. Reese was the top-rated player in the portal after spending two years at Maryland, earning All-American honors there before transferring.
Then there is shifty 5-6 senior point guard Alexis Morris, who is equally adept at scoring and dishing out assists. She averages 14.7 points and 4.0 assists.
Also averaging in double digits scoring is 5-10 guard Flau'jae Johnson – she averages 11.4 points and 5.9 rebounds.
6-4 forward LaDazhia Williams is a presence in the paint who averages 9.6 points and 6.1 rebounds, and the team's other starter is 5-10 guard Jasmine Carson. She is the three-point threat, hitting on 34 percent with a team-high 57 makes on 169 attempts. Carson averages 8.9 points per game.
"They cross half court one time, they probably score," Meier said. "Their percentage is incredible, possession percentage. There's a lot of grit in their guards, their back side. There's a lot of work to do for us. I'm really glad I have a team that doesn't mind getting in the mud a little bit, because we're going to need to."
The Canes have won their three NCAA Tournament games by a combined eight points.
And they'd be just fine winning this next one by a single point.
"We've been here before, been down, been up, been tied," Williams said. "It's been ups and downs but we always break through as long as we're together and have each other's backs."
Late tomorrow night, Miami will either be celebrating a Final Four berth or reflecting on a great season that has come to an end.
The goal is the former.
"We know what we need to do," Meier said. "We are pretty locked in.
"We have to play intense, but without tension. That's what we're going to try to do."
A final thought, from Roberts: "We have a tough matchup, but we're tough, too. … This is a team that's similar to our game. It'll be a dogfight. I'm pretty confident in our team. We're going to get out there and compete like we have been so far, and we'll see what happens."
The post Team talk: Miami Hurricanes women's basketball ready for LSU challenge – "We're tough, too" appeared first on On3.