Ten loud plays in Michigan State spring scrimmage
8 min read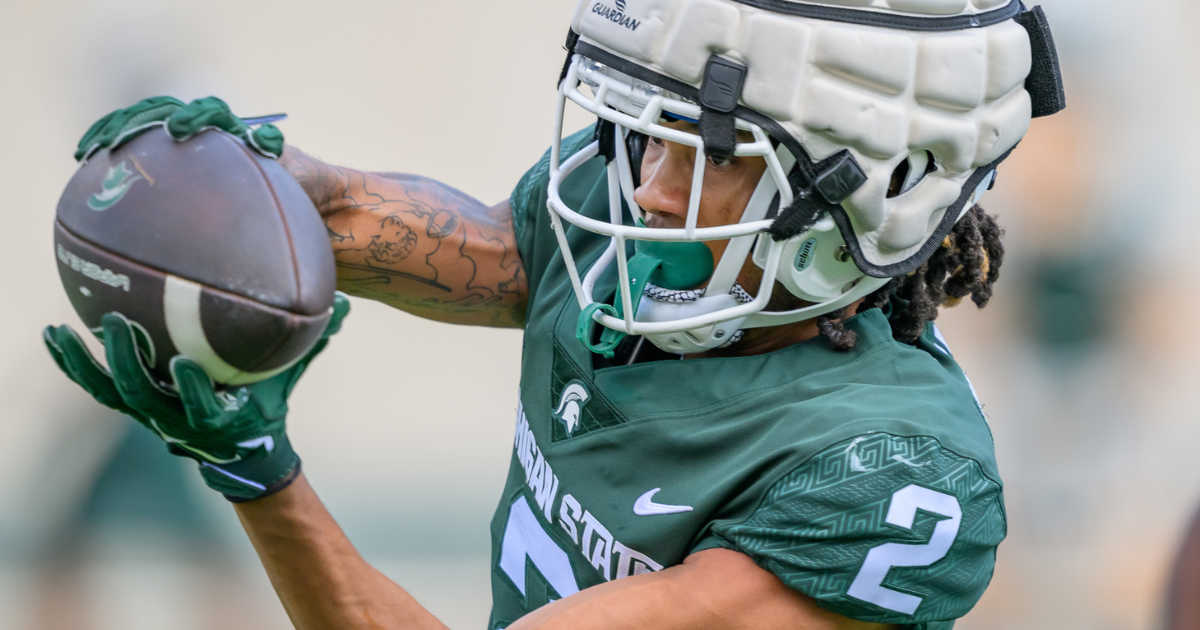 East Lansing, Mich. – Every play matters, but some plays matter more than others. In the Michigan State spring scrimmage on Saturday there were several loud plays by numerous individuals fighting for playing time.
Continue reading for a closer look at some of the loudest plays in the Michigan State spring scrimmage, and the potential significance of those plays moving forward.
1. Payton Thorne scrambles for a TD
Payton Thorne was pretty good in Michigan State's scrimmage. He was accurate with his passes, and spread the ball around, hitting running backs, wide receivers, and tight ends. One of the more impressive plays of the day for Thorne, however, had nothing to do with his arm. Thorne's 15-yard scramble for a touchdown in the two-minute offense was among the loudest plays made by the two-year starter at quarterback. One could argue that Thorne would have been tackled on the play if he hadn't been wearing a red jersey. Be that as may, his ability to step up and scramble for a touchdown in a critical moment was a big deal. It was a reminder of what he can do with his legs when he is healthy, something he wasn't for most of the 2022 season.
2. Noah Kim finds Antonio Gates Jr. for a TD
Kim had some nice throws in this scrimmage, including a touchdown pass to Antonio Gates Jr. in a two-minute scenario down the stretch. Kim finished the two-minute drill better than he started, and on his touchdown pass to Gates, he did a nice job of stepping up in the pocket, while keeping his eyes downfield. Gates had a favorable match-up, going up against a walk-on in redshirt freshman walk-on Shawn Smith. It was still a nice throw and catch from Kim to Gates, on a day where Gates did a number of positive things, both as a receiver as well as a blocker. Kim had other nice throws in the two-minute drill, including another completion to Gates.
3. Thorne finds Mosley in two-minute drill
The best pass of the spring scrimmage may have been the connection between Payton Thorne to Tre Mosley in the two-minute offense. That pass play set up Thorne's scramble for a touchdown, and it was indicative of the value of onfield chemistry between receiver and quarterback. Thorne threw a great pass. Mosley ran a great route.
"That's just all timing and trusting each other," Mosley said. "That's something we rep at least once a week in practice. Getting the first down or getting out of bounds so the clock can stop. Handing the ball to the officials so you don't waste any time. Him having trust in me, o-line, everybody on the same page we were able to march the ball down the field."
4. Tunmise Adeleye gets disruptive for Michigan State defense
On back-to-back plays early on in this scrimmage, Texas A&M transfer Tunmise Adeleye, flashed a high end ability at 6-4, 290. One play after running to the sideline and keeping quarterback Noah Kim from cutting back, and allowing linebacker Ma'a Gaoteote to get pressure and force an incompletion, Adeleye beat tackle Ethan Boyd decisively to force an incompletion. Those are just two examples of a solid day of work for Adeleye, who moves as well as one could ask a nearly 300-pound defensive end to move.
Adeleye also had his share of victories in 1-on-1 drills on Saturday, which bodes well for the future.
"He's a very good athlete. He's going to be versatile," linebacker Cal Haladay said. "I think he'll be a great benefit to us and he has been a good addition. He has been learning every day, getting better every day. I think he is going to really help us this year."
5. Tyrell Henry snags one-hander through contact
Examples of one-handed grabs while getting popped by a safety aren't all that common, but sophomore wide receiver Tyrell Henry flashed some big-time ability on inaccurate pass from Katin Houser. Not only did Henry bail out his quarterback, but he did so while getting hit by safety Malik Spencer. Henry was fearless on the play, which should come as no surprise given his background as a punt returner. Henry didn't get a lot of balls thrown in his direction on Saturday, but the catch he made on this play may have been the best catch of the day by a wideout.
6. Mangham drops the hammer at RB for Michigan State
One of my favorite moments in the spring scrimmage on Saturday was the play in which USF transfer Jaren Mangham got physical with sophomore safety Khalil Majeed. I don't know if Majeed forgot that it wasn't a tag-tackle period, but Mangham ran the walk-on safety over and the play served as a reminder of the short-yardage benefit of a big-bodied tailback, which Mangham most certainly is at 6-foot-2, 230. Offensive linemen JD Duplain and Nick Samac set the tone on this particularly run play, and Mangham dropped the boom on Majeed to finish it. The physicality of Mangham at running back has been beneficial for both the offense and defense.
With Mangham running the football, the defense gets to see a little bit more physicality than they've been accustomed to getting in practice.
"It's good to have a couple of different kind of guys that can give different looks," said linebacker Cal Haladay. "It doesn't let you think about playing one way. It makes you stay focused on different things, and you have to pay attention to who is in and what's going on."
Mangham also moves pretty well for a tailback as big as he is. He made some solid runs, getting good yardage when plays were blocked well. He also showed the ability to catch the ball out of the backfield.
7. Cal Haladay trucks Tyneil Hopper
Physicality at the tight end position has been an issue for Michigan State in recent years. Although the Spartans have been functional at the tight end position for the past couple of seasons, they haven't been able to generate the physicality at the position required to block physical defensive ends and linebackers. With the ones on offense going against the ones on defense, UConn transfer Nathan Carter had no prayer of positive yardage with Haladay blowing up Hopper thereby disrupting the run play. Haladay's loud play came one play after Carter showed good hands and quickness on a short pass from Thorne.
8. Houser flashes in Michigan State team run
Katin Houser has been touted as a potential starter by some, and there is no question that he has pushed Payton Thorne and Noah Kim to become better quarterbacks by his presence in the competition for the QB1 job for Michigan State.
"The biggest thing is staying consistent," Houser said. "I made some plays and had some flashes where I was able to lead the team and take command, but I've got to do that on a more consistent level, and also be a vocal leader for this team."
Houser had some good plays in the spring scrimmage, and some throws he would probably have liked to have back. His best throw of the day was his first throw with Michigan State going offense versus defense for the first time in spring scrimmage. On the play, Houser completed a pass to tight end Maliq Carr, who had lined up in the slot in a four-receiver look. While it was a simple throw and catch, it represented progress for Houser, who sometimes struggles throwing short passes with touch.
"I got the first reps out of team run and I was able command the offense and make plays," Houser said. "I threw a ball to Maliq that was really nice. I feel like that was the highlight of the day for me for sure."
9. Hansen blows up fourth-down run play
Michigan State dipped into portal for a couple of 300-pound plus defensive tackles in Dre Butler and Jarrett Jackson, and those interior d-line transfers may help offset loss of outgoing transfers Jalen Hunt and Dashaun Mallory. That remains to be seen. The two best interior defensive linemen on the field for Michigan State in the spring scrimmage, however, were Simeon Barrow and Maverick Hansen. That isn't necessarily a surprise, as both Barrow and Hansen have played more snaps for the Spartans than any defensive linemen in the Michigan State program. To this point in his career, Hansen has been a productive back-up and part-time starter. In the spring scrimmage, Hansen was moving better and making more plays than we've seen from him to this point in his Michigan State career. On one fourth-down stoppage in particular, Hansen looked a lot like former Spartan standout Jacob Slade in defeating center Nick Samac before throwing a wrench in a short-yardage running play.
"He was out couple of weeks, but he has really stepped up," Haladay said. "He is doing really well this year, especially this spring. We lost Jacob Slade, a really good player, and (Hansen) has been filling that role pretty well. He has stepped up and is doing a good job."
T-10. Michigan State TE Maliq Carr springs Jaren Mangham
Earlier in this story, I pointed out that Boise State transfer tight Tyneil Hopper was caved in by linebacker Cal Haladay on a run play, so I would be remiss if I didn't offset that observation with an example of a nice run block by a Michigan State tight end. At 6-6, 260, Maliq Carr has the physical attributes to be a plus blocker, and I expect him to take significant steps in that part of his game as a junior. His progress as a blocker was evident early on in the team portion of the scrimmage when he sealed off linebacker Ma'a Gaoteote with a block that sprung Mangham for a solid gain. Wide receivers Antonio Gates Jr. and Cade McDonald also got in on the act as blockers, but the key block came from Carr at the tight end position.
T-10. Eckley shows off big leg at punter
Given the fact that Michigan State is replacing the best punter in college football in Bryce Barringer, a likely NFL Draft pick, it is worth mentioning that the Spartans appear to have a quality punter in redshirt freshman Ryan Eckley. I am not going to say that Eckley has as big a leg as Barringer, but I will say that Eckley has a much bigger leg than Barringer did at the same stage of his development. I haven't seen many redshirt freshman punt the ball as far as Eckley can when he is just straight up booming it. His punts are a little bit more hit and miss when he is directional punting. Based on what I saw in the spring scrimmage, Eckley is going to be able to get the job done for Michigan State.
The post Ten loud plays in Michigan State spring scrimmage appeared first on On3.