Tennessee football 3-2-1
5 min read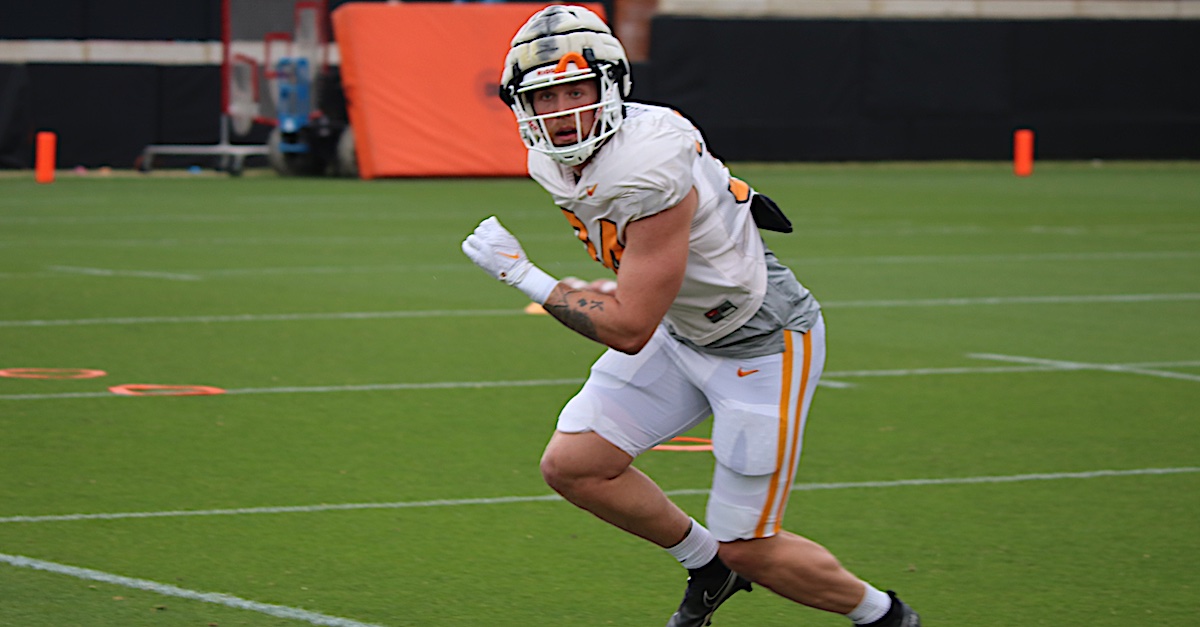 It's time for out football weekly 3-2-1 of spring practice, three observations, two questions and a prediction as Tennessee is on the back half of spring drills. With one major scrimmage complete, Tennessee will scrimmage Thursday this week before the Orange and White game a week from Saturday. 
Three observations
Defensively they are just more athletic — We have talked about it since last season — for Tennessee's defense to take another step they have to be more athletic at all three levels and that is showing up. They are more athletic in the secondary especially at cornerback. They are definitely more athletic at linebacker and off the edge on the defensive front they may not be more athletic than Byron Young but they have more bodies at that position who are as athletic as Young. 
"The one thing we shared with these young men the last couple of years that we have been recruiting here the last two years is that we are trying to recruit young men that are talented enough to have an opportunity to come in, compete and help us move our needle closer to being at a championship level. We are going to give guys those opportunities across the board."
There's still much to clean up and many guys who have to develop in the system over the next few months, but the talent/athletic ability on defense looks different than the last two years to anyone who has seen this team. 
Vols need Cooper Mays healthy — This is not a criticism at all on Parker Ball, Addison Nichols or anyone else playing center. It simply a credit to Mays and what he means to the offense. Mays is no road grader. He's not a physically dominant player, but he's the engine that makes the train go. He gets the tempo going. He sets the protections and does things no one else sees or pays attention to that's key for the offense to run with the pace and efficiency that Heupel wants. 
Not having Mays for Saturday's scrimmage wasn't a bad thing as other need the work to grow and improve. It was also a reminder of just how significant Mays is to this offense. Tennessee needs him healthy especially with no one proven behind him.
Seeing the results of last season — All fall heading into signing day in December, fans were asking where is the recruiting landfall from beating Alabama and landing Nico The truth is Tennessee closed better than given credit for in landing Arion Carter and Daevin Hobbs. Both committed after Halloween and the Vols got help in the portal as a result of their success last season. But still, it wasn't a landfall. 
Saturday we saw the results of last season on the recruiting front with the number of players on campus for unofficial visits as well as the quality of player on campus as well. That's continuing this week and will the rest of this month. 
Austin Price calls it the cool school effect. Tennessee thanks to their style of play, their success on the field and their recognition for it is a cooler school now than they have been in a long time. A lot of young players are interested in the Vols because of it. 
Two questions
How does this team grow from scrimmage #1 to scrimmage #2? — Coaches always say you make your biggest improvement from game one to game two. Will that be the case from scrimmage 1 to scrimmage 2? Joey Halzle speaks about being ok with mistakes but he doesn't want repeated mistakes. Same for Tim Banks on defense. The defense had a good first scrimmage, how does the offense respond, especially up front where they are trying to sort things out and then what newcomers make a big step from the first scrimmage to the second. The newcomers did some good things from transfer McCallan Castles to those freshman linebackers and secondary people. There were plenty of positives. The question is can they scrimmage with the same energy and effort level when there's going to be no one there compared to the 1500-2000 that were there Saturday and the weather isn't going to be nearly as nice either. 
Does anyone on the edge on either side of the ball make a move? — Let's be honest, we all knew that nothing would be settled this spring at the offensive tackle position. However that doesn't make you aren't looking for growth and movement with those guys. They had some issues last week with Tennessee's pressure package. Does anyone out of the group of Gerald Mincey, John Campbell, Jeremiah Crawford, and Dayne Davis create any kind of separation from the other with less than two weeks left in spring? 
Defensively, does anyone from the LEO position make a move. Roman Harrison, Joshua Josephs and James Pearce are handling the load there. It's unclear when Caleb Herring will return as he battles knee soreness. On the other side it's Tyler Baron, Dominic Bailey, and Tyre West. Does anyone start to make a move away from the others this week. 
"We need separation at those positions," Garner says of his edge guys. "You sit there and you look at the LEO position and you have Roman Harrison, James Pearce, Josh Josephs with those two guys being freshmen going into their sophomore season. Then Caleb Herring, who came in January, we are really excited about. We think he has a really big upside. At defensive end, you have Tyler Baron who has played a lot of snaps. Dominic Bailey has continued to get better and better. He's really working. He's really changing his game and his body. Then Tyree West who has playmaking ability that we to take that next step to become more consistent for us. Those are guys that have the ability, that can help us off the edge."
Prediction
Anyone who follows/reads me knows I rarely get a prediction right, but I did nail last weeks is noting the defense would generate the buzz in scrimmage #1. 
So what about this week? I'm going with the Vol tight ends. They had a solid scrimmage one catching a couple of touchdown passes and on lookers said they showed to be willing blockers. I think they take a step forward in physicality this week as well. 
Castles looked like a guy who's head was spinning big time in the first couple of weeks. Monday after a solid scrimmage he had a different pep in his step. I don't now that they are going to be a great group of tight ends, but I do think they are going to be more than just serviceable if they will take solid steps forward the rest of spring. That starts with improvement from scrimmage one to scrimmage two this week particularly in the run game as in line tight ends. 
The post Tennessee football 3-2-1 appeared first on On3.