Texas safety target set to see Notre Dame for the first time during Blue-Gold Game weekend
2 min read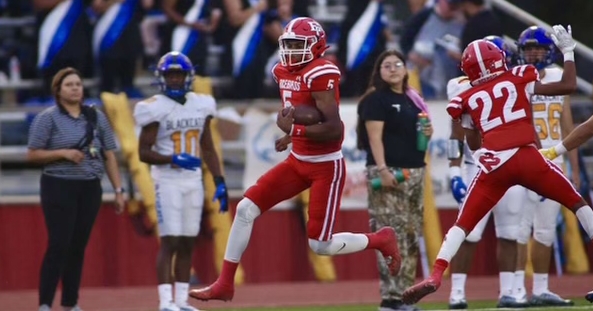 Another Notre Dame football recruiting target has been added to next weekend's Blue-Gold Game visitors list. 2024 safety Oliver Miles will be in town on Friday, he told Blue & Gold. 
The 6-foot-2, 173-pound Miles reported an Irish scholarship offer from director of recruiting Chad Bowden on March 1. And about seven weeks later, the El Campo (Texas) High product will be in South Bend for the first time. 
"It brought a lot of joy to me because I feel like coaches are now starting to see my potential as being one of the top recruits in my class," he told Blue & Gold last month. "This offer feels like it could strike other schools to view me or look into me as an athlete.
"(Bowden) feels like I can be a great spot on their football team. And he feels like I have a lot of potential to being a great athlete."
Since sharing his Notre Dame offer on social media, Miles had added ones from Houston, Utah and Utah State. He also has offers from Vanderbilt and Texas Tech.
Miles does not yet hold an On3 or On3 Industry Ranking. However, last season he had three interceptions. He also contributed on offense, accounting for 743 rushing yards and six touchdowns on 77 carries. 
He was teammates with 2023 four-star RB Rueben Owens, who signed with Texas A&M. 
Besides his upcoming unofficial college recruiting visit to Notre Dame, Miles has also visited Houston, Texas Tech and Vanderbilt this spring. 
Blue-Gold Game shaping up to be a massive Notre Dame recruiting weekend
Each year, Notre Dame's intrasquad spring game ends up being a huge weekend for the Irish to host recruiting targets on campus. And this year is no exception.
In addition to Miles, so far Blue & Gold has confirmed 11 2024 targets will be in town for the Blue-Gold Game: safety Davis Andrews, offensive lineman Grant Brix, wide receivers Isiah Canion and Micah Gilbert, linebacker Chris Cole, EDGE/linebacker Brian Huff, linebacker Bodie Kahoun, offensive tackle Guerby Lambert, defensive lineman TJ Lindsey, defensive lineman Benedict Umeh and EDGE Mylachi Williams.
Irish 2024 commits Leonard Moore (cornerback) and Owen Wafle (defensive lineman) will also be in South Bend next weekend.
Notre Dame also expects to host the following 2025 targets: wide receivers Jerome Bettis Jr. and Taz Williams Jr., defensive lineman Davion Dixon, EDGE Gus Ritchey and linebackers Kelvion Riggins and Anthony Sacca.
The post Texas safety target set to see Notre Dame for the first time during Blue-Gold Game weekend appeared first on On3.