Thayer Thomas stands out during NC State's pro day with a chip on his shoulder
3 min read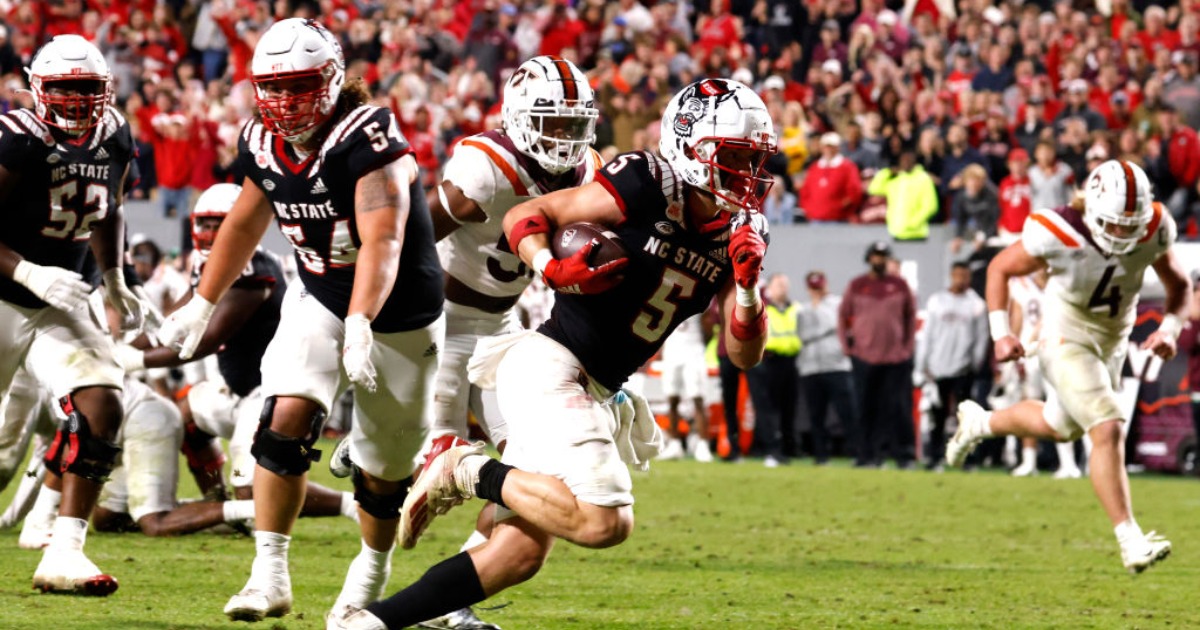 Thayer Thomas spent the past three months completely locked in. He roomed with his brother Drake Thomas as the duo trained for the Wolfpack pro day, and that hard work and dedication paid off this week.
After his workout, which featured an impressive vertical jump of 37 inches that would have tied him for the No. 15 best mark amongst at the NFL Combine, Thomas also shared that some scouts clocked his 40-yard-dash time in the 4.4's. 
Thomas is looking forward to returning to a football-oriented training regiment after working out like a track star to prepare for the pro day. 
"I've been kind of in my shell the last three months, not being out and about and sort of staying to myself," Thomas said. "Me and Drake actually roomed together for three months, so it has been quite a process, but we're kind of both just glad that we came here and did what we needed to do and [can] kind of just move on from here."
Subscribe to The Wolfpacker today with our limited-time $29.99 deal for premium access until 8/31/23
Over a six-year Wolfpack career that included 215 receptions for 2,484 yards and 25 total touchdowns, Thomas said his confidence on the field steadily grew after sharing the field with Jakobi Meyers and Kelvin Harmon, who both went on to play in the NFL. 
The Wolfpack star receiver and punt returner said he always believed he had professional potential, and the pro day helped prove that. 
"I think everybody knew I could run routes and catch the ball," Thomas said. "I think what I really surprised people with today is just my overall athleticism. People like to say I'm sneaky, athletic, but I don't think there's [anything] sneaky about what I did today, so I'm really just happy with what I did."
Thomas has been the Wolfpack's punt returner ever since Nyheim Hines, one of his best friends, left for the NFL. The receiver averaged 9.7 yards per return over 5 seasons and said he would be more than willing to take that versatility to the next level. 
"I think, the more you can do, the better," Thomas said. "I know it's a process to make the 53 man roster, and I'm willing to do anything it takes, and I think special teams is a key part of that."
The Thomas family legacy will continue at NC State this year with freshman quarterback Lex Thomas. Thayer said he believes his younger brother will start under center for the Wolfpack one day. 
Drake had the opportunity to come back for one more season but opted to pursue his professional aspirations— a choice Thayer agreed with. 
"I was kind of happy he decided to leave," Thomas said. "I think it was time. Obviously, I had no eligibility left, but I think it was time for him to leave as well. I don't think he could have proved himself any more at this college level, so we kind of both agreed on it."
Thayer said he had dinner with the Pittsburgh Steelers Monday night and has also heard from the Las Vegas Raiders amongst other programs. When he was in Florida training with first round draft hopefuls Jordan Addison, Josh Downs and others, the receiver said he was the only member of the group who did not receive a combine invite. 
That "100-percent" left a chip on the former Wolfpack star's shoulder. 
"I was a late invite to the Hula Bowl, I was a late invite to the East West bowl, but luckily I was invited to those games," Thomas said. "I've always been the underdog, but I think I've always [risen] to the occasion."
As he enters the final month of the pre-draft process, Thomas said he thinks he has what it takes to be a draft pick, but he will be ready for his opportunity no matter what. 
"I know to play in the league is a special thing so, for me, I don't care what team I'm on, I don't care who takes me, who drafts me, who signs me, whatever you want to call it, I'll be ready whoever calls my phone," Thomas said.
The post Thayer Thomas stands out during NC State's pro day with a chip on his shoulder appeared first on On3.