The 3-2-1: Will Purdue try to add QB via portal?
3 min read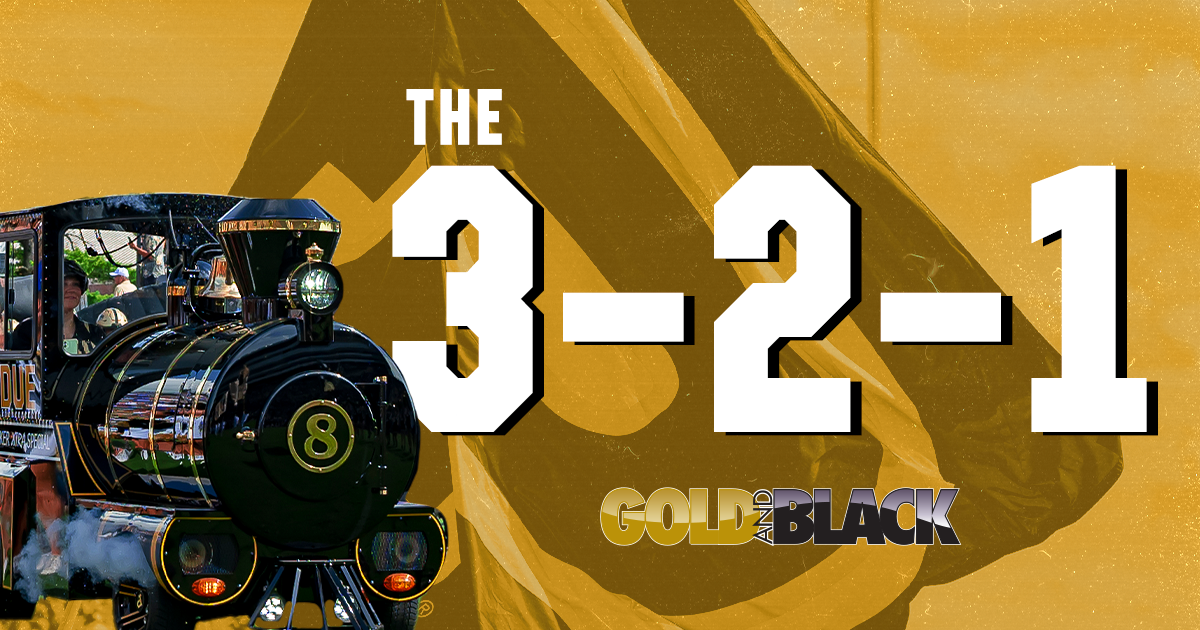 Purdue is set to embark on its second week of spring football. What have learned? What's ahead? It's time for … The 3-2-1
Three things learned
1 – Don't expect to see much–or maybe any–of TE Garrett Miller
Or, for that matter, the other players coming off 2022 injuries. Miller has nothing to prove this spring. Just get him ready for camp after his 2022 season was ruined before it got started by a knee injury in August. Word is, Miller is feeling and moving well.
NT Damarjhe Lewis also likely will be held out after his 2022 was over before it began due to a knee injury. C Gus Hartwig, WR Broc Thompson, OLB Kydran Jenkins and OT Daniel Johnson are other key veterans who figure to be spectators this spring–or very limited–after injuries.
2 – Milton Wright is in town
Turns out, Wright is in town taking a class at Purdue, according to two people close to the situation. The former Boilermaker wideout it trying to get back into school after being an academic casualty in 2022. Wright's return would be a boon to what is a deep receiving unit but one that lacks a true alpha. The 6-3 Wright has 99 catches for 1,325 yards and 10 TDs in his three-year career.
Wright or no Wright, Purdue could still pursue a portal wideout who ideally would be a "top-end" option capable of taking the top off a defense like Charlie Jones did.
3 – The coaches are going to be honest with players
It's a blank slate for all players as the lid is being taken off spring drills. Now is the time for players to strut their stuff and show their value to a new staff.
If players don't look to be a fit for what the staff wants to do schematically, coaches figure to be bluntly honest and say so. Yes, sometimes the truth hurts. But, it's better for players to know where they stand so they can make an informative decision on their future.
How many players could leave the program after spring ball? It's unknown. But, for sure, there will be departures. The staff wants to get a good look at personnel and give everyone a chance. No decisions have been made on anyone yet.
MORE: QB1 Hudson Card brings talent, expectations to Purdue but left cowboy boots in Texas | Purdue QB Aidan O'Connell visited Bears, Colts in recent weeks | Gold and Black Radio: Boilermakers through first 3 spring practices
Two questions
1 – Will Purdue look for a QB in the portal?
The Boilermakers have needs at several positions. It is plausible to think that Purdue would want to add a quarterback.
Yes, the offense is set with Hudson Card as the starter. And the roster includes two other scholarship signal-callers in Brady Allen and Ryan Browne. Each has potential, but neither is experienced. Allen–the No. 2 man–has played only a handful of snaps, while Browne is a true freshman who enrolled early.
The position would be stronger with a veteran behind Card, much like last year when Purdue had Austin Burton backing up Aidan O'Connell.
The question: Can Purdue find a quality signal-caller that fits that profile? Can it land a veteran with playing experience who would be OK being the No. 2 man?
2 – Is Purdue's 2023 kicker already on the roster?
Maybe. Purdue may have its kicker on campus now. Ben Freehill is showing a strong leg in spring drills, as he is pushed by Caleb Krockover. In the fall, Julio Macias will join the fray. He's out this spring following hip surgery. None have attempted a field goal in college. Still, the early impressions of Freehill have been good through the first week of spring ball, meaning Purdue may not have to shop for a kicker in the portal as it looks to replace Mitchell Finernan.
One prediction: Purdue will add at least five players from the portal
The staff already has been active, adding QB Hudson Card, S Anthony Brown, DE/NT Isaiah Nichols, G Jalen Grant, G Ben Farrell and CB Salim Turner-Muhammad.
Areas most likely to be addressed after spring football: Cornerback, running back, receiver, quarterback, interior d-line.
The post The 3-2-1: Will Purdue try to add QB via portal? appeared first on On3.