The football 3-2-1: wrapping up spring edition
5 min read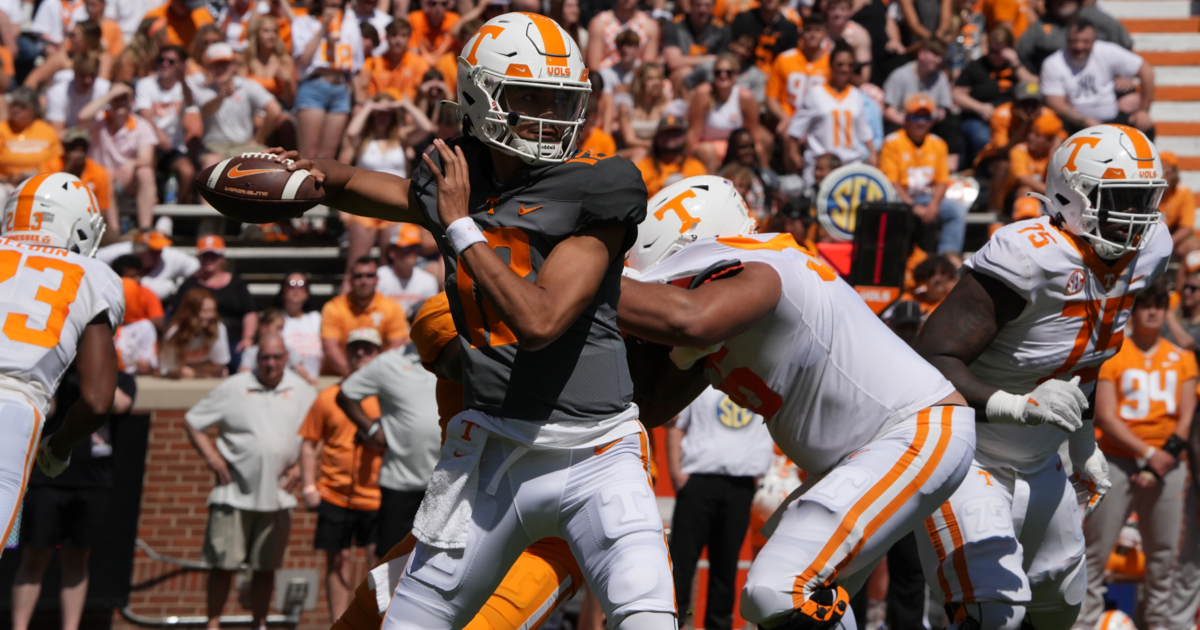 It's time for the final football weekly 3-2-1 of spring practice: three observations, two questions and a prediction as Tennessee has wrapped up its work on the field. The Vols now turn their attention to the critical summer off-season before heading to fall camp at the start of August.
Three Observations
Youth is served, sort of — Eric Cain said it on the Craven Wings post game 2 minute drill on Saturday. The orange and white game as much as anything was a snapshot into the future of Tennessee football and the future looks bright. I believe if he can stay healthy that Ethan Davis will help the Vols this fall. Other freshmen gave a good account of themselves on Saturday, even though how much they could factor this fall is an unknown. 
The freshmen in the secondary are certainly athletic and long. That showed up on Cristian Conyer's PBU that created an interception. Jordan Matthews, Rickey Gibson, and John Slaughter all look like they can help on special teams and who knows, maybe more. There are guys in front of them so none of those freshmen will have to be thrown into the fire. At linebacker, those young freshmen are going to be fine. Same for Nico Iamaleava at quarterback. He had a couple of wow moments and had a great feel in the pocket. He's going to be a good player. Cam Seldon showed he can play and Desean Bishop has done nothing to suggest that he can't play at this level. The beauty is that they aren't going to be forced to play right away. Remember, we are on a few years removed from naming two freshmen corners and offensive tackles starters on the day they passed out pads. 
So, how big of an impact the youth make this fall is unclear, but Saturday showed there's plenty of talent in that group. 
It's a big summer for the LEO's — For Tennessee's secondary to take a step this fall, they need to play better. They need to be more athletic back there. They need to play with more confidence and play tighter coverage. In order for that to happen, they need help and that help needs to come from the rush end or LEO position. 
Rodney Garner has been asking for separation and for more from Joshua Josephs and James Pearce all spring. Caleb Herring being shut down didn't help anything either. Roman Harrison is the starter at LEO coming out of spring, but Tennessee needs depth there to create a rotation. They need Pearce to continue to mature. They need Josephs to get bigger and stronger with more focus. They need Herring healthy. 
The defense has plenty of production to replace with the loss of Byron Young. The secondary needs help with a pass rush which means those edge guys need to have a big time summer. 
Never doubt Big Orange Nation — People around the country can say what they want about the Tennessee fanbase, but what they can't say is they don't care. Frankly, no one that follows or covers this program should have been surprised by the attendance on Saturday. 
Tennessee has momentum from last season and they play an exciting brand of football. Vol fans are more passionate than ever. 
"Unbelievable turnout from our fanbase, the absolute best in the country," head coach Josh Heupel said post O&W game. "I thank them for the energy that they've created outside of the stadium with everything that we had going on this weekend. That was hugely important and they showed up in droves. To our VFLs that showed up, I think we had over 300 former players that were here this weekend. A great weekend to celebrate what they have done, what they meant to our program and do mean to our program. And also, celebrate what is going on here currently and what we're going to continue to build together with them. Just a great weekend." 
Added sophomore Elijah Herring, "[P]eople can feel that UT is back. They feel that everybody wants it. Everybody is expecting us to win. Everybody is expecting us to do big things. We expect the same thing out of ourselves. It really started with Coach Heupel and everybody else comes in and follows in his direction."
Two questions
How will the two biggest questions shake out ? —Everyone knew going into spring practice, the two biggest questions were offensive tackle and the secondary. Following the conclusion of spring practice, the two biggest questions are offensive tackle and secondary. Sure there are others, but those are the biggest two and it's two that we didn't expect to get answers to during spring. So, here things stand going to into the summer off-season program and the secondary question remains who are the best five defensive backs? How much more athletic will they choose to be in the secondary versus playing the most experience. At offensive tackle, to me it's a matter of who – over the next three months – embraces the right tackle role. It's there for the taking and the question is who wants it and is willing to go take it? Tennessee has three options in my opinion in Dayne Davis, Gerald Mincey and Jeremiah Crawford. It's a matter of who is going to embrace the position and put in the work this summer. 
How does this week's NCAA hearing play out? — Starting Wednesday morning in Cincinnati, Tennessee will stand before the NCAA's committee on infractions in a hearing for the committee's case against Jeremy Pruitt and the University of Tennessee. Chancellor Donde Plowman, Pruitt and former AD Phillip Fulmer are all expected to be a part of the hearing in a case where the investigation went longer than anyone expected and the ruling has taken longer than anyone thought. The hearing is expected to last 2-3 days with no ruling expected for about 6-8 weeks. Tennessee was hopeful long ago to already have this behind them. It appears that day is finally coming, but what will the resolution be and what is Tennessee's answer to that resolution? Will there be more appeals and fights to come or will there finally be closure for the University who has no one involved in the case still around the athletic department. 
One prediction
Tennessee is going to be a trendy team this off-season. No one is going to predict them to win a title or anything, but they are going to be a team pundits talk about this off-season as a team to watch, etc. Why? They return three starters on the offensive line, their running backs and a quarterback with plenty of experience – even though Joe Milton has not been the guy the last two years. Defensively, most of their defensive line is back and they are bringing back experience at the second and third level. 
Finally, there's the Josh Heupel factor, which is the fact his offenses have always put up points. They did it at Missouri, UCF and they have done it for two years on Rocky Top. 
The result of all of that is going to be 'watch out' or 'keep an eye on Tennessee' from people as college football is discussed this off-season. 
The post The football 3-2-1: wrapping up spring edition appeared first on On3.