The Grove Bowl was a high scoring affair and that was how Lane Kiffin wanted it
3 min read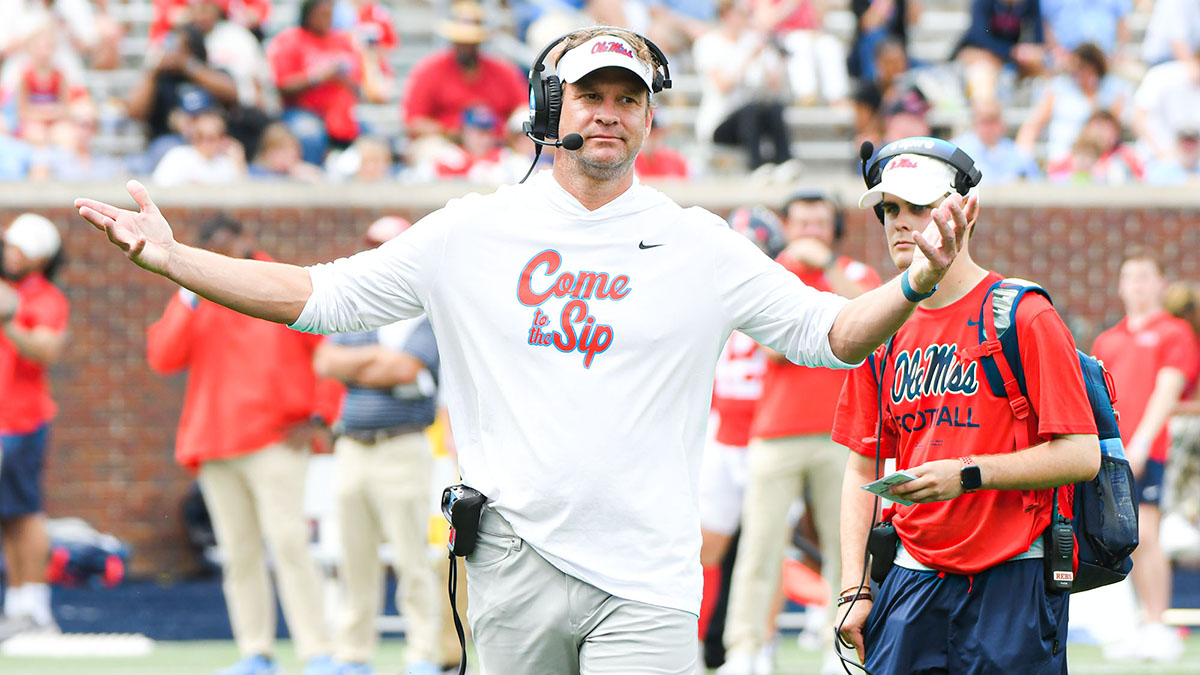 For those watching in person at Vaught-Hemingway Stadium or at home on their television Ole Miss' annual spring game might have caused flashbacks to the 2021 Arkansas game.
While the way to two games got to the 100-plus combined score were very different this year's Grove Bowl showcased a lot of offense and very little defense. Though on Saturday it was more by design and intentions of head coach Lane Kiffin.
The Grove Bowl is a spring scrimmage and practiced turned up to 11, something Kiffin is astutely aware of. He knows fans come to watch the stars on offense make plays and turn the scoreboard into a slot machine stuck on tilt.
Which is why the Ole Miss offenses combined for 105 points in the 53-52 Grove Bowl won by the Red Team. A score that became possible because Kiffin allotted the red team, quarterbacked by Jaxson Dart, seven 'phantom' points to make it a one-score game late.
From there it was a two-minute drill with Dart charged with leading his offense down the field to try and win the game. The second-year Ole Miss signal caller did just that and converted the two-point attempt to boot.
"Myself, I'd rather create a spring game, and people are different because you saw some other ones over the last couple days where nobody scores and it's really boring and nobody wants to watch," Kiffin said. "I'd rather go the other way and create some excitement for the recruits to see, for people to watch and we did that today."
The excitement was something Dart appreciated as the two-minute drill allowed for him to create a new memory with the two-point attempt.
"I'm kind of scarred from two-point conversions from the Mississippi State game last year," Dart said. So I just really wanted to score on that one. Kind of brush that one off a little bit."
The Ole Miss offenses put up video game numbers but it was due to the defenses not really knowing that was coming.
Between the Red and Blue offenses they combined for 1,196 total yards and 11 touchdowns. There were seven passing touchdowns and four rushing touchdowns.
Instructions prior to the Grove Bowl, according to Kiffin, was for the defense to be in basic schemes. Which then the offenses took a little bit of liberties with and broke out a handful of trick plays. A flea flicker featuring Dart and running back Quinshon Judkins and one where Spencer Sanders turned into a receiver for a long gain.
Those plays that Kiffin probably did not want to have on film of any kind for opposing teams to get their hands on come fall.
"It's difficult to evaluate because we don't let the defense run a lot of defense," Kiffin said. "There's not a lot of scheme going on. The offense didn't listen quite as well to those commands and orders and ran a lot of kind of trick plays. They were more competitive, schematically, on some things. I would not judge the yardage."
With all of that being explained it leaves the Ole Miss defense ending spring without really getting a fair evaluation. Kiffin noted during the Grove Bowl that there is going to be a learning curve of sorts with new defensive coordinator Pete Golding.
Watch Kiffin's full post Grove Bowl press conference below. Video provided by Ole Miss Sports Production.
The post The Grove Bowl was a high scoring affair and that was how Lane Kiffin wanted it appeared first on On3.