The latest around South Carolina basketball
4 min read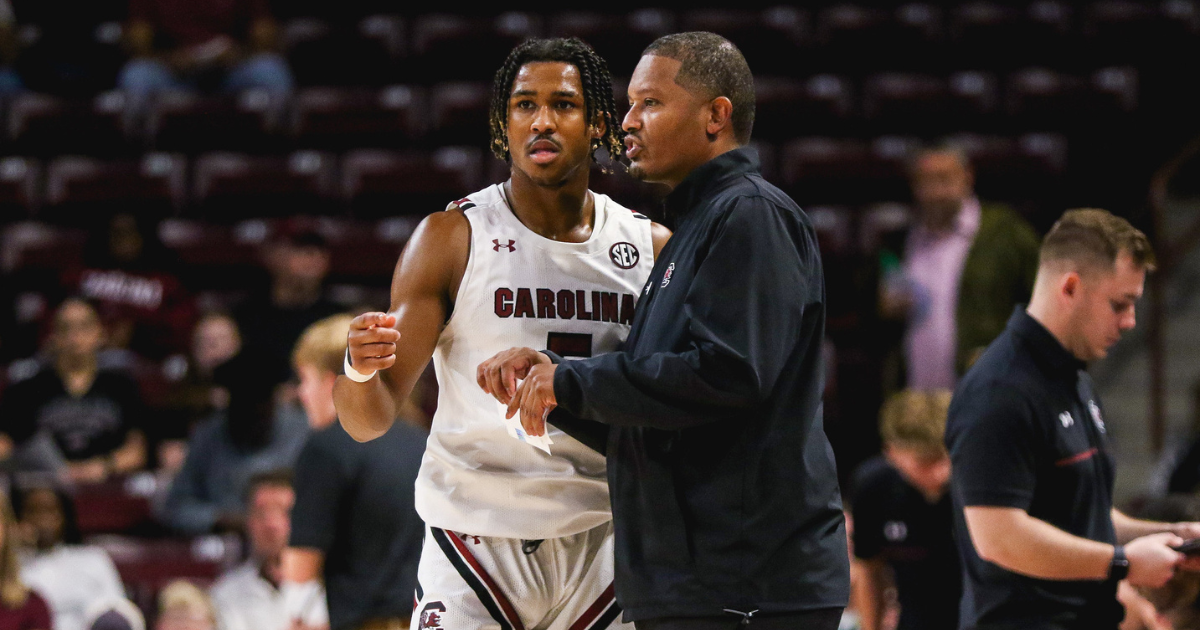 South Carolina basketball is through with a frenzied portion of the basketball offseason, having built a large portion of the 2023-24 roster. 
The Gamecocks are getting ready to get busy again in June and July putting any finishing touches on the roster for next season and then looking ahead to future classes and getting the current roster ready. 
Here's the latest from around the program. 
The transfer portal
South Carolina is currently full up on scholarships right now but the Gamecocks are still tracking the transfer portal and entries in it over the course of the next few weeks and months. If there's a chance to add an impactful piece to the roster, then the staff will pursue it. 
[Become an NIL supporter of your South Carolina Gamecocks!]
One name subscribers–and those who aren't–have been clamoring for information on is Julian Phillips, who recently entered the transfer portal after his freshman year at Tennessee. 
First things first, there's not a ton of information out there on this recruitment for good reason: Phillips is going through the draft process. 
Right now, Phillips is invested in the NBA Draft process and focused almost solely on that. He's participating this week in the NBA Combine. If he does ultimately pull out of the draft process and return to school, then he'll begin focusing on his recruitment. 
Players have until 11:59 p.m. ET to withdraw from the NBA Draft and maintain collegiate eligibility. 
South Carolina would be foolish not to express some interest in Phillips, who has a ton of ties to the Palmetto State. He's from to Columbia area and played for Blythewood High School before transferring before his senior year. 
He played grassroots basketball with the same organization that Ta'Lon Cooper, Collin Murray-Boyles and Arden Conyers all played for. South Carolina, among other schools, kicked the tires and recruited Phillips after he de-committed from LSU and before signing with Tennessee. 
South Carolina was firmly in the mix there along with Auburn, which will undoubtedly be involved in the recruitment process this go-round as well. The list of suitors, if he does come back for his sophomore year, will be a long one. 
Phillips, a five-star player and the No. 13 player in the 2022 Industry Rankings, averaged 8.3 points and 4.7 rebounds per game last season while shooting 41.1 percent from the field. 
He was also considered one of the better defenders in the league. 
[Subscribe for free to Gamecock Central's YouTube page!]
The 2024 class
South Carolina is in full swing now building its 2024 class as well while keeping an eye on the portal. The board hasn't changed much. The Gamecocks having a few key targets like Cam Scott, KJ Greene, Elijah Crawford and Derrion Reed among others. 
Crawford and Scott are off to hot starts on the grassroots circuit currently with South Carolina in the mix for both. Crawford is getting interest from Georgia and a few other SEC schools. Scott, according to On3's Jamie Shaw, has backed off from his top six and reopened his recruitment. 
We'll see how things progress over the summer but South Carolina's done a good job prioritizing him and building a good relationship. He's been receptive and on campus a ton since the new staff arrived. 
He'll have a ton of heavy hitters involved with his recruitment as well. Greene had other interest from schools like Georgetown and Ole Miss, each of which are going through a coaching change.
Reed also has Mississippi State, Virginia Tech, Georgia and other interests. Coaches will get on the road a good bit in June and July. There are six different evaluation periods over those two months. The next ones will be scholastic live periods June 16-18 and June 23-25. 
[Get South Carolina basketball news and analysis via email]
They're in a quiet period now and a dead period starting May 18 through May 26. 
The current team
Meechie Johnson just wrapped his two days at the NBA G League Elite. He didn't ultimately get invited to this week's NBA Combine. 
After a tough day one (3 points, 1-for-5 FG, 1-for-4 3P) he responded with a better day Sunday afternoon. He finished 3-for-6 from the field for six points. On the weekend he had four assists to five turnovers. 
We'll reiterate that South Carolina fully expects him back and on the roster next season. He'll play some at the point but provide another ball-handler in the backcourt beside Ta'Lon Cooper and Jacobi Wright. Those two are expected to anchor the point guard spot.
The Gamecocks are in a little bit of downtime right now. There's not a ton of on-campus recruiting really going on in the sport currently with the looming dead period. The team will start to get back on campus next month and begin doing some summer workouts and open runs. 
Ta'Lon Cooper just graduated from Minnesota and BJ Mack will this upcoming weekend. 
The post The latest around South Carolina basketball appeared first on On3.