The latest on Notre Dame WR Lorenzo Styles playing defense
4 min read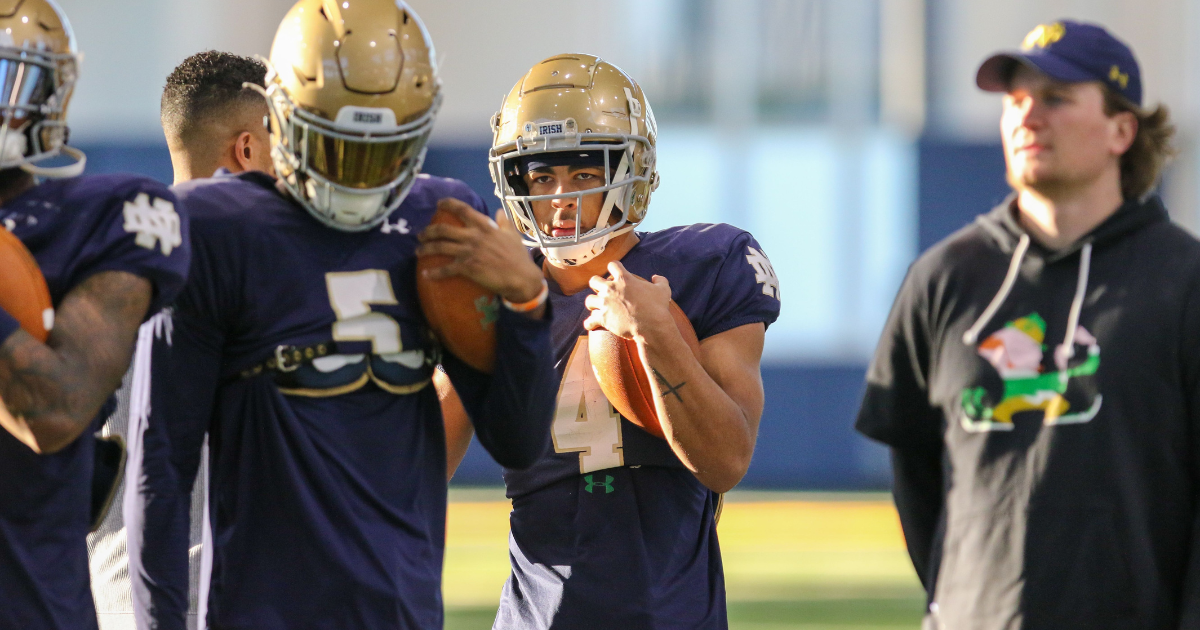 Notre Dame head coach Marcus Freeman went out of his way to clarify the situation concerning junior wide receiver Lorenzo Styles on Saturday. He doesn't want anyone, including Styles himself, getting the wrong idea about the former top-10 wide receiver recruit in the country.
Styles spent some time at cornerback in Wednesday's practice. How much time? Freeman chuckled when thinking about it. Then he said Notre Dame's sports information director told him that there was a stir in the media about Styles' defensive rep.
Err, rep. Singular.
"How much did you guys see him at DB the other day?" Freeman asked the room full of reporters. "One play? One play."
One play.
That's all it was.
Styles went through some individual drills with the corners earlier in the practice, but none of those reps were spent covering Notre Dame wide receivers. The only one of that nature was against freshman Jaden Greathouse in one-on-ones. Styles locked him up and forced an incomplete pass.
Then he spent the rest of the day at his usual position on offense. Freeman said Styles exclusively played wide receiver in Saturday's scrimmage, too. The potential position swap is in its infant stages. The baby is still crawling. An actual word has yet to be uttered. Around the clock supervision is still required.
"We're kind of experimenting a little bit with him," Freeman said. "I think he has a lot of athletic abilities that could really help on both sides of the ball. The problem is he hasn't spent a lot of time in the defensive film room with the defensive coaches."
The extent of Styles playing corner so far is no more than Freeman telling him to every once in a while go get one rep — one play — on the other side of the field.
"The one rep he got the other day was a really good rep, and I told him, 'Hold on now. This road to where you want to go is bumpy on either side of the ball,'" Freeman said. "It isn't always going to be that easy."
Hence, the reason Styles is in this situation in the first place.
He's fallen down the depth chart to second-team status at best. Fellow juniors Deion Colzie and Jayden Thomas as well as sophomore Tobias Merriweather have been the top three Notre Dame wideouts this spring. Styles has been jockeying for position with the likes of senior Chris Tyree, a converted running back, and a trio of true freshmen early enrollees. Greathouse, Rico Flores Jr. and Braylon James have all shown flashes that have exceeded those of Styles in the last three weeks.
The athleticism that made Styles a freshman revelation two years ago hasn't up and left him. He's presumably still the same guy physically who caught 24 passes for 344 yards and a touchdown in his first year of college ball. But he's also the same guy mentally who followed that up with a disappointing showing with 30 catches for 340 yards and a touchdown as a sophomore.
Styles had more dropped passes (6) than any other Notre Dame pass-catcher last year. He couldn't get loose downfield outside of his 30-yard TD vs. North Carolina. He wasn't the playmaker everyone expected him to be as a second-year player, plain and simply.
Now the Irish wide receiver room is as deep as it's ever been, even with Virginia Tech transfer Kaleb Smith medically retiring from football. He announced his decision Saturday. Another Kaleb Smith, a freshman from Frisco (Texas) Reedy High School, is on the way this summer. Styles' place as a Notre Dame wideout is murky at best. So that's why Freeman said he'll continue to get reps — more than one play — at corner in the next week.
And he might even show what he's got as a corner in April 22's Blue-Gold Game. That's music to defensive coordinator Al Golden's ears, who said he'd take him on defense full-time if that's what Freeman decided. That's a decision that could certainly be made this offseason considering the circumstances and considering Freeman's own history as a college football player. He was a linebacker at Ohio State, of course.
"Coming from my background, I told him a see a lot of traits he possesses that really could resonate on the defensive side of the ball," Freeman said. "But I want it to be his decision. I want him to feel good about what position he's playing."
Freeman added, "I've always just kind of put that carrot in his ear. But it was him ultimately that said, 'OK, I want to try it, coach. I know you've said it and said it.' We'll see next week what we decide to do with him."
The post The latest on Notre Dame WR Lorenzo Styles playing defense appeared first on On3.