The Weekly Rundown: Nebraska has had a physical spring under Matt Rhule, and the latest on 2024 quarterback recruiting
6 min read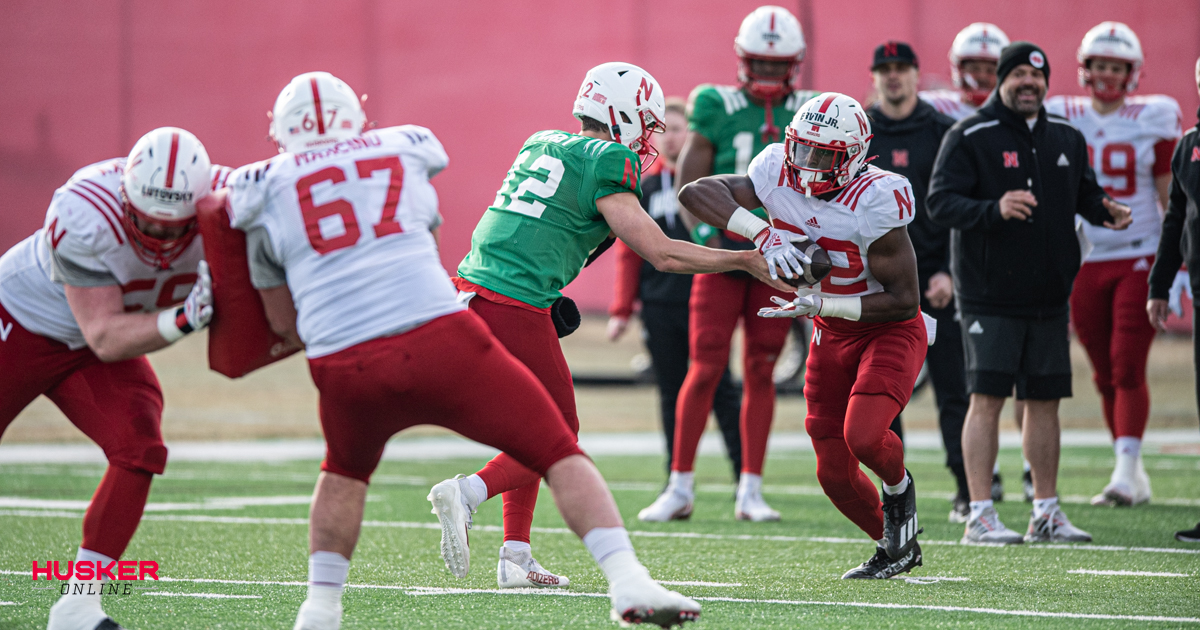 Nebraska has had a physical spring thus far under Matt Rhule, and what happens with 2024 QB recruiting if Dylan Raiola doesn't pick the Huskers?
We hit on that and more as we start your Monday with The Weekly Rundown Column.
RELATED – Steven Sipple: Frank Solich says it "makes sense to come back at this point," and that's wonderful to hear from him
Sure bets
You have to feel good about these things right now:
The physicality in spring practice: If there's one thing we've learned through seven Nebraska spring practices, Matt Rhule is not afraid to push the envelope regarding physicality.
And why not? The Huskers have had their worst back-to-back seasons in program history. This is a complete rebuild for Rhule, and the only way to know what you have is to turn guys loose during the spring and test them.
The running back room: It's safe to say the running back room is one of the real strengths of this football team.
Between Gabe Ervin Jr.'s strong off-season, Anthony Grant's return and Ajay Allen back from injury, this group is loaded. Then you have the versatile Rahmir Johnson and even Emmet Johnson has shown potential this spring.
What I also like is Rhule appears to be building a scheme this spring that will properly feature the back. One that is truly committed to running the football, vs. what we saw a year ago under Mark Whipple.
QB Heinrich Haarberg: The more you hear from spring practice, the more you realize the hype around quarterback Heinrich Haarberg is real. He's got a real chance to be one of the top three quarterbacks, where a year ago, Whipple chuckled at the notion of playing Haarberg. He didn't even travel to Michigan.
The biggest thing is mobility. Haarberg can do the things with his feet Marcus Satterfield wants to see in the offense. Under Whipple, that wasn't a part of the offense once Scott Frost was fired.
Speed, movement, and an emphasis on recovery: I think the biggest thing we've learned about Matt Rhule's version of Nebraska is there will be an emphasis on speed and movement and player recovery.
Rhule has now talked publicly a few times about how important the recovery side of the game is. There was also enough time to put some of his wrinkles into the new football complex being built. Ultimately, it will be interesting to see what the weight room and athletic training facilities look like in the new facility.
Surprises
OL Brandon Baker locks in another visit this month: We knew Mater Dei (Calif.) offensive lineman Brandon Baker enjoyed his visit to Nebraska.
Chad Simmons's update this past week confirmed that. Simmons said Baker would return to Lincoln for the Apr. 22 Red-White spring game. He also reported that on Sunday, Baker's teammate, four-star running back Nathanial Frazier, was completely decked out in Husker gear at the Under Armour Camp in Los Angeles. Things look very positive with both prospects.
Live QBs in spring practice: It's been a long time since the top quarterbacks were live in a Nebraska spring practice. Rhule decided on Saturday to take the green jerseys off Jeff Sims and his other top QBs.
It made for a better scrimmage. The defense almost didn't know what to do, as these guys are conditioned not to hit the quarterback in practice. You can do that during the spring when you have six scholarship quarterbacks on the roster.
OL Justin Evans-Jenkins: Only one 2022 offensive line scholarship addition is left on the roster – Justin Evans-Jenkins. Until Saturday, we hadn't heard his name yet at Nebraska. However, Rhule went out of his way to bring up Jenkins and said he has had a strong spring at the center position.
Jenkins is taking advantage of the reps he's getting due to the lack of numbers NU has on the offensive line.
OL knee braces are gone: We had a couple of astute fans on HuskerOnline notice right away in practice videos and photo galleries that Nebraska's offensive linemen are no longer wearing the bulky protective knee braces anymore.
The braces are worn to prevent major knee injuries but can also affect your overall bend and mobility. Rhule is doing anything possible to help the offensive line take a step forward in 2023. Their overall movement in pass protection has been an issue. As a coach, it's his job to create ways to make them better.
The jury is still out
Questions still surround these things:
Will Dylan Raiola take an official visit to Lincoln?: Quarterback Dylan Raiola is no longer visiting Nebraska or Oregon this month. His school begins spring practice in May. After that, he set an official visit to Georgia in June.
I know Raiola intends to take an official visit to Nebraska, but will he? Why are so many national recruiting experts confident he's a Bulldog lean after he just left Lincoln? Something changed this past week with Raiola; many national experts are not afraid to put that out there. The Bulldogs are out in front.
Linebacker depth: Nebraska has added two more walk-on linebackers this week alone in Elkhorn South's Noah Bustard and Chicago standout Danny Pasko. After some of the front-line names like Luke Reimer, MJ Sherman and Nick Henirch, it's hard even to know what NU has at the linebacker position.
The overall quality of this position remains a question, especially if they have the right types of guys to run Tony White's system.
The timeline and price of stadium renovations: Nebraska has chosen Omaha architectural firm HDR to work with on the future changes coming to Memorial Stadium. According to the NU Board of Regents meeting agenda, the proposed project will cost between $200 to $500 million. That's quite a range.
Why such a range? Is it contingent on private donations? Also, when will this project ultimately start? Could we see movement after the 2023 football season? Or will it be after the 2024 season? This is a massive undertaking by Trev Alberts and his team.
This has my attention
Moving forward, this has my attention:
QB Dante Reno: If Raiola picks Georgia, what's next at quarterback for Nebraska? Bellevue West's Daniel Kaelin says he's "110 percent committed" to Missouri.
Another name to watch is South Carolina commit Dante Reno, out of Cheshire Academy in Connecticut. The four-star originally committed to Satterfield. Rhule recently began following him on Twitter. That is notable, especially with all the smoke surrounding Raiola and Georgia.
OL Ben Scott: Thank goodness the initial word on this was wrong. Rumors swirled that offensive lineman Ben Scott suffered an injury last week. The good news is it's nothing major.
DL Nash Hutmacher: After talking to defensive line coach Terrance Knighton this past week, it's clear that Nash Hutmacher has taken a big step forward this spring. The one real advantage is Knighton played Hutmacher's position in the NFL, so he's been abe to bring him along this spring.
2024 Bellevue West WR Isaiah McMorris: Lots of smoke around Bellevue West wide receiver Isaiah McMorris and Oklahoma after his visit there this weekend. Will Nebraska get another visit from McMorris, or is he a strong lean for the Sooners?
On a positive note, things went very well in Lincoln with Omaha Central offensive lineman Caleb Pyfrom, who spent all day in Lincoln with the Husker staff on Saturday.
WR coach Garrett McGuire: Between the video Nebraska put on wide receivers coach Garrett McGuire and just his overall presentation at the high school coaches clinic this weekend, people are starting to understand what Rhule saw in the 23-year-old.
Short week: Holy week is here. It will be a shortened week of spring practice for the Huskers. NU will practice only on Tuesday and Thursday this week. Enjoy your Easter brunch!
Sean Callahan can be reached at [email protected] and he can be heard each day at 6:45 am and 5:05 pm on Big Red Radio 1110 KFAB in Omaha during the football season. He can also be seen on KETV Channel 7 in Omaha during the fall and each week, he appears on Nebraska Public Media's Big Red Wrap-Up Tuesdays at 7 pm.
Never miss breaking news or another HuskerOnline article again. Click HERE to sign up for HuskerOnline's Daily and Breaking News Newsletters.
The post The Weekly Rundown: Nebraska has had a physical spring under Matt Rhule, and the latest on 2024 quarterback recruiting appeared first on On3.