'This is where I need to be': Luke Doty talks return to South Carolina
3 min read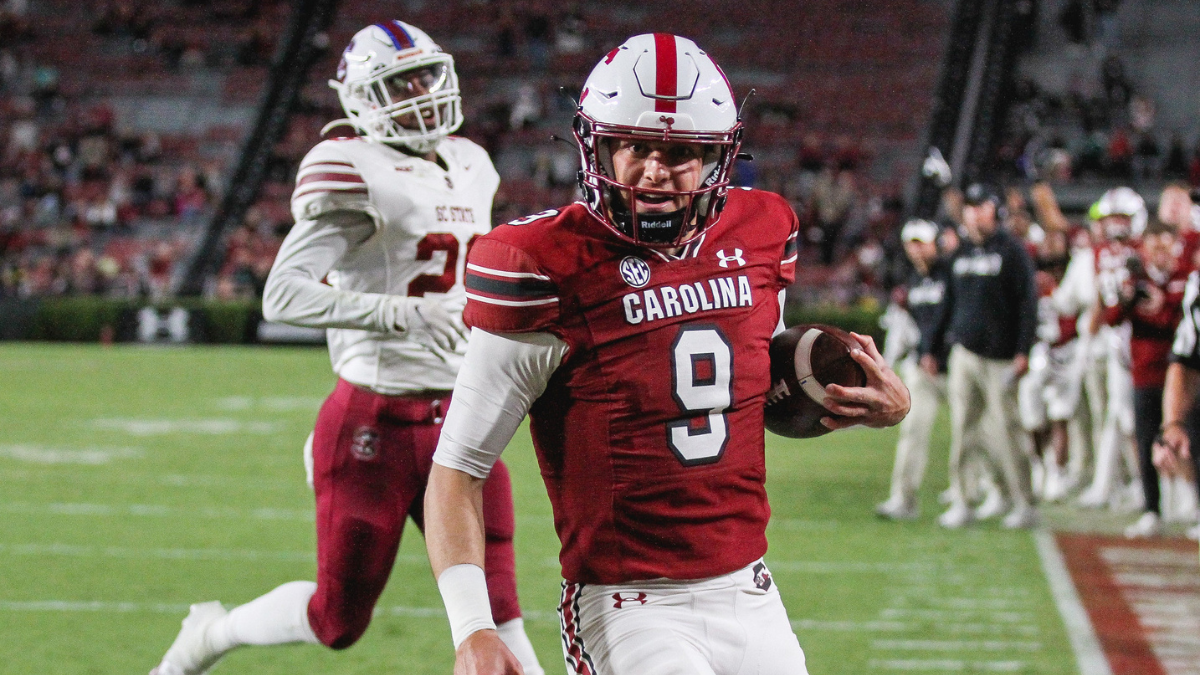 At this point in his career, Luke Doty bleeds Garnet and Black. In a world where quarterbacks are constantly transferring, some may wonder why Doty has stuck around this long at South Carolina.
Heading into his fourth year, Doty has seen it all. There's been a carousel of different coaches staying and leaving, forcing him to learn new play styles. Injuries put him out of action for long periods of time. And after backing up Spencer Rattler last season, he could've entered the transfer portal.
Nowadays, most players in his position will leave for another school. But Doty has proven to be different. In fact, it's been that way since his days of being recruited out of Myrtle Beach High School.
"My parents always told me that, 'If you take football out of it, would you still want to go to the school? Would you still want to be in this city in the state, town, all those little things. Would you enjoy it without playing football there?'" Doty said. "And my answer has always been yes for here."
[Subscribe to Gamecock Central until Aug. 31 for only $29.99!]
While things haven't worked out exactly as he might've hoped, his loyalties remain to South Carolina.
"Regardless of the quarterback situation or anything going on, I know that this is where I need to be, where I want to be," Doty said. "It's always going to be home for me."
Doty's playing time had never been substantial at South Carolina. He's only started six games in three seasons. However, it's never been about that for him. Winning at the end of the day is what matters most.
"I was fired up that Spencer was coming back as well as Juice (Wells) and all of our other receivers and a lot of other guys," Doty said. "I was excited because that's another year that we can put together something special and go out every single Saturday and really show the world and show the nation that we belong up there at the top, and we belong in those big time games and playing these big time teams."
[Become an NIL supporter of your South Carolina Gamecocks!]
Someone who can relate to what Doty has been through is Dakereon Joyner. Similarly to Doty, he moved from quarterback to receiver and watched his role consistently change.
"Looking at Luke is kind of like looking at myself in a sense," Joyner said. "I've been through a similar path that he's going on right now. All I can do is continue to encourage him. He's a Carolina kind of guy. He wants to be here and Luke will continue to be here, I think. And I think Luke will eventually get his time to shine. It'll all be worth the wait eventually."
[Get South Carolina football news and analysis via email]
Heading into this season, not much should change on the depth chart. Rattler will be back under center with Doty backing him up.
There's much more to his return than trying to play more snaps, though. He shoulders a responsibility to help the younger quarterbacks in a mentor role.
"A lot of those guys, the younger guys, look up to me as someone that does the right thing day in and day out, whether it be in the building, in the meeting room, on or off the field," Doty said. "I always try to be a guy that some of those younger guys that are just coming in, kind of getting the hang of things, just being someone that they can come to, they can look up to. If they ever need anything, they know I'm always here."
The post 'This is where I need to be': Luke Doty talks return to South Carolina appeared first on On3.