This Week in Coaching: Frank Solich returning to Nebraska is the latest shrewd move by Matt Rhule, Chip Kelly hires former Navy HC Ken Niumatalolo
4 min read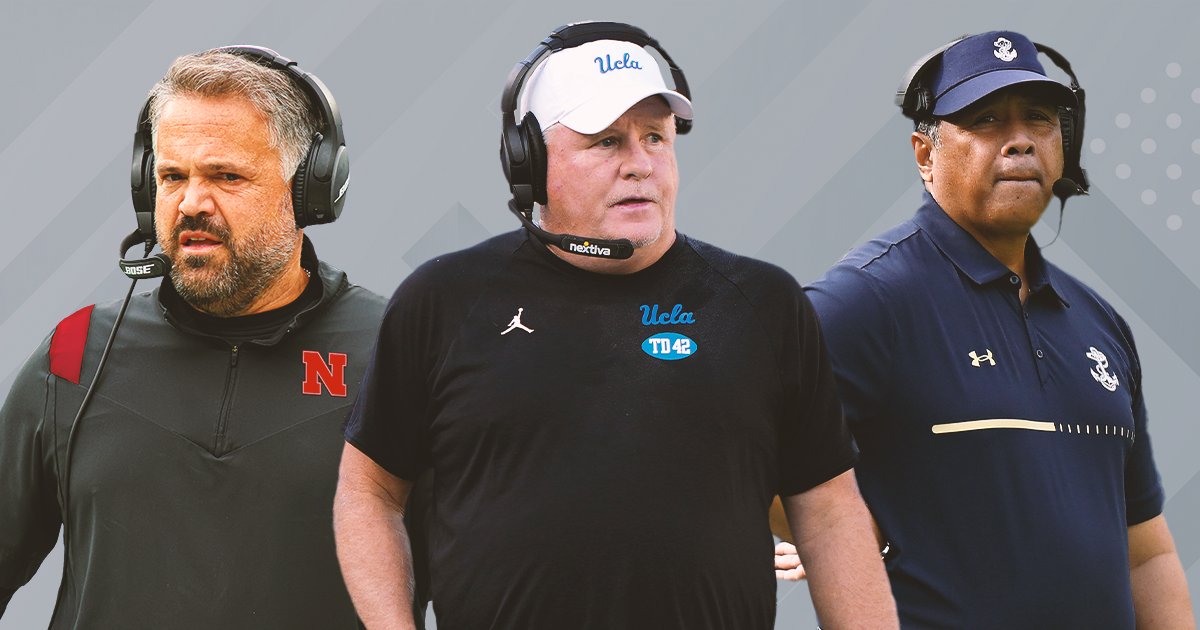 Matt Rhule hasn't coached a single game at Nebraska, yet in one offseason, the restoration wizard has already pulled off his latest trick and done what his predecessor Scott Frost could not: Help bring Frank Solich home. 
In a reported collaboration with AD Trev Alberts and Hall of Fame head coach Tom Osborne, Rhule invited Solich, now 78, back to Memorial Stadium to be honored before the Cornhuskers' Red & White Game in two weeks — ending 20 years of iciness between the program and a former beloved player, longtime assistant coach and its last truly successful head coach.
"We've been working on this a while, but I think it's time," said Alberts, who was an All-American linebacker for the Cornhuskers when Solich was the running backs coach. 
"I'm really looking forward to thanking him for everything he's done as a player, as a coach and also honor him for what he did after he left here."
Some reading this may shrug their shoulders and ask, 'What's the big deal? Coaches go back to places they were fired all the time."
Not at Nebraska. 
The TL/DR version of the Frank Solich story is a guy who spent 40 years at the school, including 16 seasons as one of Tom Osborne's lead assistant on multiple national title teams, and then took over as the Cornhuskers' head coach in 1998. 
He held the title for six seasons, going 58-19 with three double-digit win seasons and a Big 12 title. Nebraska played for the National Championship in 2001. 
But for former first-year AD Steve Pederson, the results weren't good enough, so he stunned the Nebraska faithful by firing a beloved son in what turned into a wild coaching search for Solich's replacement. 
In the two decades since then, Nebraska hasn't won a conference championship. It has a single 10-win season. The Cornhuskers have six straight losing campaigns. Frank Solich took a year off before resurrecting Ohio, where he won at least eight games nine times in 15 full seasons (11 bowl appearances).
Many around Nebraska's program have long referred to the 20 years of wilderness wandering as "The Solich Curse."
Perhaps with some long overdue healing, the the program can finally move forward.  
"I've always appreciated the fans of Nebraska and always felt good about them, and the same way about basically most of the coaches I worked with there," Solich said in an interview with The Associated Press. 
"With the people of Nebraska and the real friends I have there, it just made sense now to come back."
It's good business all around. For Alberts and Rhule, it represents a smart political move to finally reconnect the past with the present. Few programs in the country have Nebraska's storied history, and there's no reason it should continue to be buried because of poor decisions by previous people.  
It may be a small gesture to many outside the Cornhuskers' program, but for Nebraska faithful, Solich's decision to finally forgive the school at this time — with this new administration and a new head coach — is another sign that perhaps things are truly about to change in Lincoln. 
UCLA hires ex-Navy coach Ken Niumatalolo for advisory role
In another notable coaching move that might've gone under the radar this past week, Chip Kelly brought former Navy head coach Ken Niumatalolo to Los Angeles to serve as the Bruins' director of leadership. 
Niumatalolo was the Midshipmen's head coach for the last 15 years, and was unceremoniously fired at his locker as the school's all-time winningest coach after a double-overtime loss to archival Army last December. 
He has several ties to UCLA, as his son, former Utah tight end Ali'i Niumatalolo, is an offensive line graduate assistant with the Bruins, while Niumatalolo's former Navy assistant Bryce McDonald is now Chip Kelly's Chief of Staff at UCLA. 
"I feel blessed," Niumatalolo told ESPN. 
"I'm really excited to work with coach [Chip] Kelly. I don't feel like UCLA is far off. He and I talked some of his vision of what he sees in the position I'm really excited about.
"It just tells you about how he is as a coach. He's an established coach, he's not threatened by me or anything, he's not worried about somebody looking over his shoulder. That's how Chip looks at it — anything I can add. They're not far off, whatever I can bring, but it just felt right.
One of the masters of the triple-option, Niumatalolo could provide Chip Kelly with even more creative wrinkles for an-already prolific Bruins' rushing attack. 
UCLA, which runs its own version of the spread option, must replace tailback Zach Charbonnet and dual-threat quarterback Dorian Thompson-Robinson in 2023. The duo spearheaded a ground game that led the Pac-12 in yards, yards per rush and was second in touchdowns.
The post This Week in Coaching: Frank Solich returning to Nebraska is the latest shrewd move by Matt Rhule, Chip Kelly hires former Navy HC Ken Niumatalolo appeared first on On3.