Three & Out: Positives from Nebraska's junior day, more visitors in April, and keep an eye on the in-state recruits
6 min read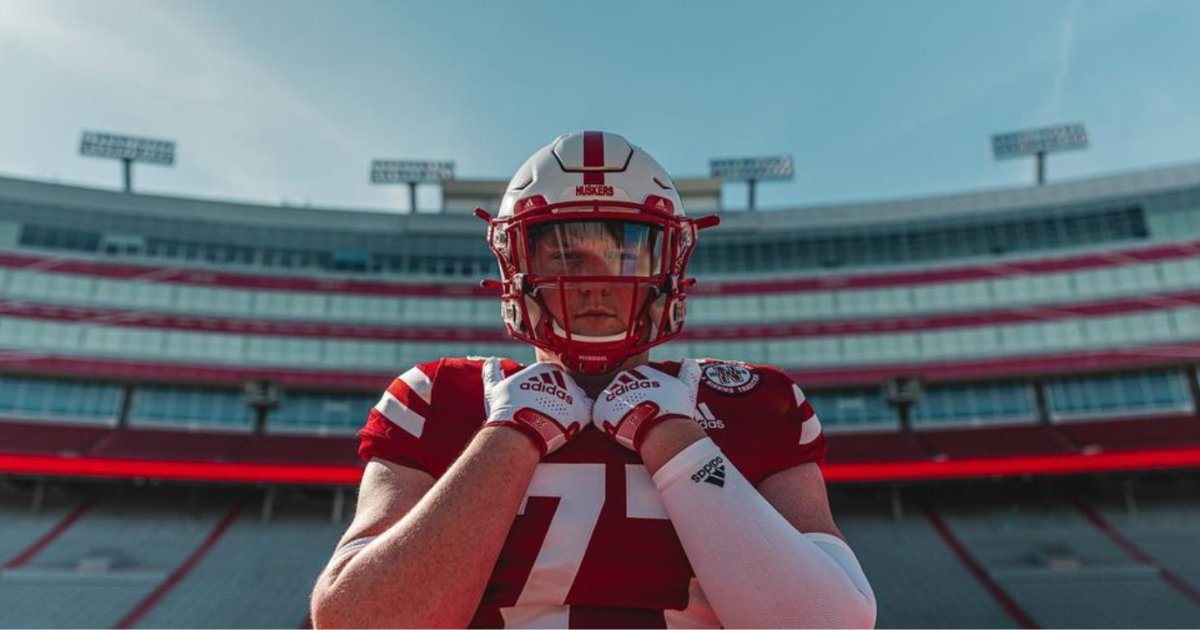 Three & Out is Nebraska On3's feature in which recruiting analyst Bryan Munson gives his weekly takes on topical issues concerning Nebraska football and recruiting.
In this week's Three & Out, there are some obvious positives already from junior day weekend, expect more visitors in April to emerge, and keeping an eye on the in-state recruits.
Obvious positives out of Nebraska's junior day weekend
We are a week and a half removed from the junior day event in Lincoln. Over the past ten days, several positives have been seen in recruiting and can be attributed to the junior day. That event will be seen as a game changer when we look back at it over the next 8 to 9 months.
The first positive out of the weekend is the second commitment in the 2024 class. Gibson Pyle, from Houston (Texas) Klein Cain, was in Lincoln last weekend and connected with several recruits. He says that he knew after his first visit to Nebraska in February that he would become a Husker.
Pyle has stated that he will be back for the spring game in April and isn't planning on scheduling his official visit until he hears who else is "coming back." During junior day, Pyle connected with Grant Brix and Gage Ginther. Ginther has confirmed that he will be back for an official visit, he just visited Tennessee, and Gibson wants to assist the Nebraska staff with recruiting.
Another positive that came to light earlier this week was Chad Simmons's announcement about the No. 1 OT in the country planning on returning to Nebraska for the spring game. Brandon Baker, from Santa Ana (Calif.) Mater Dei loved his visit to Nebraska. The visit was critical for him to connect what Nebraska had to offer and the interest of the staff.
Baker said during the visit, from the recruiting spotlight interview, and with me following the visit, that he was impressed with Nebraska. The Huskers had Baker, Jacob Smith, Jerod Smith, and others talking about returning to Nebraska just a month later to see the spring game in Lincoln.
My last observation was running back Nate Frazier, also from Santa Ana (Calif.) Mater Dei showing up to a combine in southern California wearing Nebraska gear. Frazier has gone on the record about the fans and the love from the fans. He's a walking quote machine. Hearing or reading Frazier's responses about Nebraska moving forward in this recruiting cycle will be fun.
Expect more visitors in April
There could be another little junior day coming up. It's not piling up yet on the visitor list, but I anticipate at least one addition to the April 15th date. Ironically, it's another player from the state of Texas.
We have confirmed running back Kewan Lacy from Lancaster (Texas) as a visitor that weekend. Lacy, who plays at the same high school that Omar Manning attended, has an offer list that outweighs his On3 ranking.
The On3, a three-star recruit, has offers from Texas A&M, Miami, Ohio State, Tennessee, Michigan, Oregon, Ole Miss, Alabama, and so on. It says a lot that Nebraska is getting a visit this spring. He will only have gone to Ole Miss and Miami this spring before taking the trip to Nebraska, and the Nebraska visit will be only his sixth visit overall (with two of his trips going to the hometown school, SMU).
Nebraska will also host another Texan whose offers again outweigh his ranking. Tyanthony Smith from Jasper (Texas) confirmed that he would also be in Lincoln on the 15th and would be in Oklahoma the day before.
Nebraska offered Smith on Christmas under Matt Rhule and the new coaching staff. Smith says that coach Hales has been the coach that has been recruiting him for Nebraska, but he's also spoken with coach Dvoracek.
The Huskers see Smith similarly to other schools. They like him as a middle linebacker, and it will be necessary for Smith to see the defense in action as well as the campus and 'get a feel for the way they do things.'
And while just Lacy shows up in the visitor list, I have been told privately that the weekend of the 15th could be another weekend of significant recruiting importance. I don't have any other information outside of that, and I plan to start working the phones soon to see if I can confirm other recruits for that weekend in Lincoln.
Pay attention to the in-state targets
Maybe it's just me, but things are feeling a little off right now with the 2024 class. Let me preface this section by saying that I have not been this optimistic about the recruiting class going into this part of spring in a long time. But something is still off.
Maybe it's the commitment total and lack of commits in the 2024 class. I used to think that some of that was by design because the landscape for the recruiting class changes drastically if Dylan Raiola wanted to commit to the Huskers.
And this section is not a sky is falling warning or that Raiola is going to another school sob story. Not at all. But you do have to see or feel like there are a lot of eggs in that basket, and those eggs can make your class special.
But there are some other parts to the class, most notably the in-state group, that feel like they are not as far along in the recruiting process or considering Nebraska enough.
This next part is going to be tough. Buckle up.
At junior day only two in-state players were in attendance. Just Carter Nelson and Caleb Benning were there, while Dae'Vonn Hall and Isaiah McMorris were in Chicago at a 7v7 tournament, and Caleb Pyfrom was in Norman visiting Oklahoma.
Hall, McMorris, and Pyfrom make up 60% of the top 5 players from the state of Nebraska. Add in Daniel Kaelin, who has committed to Missouri, and you can take it up to 80% of the top five players in the state weren't in Lincoln for the biggest recruiting weekend to date under Matt Rhule.
Am I pressing the panic button?
Not yet, but I know where it's located. Let's level set. McMorris made a surprise visit to Nebraska the first weekend in March. However, he is headed into a serious run of visits in April, where he will see USC, Kansas State, Penn State, and Minnesota. The weekend he's in Minneapolis is the same weekend as the Nebraska spring game.
Pyfrom was also just in Lincoln last weekend. He got a full day of a visit, too, showing up there in time for practice that morning on Saturday and not getting home until well into the evening. Caleb doesn't have any upcoming visits planned coming off of visits to Penn State, Oklahoma, and Nebraska. It will be interesting to see if he makes it to the spring game.
Hall has been on campus at Nebraska seven times that we know about, but his most recent trip was to State College to see Penn State. Hall hasn't been to Lincoln since last fall. Last September, to be completely accurate. He wasn't at the in-state junior day the new staff hosted in December.
Ashton Murphy was in Lincoln recently. He visited Nebraska about three to four weeks ago. The talented lineman heard from Nebraska that weekend that they see him on the defensive side of the ball, which makes a lot of sense given his frame, and he doesn't have another visit scheduled to Nebraska and was just in Iowa City.
Things still look good for most of the in-state players that are holding Nebraska offers. It's that same doubt that I may have felt a little bit last year when Maverick Noonan was taking trips around the country to various schools. I am a little apprehensive, but we will know much more at the spring's end where Nebraska sits with this in-state group. Just keep an eye on it.
Never miss breaking news or another HuskerOnline article again. Click HERE to sign up for HuskerOnline's Daily and Breaking News Newsletters.
The post Three & Out: Positives from Nebraska's junior day, more visitors in April, and keep an eye on the in-state recruits appeared first on On3.