Three things to know ahead of Michigan hockey vs. Quinnipiac in the Frozen Four
3 min read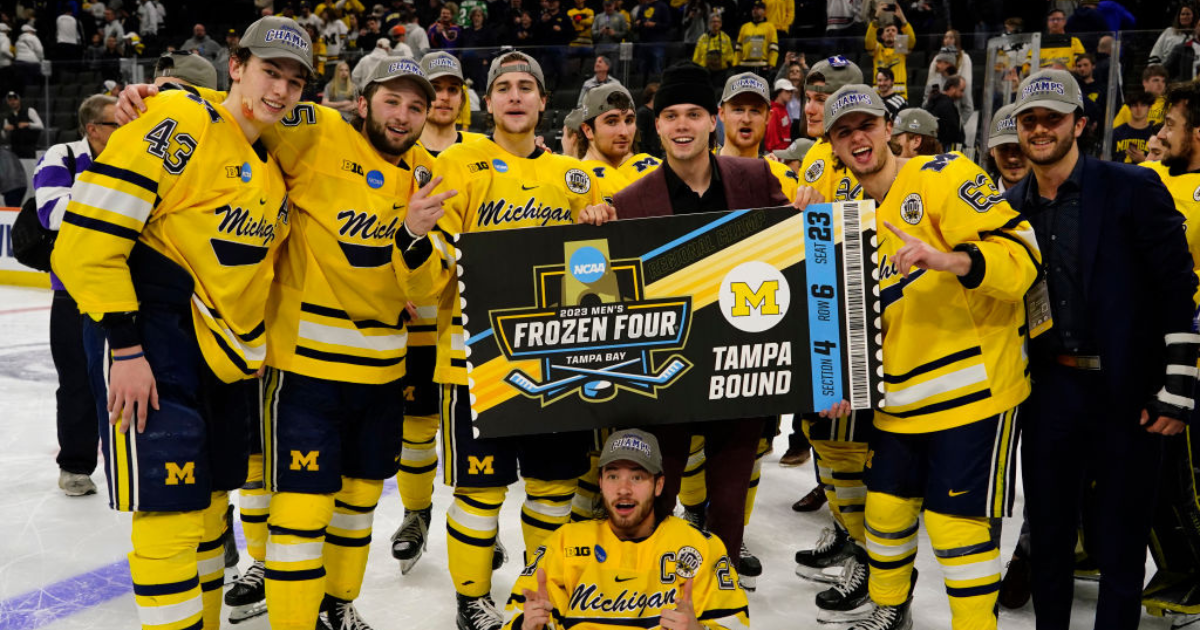 Michigan Wolverines hockey is set to take on Quinnipiac in the Frozen Four Thursday night (8:30 p.m. ET on ESPN2), with the winner to face Minnesota or Boston University for the national championship Saturday evening.
Michigan is in its NCAA-record 27th Frozen Four, making back-to-back appearances for the first time since 2002 and 2003 and seeking its first national championship since 1998.
Quinnipiac (Hamden, Conn.) is out of the ECAC, where it went 20-2 in league play and 32-4-3 overall. The Bobcats beat Merrimack and Ohio State to make the Frozen Four.
Here are three more things about the Bobcats and the matchup to get you ready for faceoff.
RELATED
• 'We're not just happy to be there' … Michigan hockey in it to win it at the Frozen Four
1. Strength on strength
Michigan has the nation's top scoring offense at 4.22 goals per game and scores on 24.7 percent of its power plays (ninth). It'll be strength on strength when head coach Brandon Naurato's team has the puck going against the Quinnipiac defense. The Bobcats lead the country with just 1.54 goals per game against and are fourth in penalty killing percentage (86.1).
It's important to note that Quinnipiac has played the 42nd-toughest schedule in the country, according to HockeyNews.com, while the Wolverines' slate checks in as the second-most difficult.
An X-factor for Michigan will be its back line providing some offense. The Wolverines' defensemen, led by sophomore Luke Hughes, are uber talented and a new challenge for Quinnipiac. Hughes, the No. 4 overall pick in the 2021 NHL Draft to the New Jersey Devils, is second in the country among defensemen with 1.24 points per game. His playmaking will be key.
"Quinnipiac does not see a team that has the firepower on the backend like Michigan all year," Big Ten Network analyst Paul Caponigri said on a broadcast this week.
2. Quinnipiac has its own Hobey Baker Award finalist
Michigan freshman forward Adam Fantilli, a top 2023 NHL Draft prospect, was a top-three finalist for the Hobey Baker Award, handed out to the nation's best player. Quinnipiac has its own top-10 finalist, though, in goaltender Yaniv Perets, a 23-year-old Canadian.
Perets is second in the sport with a 93.2 save percentage. At the time of his selection as a finalist for the prestigious award, he was the only goalie in the country with 30 wins this season.
His defensemen are outstanding, as well, a huge reason for his success. For example, Perets has only had to make 764 saves, the 22nd-most in the nation, thanks to the line in front of him doing their job.
3. Erik Portillo against Quinnipiac's improved attack
Portillo has had an up-and-down season. He played a good game in the regional final against Penn State, helping an uncharacteristically struggling Michigan offense to victory, but it's been the Wolverines' scoring ability that has carried them most of the year.
Portillo's 90.9 save percentage ranks 46th in the country, and his goals-against average (2.97) is outside the top 50 (and doesn't even appear on NCAA.com's rankings). Michigan allows 3.08 goals per game, double of what Quinnipiac does (1.54).
"Given their differences on the defensive side of things, it's not surprising that the Bobcats also more than double up on the Wolverines in scoring margin, USCHO.com's Paula C. Weston wrote. "Quinnipiac's 2.41 scoring margin is tops in that category. What is a little surprising is that Michigan's scoring margin of 1.15 is ninth. In many games this year, the Wolverines have relied on outscoring their mistakes."
As Weston pointed out, Quinnipiac is 4-3-1 in contests in which it's allowed 3 or more goals, including a 1-2 mark when giving up more than 3 goals.
On the other side of the ice, Quinnipiac ranks third in the country with 3.95 goals per game, led by six players with over 30 points. Forward Collin Graf has 56 points (20 goals, 36 assists). The Bobcats' offense was a weak spot last season — Michigan beat them 7-4 in the NCAA Tournament — but has improved.
For Michigan to win the national championship this weekend in Tampa, Portillo and the defense will have to step up.
The post Three things to know ahead of Michigan hockey vs. Quinnipiac in the Frozen Four appeared first on On3.