Tony Vitello updates the status of shortstop Maui Ahuna
3 min read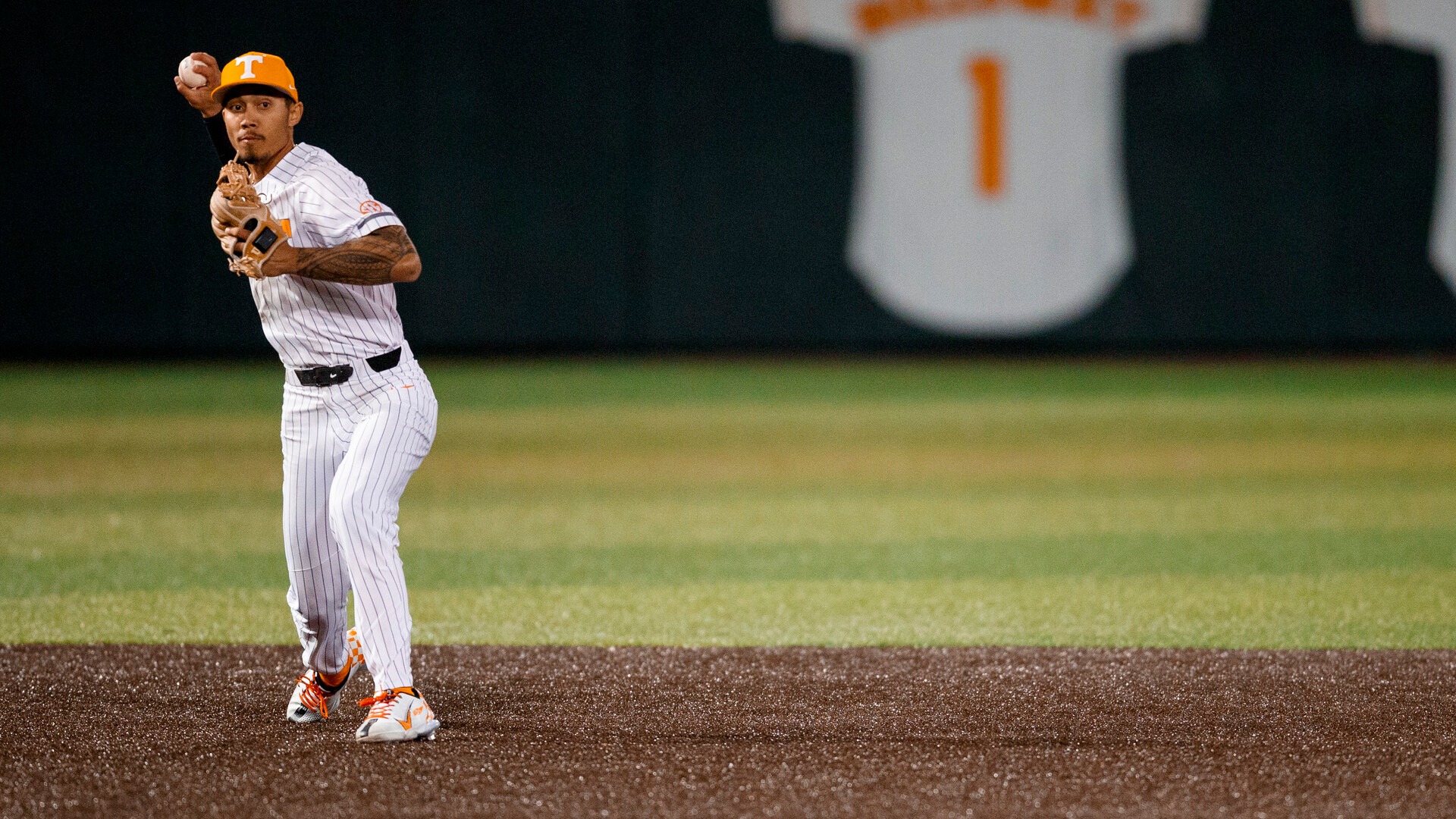 Tennessee shortstop Maui Ahuna was "better" on Saturday after missing Fridays' game against Florida, head coach Tony Vitello said, but the Vols still opted to rest him in the series finale against the Gators. 
"He was better today," Vitello said after Tennessee's 14-2 win over Florida. "Again, (Austen) Jaslove played really well. We just kind of liked that matchup and situation so he comes out of the game and of course we have confidence in (Jake) Kendro too."
Tennessee (22-10 5-7 SEC) hosts Eastern Kentucky on Tuesday at Lindsey Nelson Stadium and is at Arkansas next weekend. Vitello added that Ahuna could've played Saturday had he been forced into it.
Maui Ahuna could've played for Vols 'in a pinch' on Saturday 
"I think in a pinch he could have played today. He took part in all of pregame so I'd assume he'd be ready to go on Tuesday. That'll be up to us if we see he's the guy that needs to be out there."
Jaslove batted ninth and finished 1-for-2 with a walk and a strikeout against Florida, playing in place of Ahuna at shortstop. Kendro was used late in the game as a pinch hitter, striking out in his only plate appearance. 
Tennessee didn't miss Ahuna thanks to Griffin Merritt and Drew Beam.
Merritt ended the game with a three-run home run in the bottom of the eighth inning, invoking the run rule to help Tennessee avoid the sweep. Merritt went 3-for-4 at the plate with six runs batted in and three runs scored, finishing with a double and two home runs, including a two-run shot in the fourth.
Beam got the win on the mound, working seven innings, giving up just two runs on four hits while tying a career high with 10 strikeouts.
The Vols walked 18 times after striking out 18 times in the 6-1 loss to the Gators on Thursday night. Florida start Jac Caglianone started the game with four straight walks — he threw 15 straight balls before getting his first strike over the plate — and walked six of the eight batters he faced before being pulled with two outs in the bottom of the first.
Tennessee had a 3-0 lead before Merritt gave the Vols their first hit in the bottom of the third. 
Up Next: Tennessee vs. Eastern Kentucky, Tuesday, 6:30 p.m. ET, SEC Network+
Ahuna was a late scratch Friday night before Tennessee's 9-3 loss to Florida. Tony Vitello said Friday night that Ahuna was questionable for Saturday's series finale while dealing with "some discomfort."
Ahuna, Tennessee's prized transfer addition from Kansas, is hitting .288 with an .872 OPS this season, starting 21 times in 22 games. 
"From what I know and I'll go in there right after this and see what our assessment is for tomorrow," Vitello said. H"e's been kind of fighting some discomfort. I mentioned on the television broadcast that there was a play I thought he would make and it was kind of like, 'oh yeah, he's not moving as well as he can' and tonight it kind of reached a breaking point. 
"I don't know if the weather or the grind of the last few days of him battling through that got to him, but I got word that he was a no-go and needed to switch things on the fly. So, I got to it as fast as I can. I don't want to say back and be wrong, but something on the back-side of his body."
The post Tony Vitello updates the status of shortstop Maui Ahuna appeared first on On3.