Top-150 PG Durral Brooks breaks down Michigan commitment, connection with staff, Kobe Bufkin, more
5 min read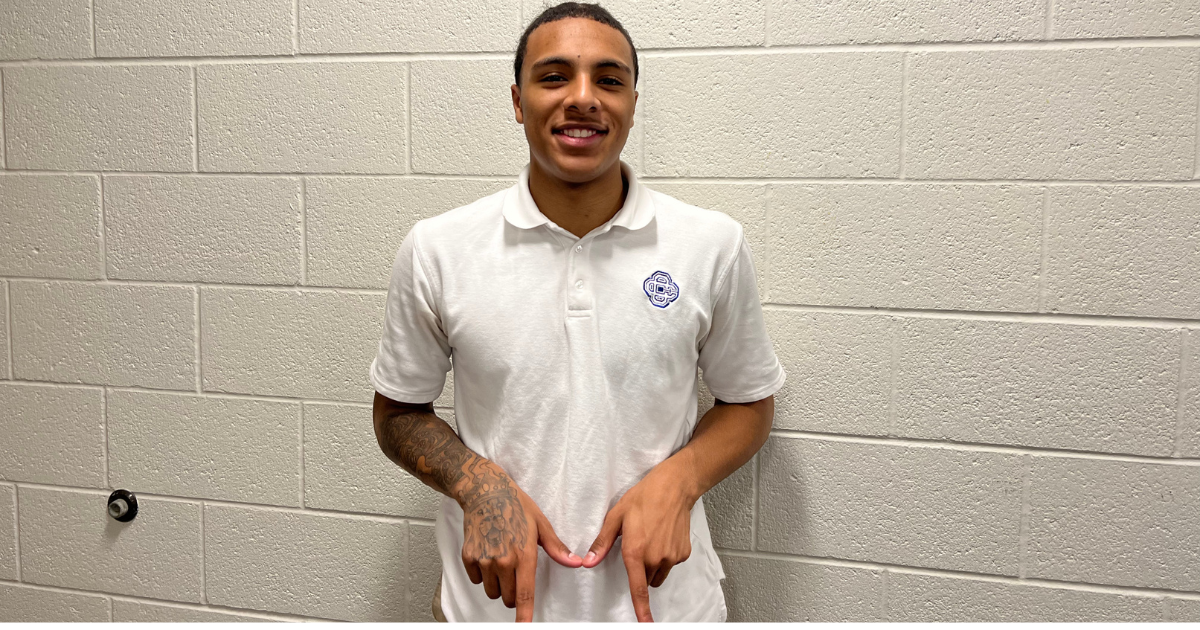 GRAND RAPIDS, Mich. — Michigan Wolverines basketball landed 2024 Grand Rapids (Mich.) Catholic Central point guard Durral 'Phat Phat' Brooks Sunday evening, with the three-star announcing his commitment on social media. Brooks is the No. 117 overall player and 19th-best point guard in the country, and the top-rated prospect in Michigan, according to the On3 Industry Ranking.
Brooks, who chose the Maize and Blue over offers from Michigan State, Butler, Dayton and others, has been a Michigan fan his entire life. His relationship with lead recruiter Saddi Washington and head coach Juwan Howard has grown strong, after several visits over the last two years.
"I love Saddi. He's a main reason why I committed," the 6-foot-2, 180-pounder told TheWolverine.com at his high school. "How they interact with my family, it feels more like family, especially with my little brother, Jaceyon [nine years old]. Other schools interact with him, but they don't interact with him like Coach Saddi and Juwan do. Jaceyon is kinda shy when you first meet him, but he didn't have a moment where he was shy with Saddi and Juwan.
"It'll be great playing for [Howard], especially because he has a lot of energy when he coaches and he's a people person, just like me. Being around him, it's not all about basketball with him, either. He likes to do stuff with kids, get out, interact with fans. I think it'll be good playing for him.
"I would say it just feels more like family than coaches. We have a great connection and great relationship."
He also shares a bond with fellow Grand Rapids native and Michigan guard Kobe Bufkin, who's a projected first-round pick in this summer's NBA Draft. The two grew up playing together.
"I did want to play with him [at Michigan], but I kinda expected it, because he worked very hard," Brooks said. "I didn't really expect him to stay the whole four years. Obviously, I wanted to play with him, but it's good for him that he got the opportunity like that to go to the NBA."
Brooks was still able to glean a lot from Bufkin's time at Michigan. The guard had an up-and-down freshman season but was said to be the team's hardest-working player last spring and summer, before he broke out and earned All-Big Ten accolades.
"Especially now that I saw how he worked and I saw how much work has to be put in to be put in a position like that, I feel like I'll take it very personally and work very hard when I get there," Brooks said, noting that in-state products have a deeper connection with Michigan.
Durral Brooks breaks down his game
Brooks earned Division II first-team All-State honors from the Associated Press as a junior last season, but ask him about the year and he's more eager to talk about his team.
Catholic Central won the state championship his freshman season and made the finals his sophomore year but fell in the first round of the playoffs in 2022-23. Brooks is determined to help the Cougars make a deep run next winter.
"That's good, but it's still about winning," Brooks said of the recognition he received last season. "It's good that I had some stuff like that to put on my record, but I've gotta be more of a leader to my team so we don't have a repeat of last year and getting out the first game [of the playoffs]."
Defense, rebounding and getting to the rim (and finishing there) are among the strength's in the Michigan pledge's individual game.
"I would say defense — when I am talking," Brooks began, discussing his top attributes. "But mostly defense, trying to bring energy, trying to get my team involved. I feel like I can still improve. And rebounding, it kind of faded away toward the end of the year, but I can stay on top of that. Rebounding is a good part of my game, too.
"Coach says all the time that point guards that can rebound will play in college. Rebounding is really important, especially having it in my game."
Brooks averaged 20.4 points, 5.8 rebounds, 1.8 steals and 1.5 blocks per game for his team, which posted a 16-7 record. He hit on 37 percent of his tries from three-point range but didn't attempt many shots from beyond the arc. He scored 43 points in a win over Wayland (Mich.) High in January, shooting 16-of-22 from the field and 11-of-14 from the free throw line, without attempting a triple.
"Just playing up a grade my whole life, I kinda had to be strong, had to learn how to get my team involved, get to the rim," Brooks said of his ability to get to the tin. "So I'd probably say just playing the older competition, them being stronger than me, faster than me. Then, playing my own age isn't really the same as playing up a grade."
The biggest focus of the offseason is improving his three-point shot, but he said it's coming along nicely.
"I've been trying to get that. That'll be a big change from this year to next year," Brooks noted.
Brooks is a point guard, but he has positional flexibility.
"I would say it depends on who else is on the floor," Brooks said. "I can be a true point guard but can also play the '2' or the '3,' so I guess it just depends on who's on the floor. If the coach needs me to run the '2,' then I can, but if he needs me to play the '1,' then I can also do that."
Michigan has had a long history of having high-level point guard play, from Rickey Green in the 1970s to Jalen Rose in the 1990s and Darius Morris, Trey Burke, Derrick Walton Jr. and Zavier Simpson over the last decade-plus and others in between.
"It's good, especially since most of the point guards that came out of there went to the NBA," Brooks said of that legacy. "It's good asking Coach what they did, how they worked, to be able to put themselves in that position. I feel like it'll be good for me, especially trying to do the things that they're doing right now. It'll be a good fit and I think it'll end pretty good for me."
The work begins now, the Michigan commit says. He's happy to have the recruiting process over with and focus on chasing a state title and getting ready for his college career.
"It's a great feeling, like a weight off my shoulders," Brooks stated.
The post Top-150 PG Durral Brooks breaks down Michigan commitment, connection with staff, Kobe Bufkin, more appeared first on On3.