Top-six moments from Ohio State spring game
6 min read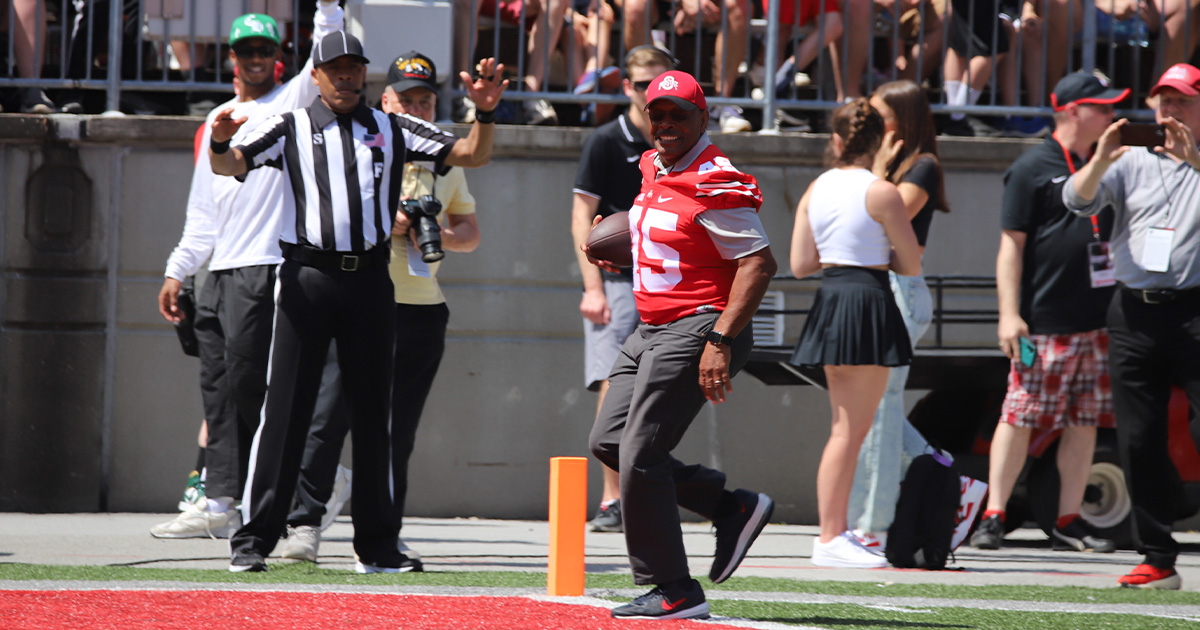 COLUMBUS — Ohio State running back Chip Trayanum was the leading rusher during Saturday's spring game, but not if you ask fifth-year Buckeyes head coach Ryan Day.
That title belongs to program legend Archie Griffin.
When the Ohio State offense needed a spark Saturday, Day turned to the two-time Heisman Trophy winner. There he was, at 68 years old, in the backfield.
Griffin received a handoff from quarterback Kyle McCord and ran 25 yards to the end zone for his first Buckeyes touchdown in nearly a half century.
"That was fun watching him there," Day said postgame. "I think next year is the 50th anniversary of his first Heisman. So we wanted to make sure he came back for that one."
Day added: "The offense needed a little help at that point, too, right around the 30-yard line. So we felt like we called into the bullpen and pulled in 45."
It was a fun moment.
That said, it also spoke to the struggles Ohio State was experiencing on offense — struggles that it's been working through this spring amid a quarterback battle and, perhaps more importantly, significant turnover on the offensive line, where the Buckeyes are replacing three starters.
The score of the Buckeyes spring game, 40-31 in favor of the defense, is largely irrelevant. What matters more, of course, is how each unit and individual players performed.
But a highlight on one side of the ball becomes tomorrow's lesson for the other side of the ball. It's the nature of the offseason, especially the spring game.
With that in mind, Lettermen Row is going back and examining the top-six moments from the intrasquad exhibition, an early tease of the 2023 season that drew more than 75,000 fans to Ohio Stadium for a sunny weekend afternoon.
1. Denzel Burke breaks up pass to Carnell Tate, disrupts potential Jayden Ballard catch
Denzel Burke might have had the best day of any Ohio State player. The junior cornerback capped a strong spring with a strong spring game performance. Two plays stuck out, in particular, and they both occurred in the first half.
Burke broke up a 3rd-and-10 pass from McCord to true freshman wide receiver Carnell Tate, who was coming back to the ball near the sideline. Burke made up the ground between them and got his hand in for a PBU, forcing a Jayden Fielding field goal attempt from 40 yards out that was wide right.
Burke was credited for only one pass break-up, but he might as well as had two because he came up big on another third down pass play — this time, on a downfield McCord pass to wide receiver Jayden Ballard.
The ball hit off Ballard's hands, but Burke was right there in coverage, and he stuck his hand in to disrupt the potential reception.
2. Jayden Ballard redeems himself with one-handed sideline grab
Ballard didn't let that downfield opportunity spoil his afternoon. He finished the spring game with four grabs for 27 yards. His four receptions were the most of any Buckeyes receiver Saturday.
Of the four, his most impressive was a one-handed sideline catch. McCord put some mustard on the throw, and the out-breaking Ballard leapt, plucked the ball and got one foot down to secure possession before going out of bounds.
3. Chip Trayanum breaks away for 65-yard touchdown run
Trayanum busted free for a 70-yard touchdown run during the Buckeyes' Student Appreciation Day practice inside the Woody Hayes Athletic Center on April 1. He ripped off another breakaway score Saturday. Trayanum looked just as fast, if not faster, in the Shoe.
At 5-foot-11, 233 pounds, Trayanum carries his weight well, and he has top-end, gear-shifting speed. It makes more and more sense why he returned to running back full-time this offseason.
Trayanum's spring game touchdown was good for 65 yards. It was made possible by good blocking from tight end Patrick Gurd (on safety Sonny Styles) and right tackle Tegra Tshabola (on defensive lineman Landon Smith).
Trayanum finished with 110 rushing yards on eight carries. Dallan Hayden carried the ball 12 times for 30 yards, and Miyan Williams logged 14 rushing yards on four totes.
4. C.J. Hicks, Sonny Styles nearly intercept Kyle McCord
Ohio State second-year linebacker C.J. Hicks could have not one but two interceptions on McCord. He couldn't pull down either of them. Hicks is probably thinking more about the second one.
McCord was trying to fit in a sideline pass to wide receiver Kaleb Brown. Hicks read it all the way, and was in the perfect position for not only an interception but maybe a big return, too.
The ball, however, ricocheted off his hands and fell harmlessly to the ground.
Styles nearly had an interception of his own. Faced with a third-and-long, McCord eyed up true freshman tight end Jelani Thurman in the middle of the field.
Styles saw it coming and charged in front of it. He just couldn't reel in the takeaway. McCord had a handful of dangerous throws Saturday, but the defense didn't make him pay with an interception. The Buckeyes, notably, had only 11 interceptions last season, tied for 51st nationally in that department.
Along with linebacker Reid Carrico, Hicks and Styles were tied for second on the Buckeyes' tackling leaderboard with six total stops. Hicks accounted for five solo tackles.
5. Kyle McCord dials up 37-yard touchdown pass to Carnell Tate
While he had an up-and-down outing, McCord did flash his arm strength and velocity Saturday — mainly only layered and boundary throws.
His best toss of the spring game occurred in the final frame, when he put a 37-yard touchdown pass on a rope for Tate, who beat second-year cornerback Jyaire Brown down the sideline.
Tate has had an impressive first few months as a Buckeye, so it was fitting that he found the end zone in the spring game.
McCord was the right on the money with his throw, too. He dropped it right in the bucket for his first-year wideout. McCord ended the day 18-of-34 for 184 yards and a touchdown. He was sacked three times.
6. Noah Rogers sheds three tackles on catch-and-run, 57-yard score
Tate might have been the first of Ohio State's 11 early enrollees this year to shed his black stripe, but he's not the only standout wide receiver in his class.
All four of the Buckeyes' new wideouts are intriguing. But it was Noah Rogers who joined Tate in the end zone Saturday. He fought to get there, breaking three tackles along the way.
Rogers turned a slant pass from Oregon State transfer quarterback Tristan Gebbia into a 57-yard catch-and-run score. Rogers posted three receptions for 64 yards in his Horseshoe debut.
The post Top-six moments from Ohio State spring game appeared first on On3.