Transfer Analysis: How Carlos Stewart fits in LSU's revamped backcourt
4 min read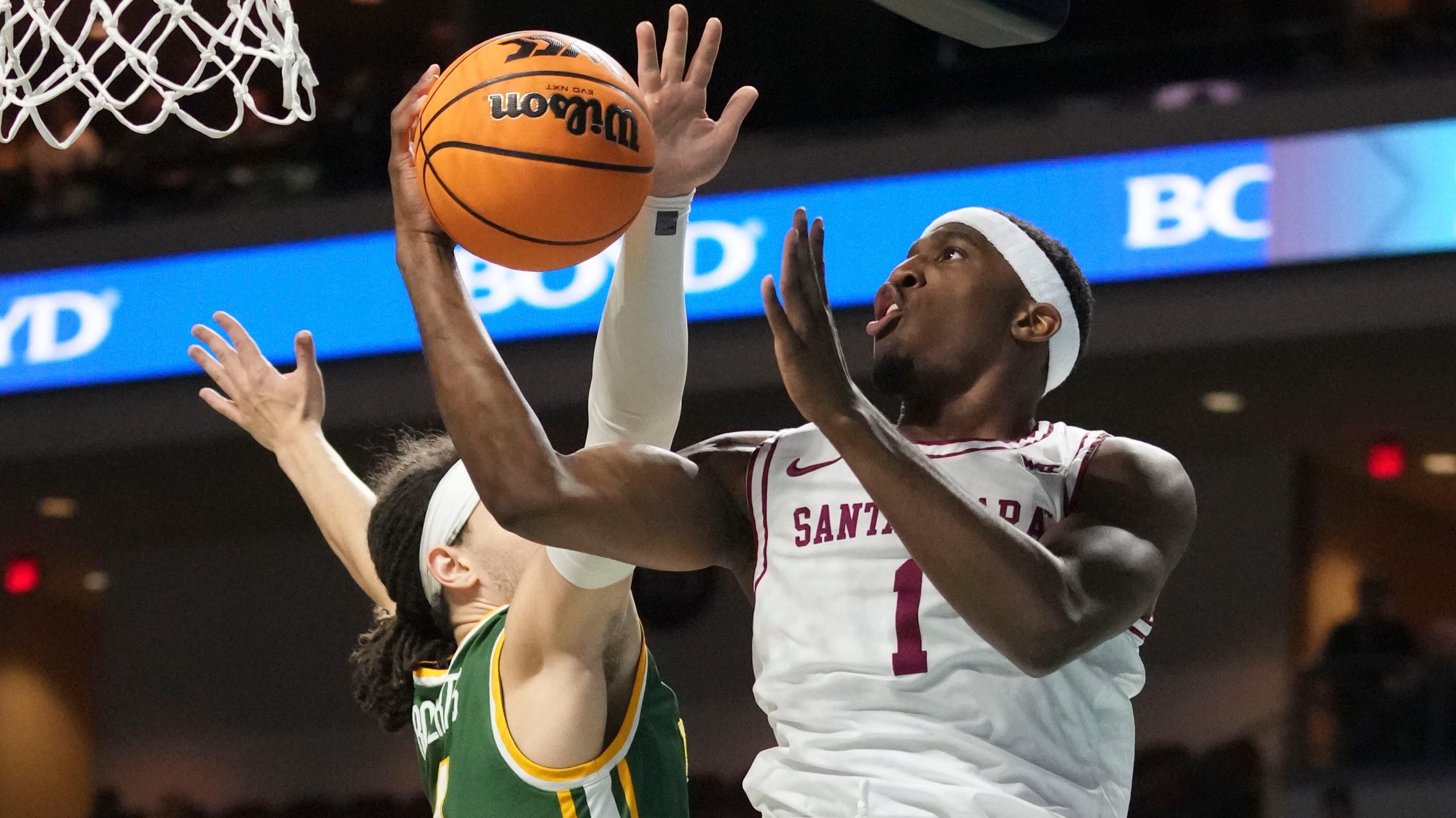 LSU added Santa Clara guard Carlos Stewart on Tuesday afternoon, bringing another dynamic scorer to its backcourt for the 2023-24 season. Head coach Matt McMahon has been intent on rebuilding the roster through the transfer portal and now brings in first-team All-WCC guard who averaged 15.2 points last season on 44.1 percent shooting and 31.7 minutes per game on the third best team in the WCC.
Stewart is also another Baton Rouge native, joining transfers Jalen Cook and Jordan Wright in returning home to continue their college careers. Stewart played two years at Santa Clara and now has two years of eligibility remaining in Baton Rouge.
Here's a closer look at his game and how he fits on this new-look LSU roster.
Athleticism/Interior scoring
On paper, Stewart is listed at 6-foot-1, and that's probably an accurate height, but his physicality and ability to embrace contact on both ends allows him to neutralize the size disadvantage in several situations. The strength when driving to the rim is a huge reason he shot 52 percent at the cup this past season on 116 attempts. He doesn't utilize a floater much at all, instead creatively finishing through and around the defender.
The next point that impressed me physically was his change of speeds. He can be a terror in transition with his quickness, quickly advancing the ball as the primary ball handler and often slicing through defenses before they're even set. LSU simply did not have anyone that could push the ball like him last year. Stewart shot 55.8 percent in transition on 77 field goal attempts according to Synergy.
The quickness also allows him to post impressive steal numbers on defense. His height is not ideal, but the combination of strength and quickness really makes up for it.
Shot creation
Stewart filled it up last year at Santa Clara and scored over 30 points per game in high school, it's no secret he's a score-first guard. The variety in his scoring bag is really what impresses me, though. We talked about his ability to finish at the rim, but he's really a three-level scorer with a balanced game.
If we just look at this from an efficiency standpoint, he shoots 52 percent at the rim on 3.5 attempts per game and 40 percent from 3-point range on 4.4 attempts per game. Those two are clear strengths. His jumper is unique, but the result is all that matters and Stewart can shoot the ball both off the bounce and on the catch.
It's the mid-range jumpers that both intrigue and scare me, though. According to Synergy, Stewart had 116 jumpers from inside the 3-point line and on those, he shot just 35.3 percent. He's very comfortable creating separation and taking long twos, which look great when they go in, but are inherently difficult shots.
It will be interesting if McMahon can have an offense with enough talent and fluidity to where Stewart can take more efficient shots because it's clear he's an elite scorer.
Ball handling
He played point guard for Santa Clara and had a ton of freedom on the ball and I thought he was under control most of the time. He didn't force the issue too much, letting his teammates create themselves plenty, but when it was his time to score, he went to work. His handle is fine, nothing stood out good or bad there.
As far as his passing goes, I'd say he sees the court well, but isn't a great passer. His 14.3 assist rate is pedestrian, while his 17 turnover percentage is a tad high. He almost had a 1:1 assist to turnover ratio. I like him best as a secondary ball handler and creator who can step into the point guard role for 4-6 minute stretches. With Jalen Cook already on the roster, that's probably the plan anyways.
Defense
The same physical attributes I raved about in the beginning come back to help Stewart be a plus defender. It was hard for him to be consistently active with the offensive load he had at Santa Clara, but on the ball I have very little concerns about him against guards 6-foot-4 and under. He can definitely hold his own.
He averaged 1.8 steals per game, showing his instincts and aggression as a defender. I watched him defend the Gonzaga guards and thought he was very solid.
Fit in this roster
As LSU begins to reach the end of the transfer portal turnover, Stewart is clearly a guard that can come in and compete for significant playing time both alongside and behind Tulane transfer Jalen Cook. On a team with Cook and other capable scorers, Stewart will be able to pick his spots more, but I think his physical ability is something that Cook does not have and he provides a really nice change of pace without dominating the ball. Seeing him push the ball and get others involved last season showed the potential he has as a secondary ball handler for McMahon this year.
Overall, this team continues to load up on Louisiana talent, but also players who are adept at scoring the ball. Stewart is an excellent addition who can fill different roles in the backcourt at LSU next year.
The post Transfer Analysis: How Carlos Stewart fits in LSU's revamped backcourt appeared first on On3.