Tyreek Hill says he plans to retire after current contract with Miami Dolphins
2 min read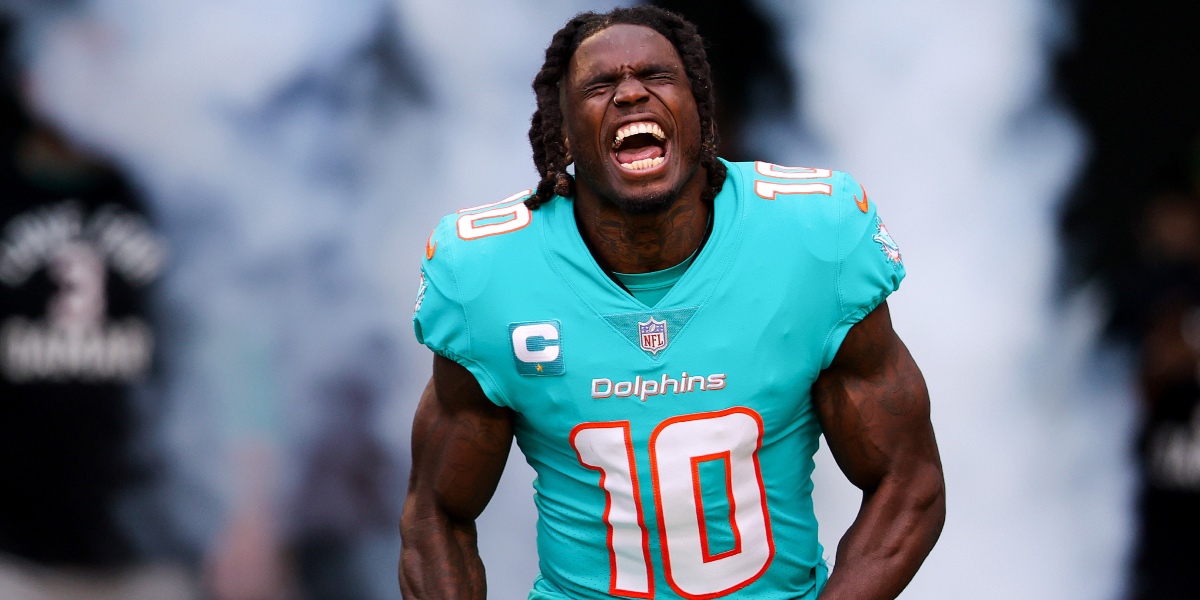 Enjoy Tyreek Hill while he's still playing, because retirement is coming sooner rather than later for the star wide receiver. 
Evidently, the end of Hill's football career has been on the Miami Dolphins speedster's mind. While he's signed for a couple more seasons, Hill has other ventures he wants to pursue off the football field.
Joining Sports Radio 810 and shared to Twitter by SportsCenter, Hill spoke about how he's planning to retire after his contract runs out in three years with the Dolphins. Check out the clip below, where the star wide receiver elaborated on his state of mind.
"Year 8 baby. I'm going for ten. I'm going to finish out this contract with the Dolphins, and then I'm going to call it quits," explained Hill. "I want to go into the business side. … I want to do so many things in my life bro."
Additionally, Hill shared what he's looking to get into business-wise. The former Kansas City Chiefs star has his eyes on the gaming world.
"I really want to get into the gaming space," added Hill. "Like, I really want to get huge in that. That's kind of what I'm doing right now, using my platform. Creating a gaming team, which isn't launched yet. It should launch by the end of this month."
That's definitely a smart investment for Hill, as the gaming world has exploded over the last decade. It's something he's passionate about, and he certainly has the means to be successful in that space. 
Still, it'll hurt not seeing him on the football field anymore. He's one of the most electrifying players to ever grace the NFL. It'll just make it that more important to enjoy the star wide receiver in 2023.
More on Tyreek Hill, NFL Future
Moreover, Tyreek Hill was traded for by the Miami Dolphins to help quarterback Tua Tagovailoa. Throughout the season, he was essential to the team's success, and we're willing to bet the Dolphins would do it over and over again if they could.
Hill hauled in 119 receptions for 1,710 receiving yards and seven touchdowns, finishing second in the league in both receptions and receiving yards. He helped open things up for Tagovailoa and the Dolphins offense, becoming invaluable throughout the season.
As long as he's on the field, the Dolphins will be a force. Miami is going to get the most out of their star wide receiver while they have him, which may not be too much longer according to Hill.
The post Tyreek Hill says he plans to retire after current contract with Miami Dolphins appeared first on On3.