Tyrese Maxey still would've gone to Kentucky if NBA was an option out of H.S.
3 min read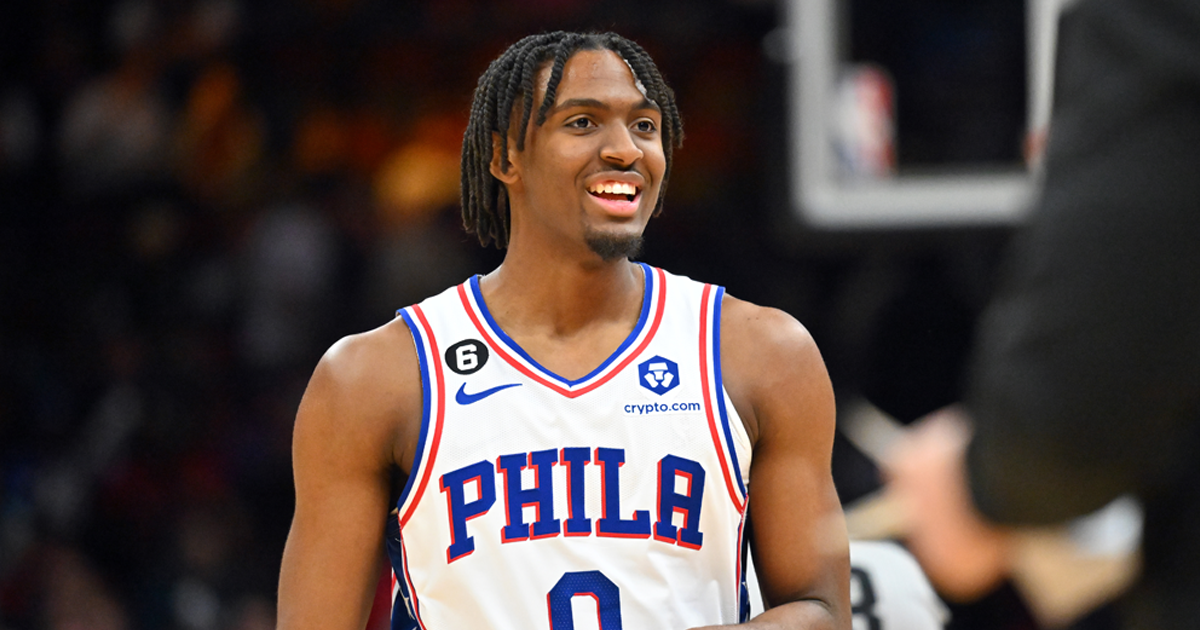 On Wednesday, Jim Rome welcomed Kentucky Basketball alum Tyrese Maxey onto his "The Jim Rome Show" airwaves as the third-year Philadelphia guard prepares for a Sixers postseason run. Maxey is on the verge of signing a lucrative contract extension this offseason, but he is saving those conversations for this summer when the time is right to discuss his future in the City of Brotherly Love. Right now, Philly needs an NBA championship.
Speaking on the Philly experience, Maxey told Rome his professional hometown is "on another level" compared to other sports cities, including Lexington, Kentucky, where the No. 21 overall pick in 2020 played his one season of college basketball.
"It's funny because I came from Lexington, Kentucky, and everybody said that was the biggest one," Maxey said to Rome. "But this right here, Philadelphia, it's on another level, man.
"Now, I love my Big Blue Nation folks, but this is the Sixers, the Flyers, the Phillies, the Eagles, the Union. I mean, they really rally behind their team sports and they support, man. It's big time here, and yeah it's tough love, but they know what they're talking about. They're always gonna be behind you. And if they love you, they love you, and I just appreciate them. They're always gonna show up for us and scream as loud as they can and, I try to go out there and give them dubs every time I step on the floor."
(Note: It's not bad to be slightly less crazy than Philadelphia. They're insane.)
And though he loves his new fan base, Maxey still thinks fondly of his time as a Wildcat and has no regrets about the college experience at UK before pursuing his professional dream.
"It was the best," Maxey said of his time with Calipari and the 2019-20 team that was robbed of a postseason. "I was literally just telling somebody… if I was eligible to go to the NBA right after high school, would I have done it? And I told him, I don't think so because Cal, Kentucky, Lexington, and just college itself was a big part of my life."
A big part of his life and preparation for the league.
"Cal really taught me how to build my own confidence," Maxey explained. "He was extremely tough on me, you know, screaming at me every single day. And I appreciate him for that because now nothing can faze me when I get to the league. People can scream at me, people can do whatever they want to do, say whatever they want to say–also, at Kentucky, you're under the media every single night. You're in the limelight, and it just gets you ready for the NBA because you know you're on TV all the time, and everybody's always talking about Kentucky, especially when you're ranked top-five, top-ten. You have all these super freshmen and McDonald's All-Americans.
"So you're right, man, you're under that fishbowl. You're under that limelight and you have to go out there and perform your best under pressure. And that's one reason why I really picked Kentucky. I knew Coach Cal would prepare for this moment right now."
Right now, Maxey is on the cusp of NBA superstardom with a scoring average north of 20 points per game and a career-best 43.4 percent shooting clip from outside for the team with the fifth-best odds to win the championship. He's beloved in a city that, as we addressed, is mad about sports.
And to Jim Rome, he credited Kentucky and Calipari with pushing him to get here.
Hear Tyrese Maxey talk Kentucky, Calipari with Jim Rome
The post Tyrese Maxey still would've gone to Kentucky if NBA was an option out of H.S. appeared first on On3.