Visitors Preview: Breaking down a big recruiting weekend at Michigan
4 min read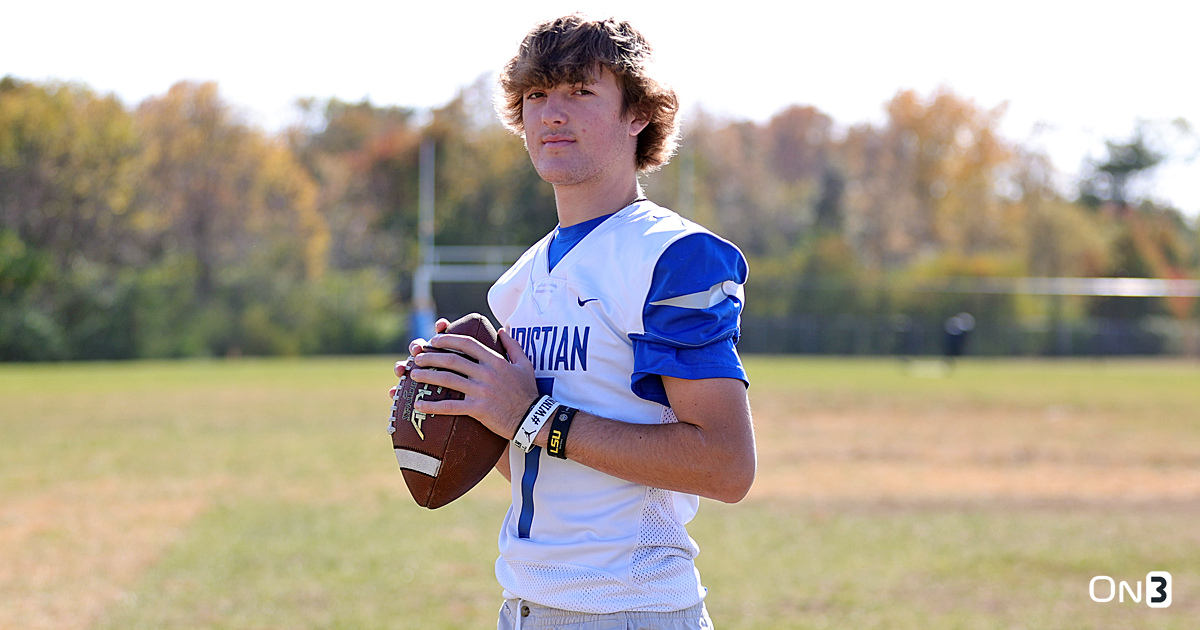 A look at every recruit slated to visit Michigan this weekend…
2024 Targets
WR I'Marion Stewart, Bolingbrook (Ill.) High — Stewart has been considered a Michigan lean for several months. The staff will look to take another step towards closing with him this weekend. The three-star prospect loves what the program has to offer on and off the field and has a great relationship with lead recruiter Ron Bellamy. NIL friendly schools like Miami, Oregon and Tennessee are lurking, while Wisconsin remains a contender.
TE Max LeBlanc, Chattanooga (Tenn.) Baylor — All eyes are on Brady Prieskorn at the tight end position, but Michigan is continuing to recruit other talented players, including LeBlanc. The four-star prospect recently named Michigan in his Top 8 and had high praise for U-M tight ends coach Grant Newsome. LeBlanc, who is a native of Canada, is taking his time with the process and is also high on programs like Ohio State, Penn State, Stanford and Tennessee.
OL Fletcher Westphal, Leesburg (Va.) Tuscarora — An On300 prospect, Westphal left Michigan out of his initial top schools list. However, it appears Westphal is once again interested in the Wolverines, which shouldn't be a surprise. After all, Michigan offensive line coach Sherrone Moore has plenty to sell as the Wolverines are coming off back-to-back Joe Moore Award wins. Right now, Auburn, Clemson, Florida and Michigan State are considered some of the major contenders.
DL Jordan Thomas, Ramsey (N.J.) Don Bosco — Thomas isn't a prospect we've talked about much, but it appears Michigan is back in the mix here. New Michigan linebackers coach Chris Partridge has ties in the region and could help U-M become a true contender for the On300 prospect. Thomas is high on programs like Georgia, Penn State, Notre Dame and South Carolina.
LB Jordan Lockhart, Bellflower (Calif.) St. John Bosco — New Michigan linebackers coach Chris Partridge is resetting the board and recently put an offer on the table for Lockhart. The three-star prospect committed to Partridge while at Ole Miss and recently backed out of his verbal pledge to the Rebels. That means Michigan should firmly be in the mix in his recruitment moving forward. Lockhart is also considering Alabama, Tennessee and USC.
DB Zaquan Patterson, Miami (Fla.) Chaminade-Madonna — A Top 100 prospect, Patterson has been to Michigan on multiple occasions in the past and is ready to get another in-depth look at the program. This is an important visit as Patterson is gearing up to release his final five. Patterson has a strong relationship with co-defensive coordinator Steve Clinkscale and is a teammate of Michigan commit Chris Ewald. U-M is in a strong spot here but will have to fend off Miami, Ohio State and a few others.
DB Jordon Johnson-Rubell, Bradenton (Fla.) IMG Academy — Johnson-Rubell is gearing up to release his final six, so it's important for Michigan to make a strong impression on his first visit. Michigan safeties coach Jay Harbaugh has been leading the way in this recruitment and is making Johnson-Rubell feel like a top overall priority. The Texas native does appear to be high on schools closer to home, but Michigan is definitely a dark horse contender.
2025
QB Cutter Boley, Hodgenville (Ky.) Lexington Christian — Boley is ranked as the No. 2 quarterback and No. 21 overall prospect in the country for next cycle. Michigan has already hosted him on multiple visits, but this trip will give him an opportunity to meet with new position coach Kirk Campbell. U-M is an early contender along with Kentucky, Penn State, Tennessee and others.
QB Stone Saunders, Harrisburg (Pa.) Bishop McDevitt — Michigan offered Saunders a while back and has had him on campus in the past. He is the son of former Baltimore Ravens strength coach Steve Saunders, who worked for Jim Harbaugh's brother, John. Like with Boley, this visit will give him a chance to meet with Campbell. Saunders also holds offers from Georgia, Nebraska, Texas A&M and others.
DB Cameron Miller, Atco (N.J.) Winslow Township — Michigan extended an offer to Miller as soon as he arrived on campus today. Newsome, who serves as his area recruiter, is making sure the Wolverines are getting in on more underclassmen in the Northeast. Miller is not yet ranked but does have offers from Georgia, Nebraska, Penn State, Wisconsin and others.
DB Chris Ewald, Miami (Fla.) Chaminade-Madonna — Ewald gave Michigan a verbal commitment in December over several major offers. The Top 100 prospect has since notched scholarships from Alabama, Notre Dame and a few others. However, Ewald remains solid and is actively recruiting for the Wolverines. He will work especially hard on teammate Zaquan Patterson throughout the weekend.
The post Visitors Preview: Breaking down a big recruiting weekend at Michigan appeared first on On3.