War Room: Football chatter, big recruiting weekend set, hoops news and more
11 min read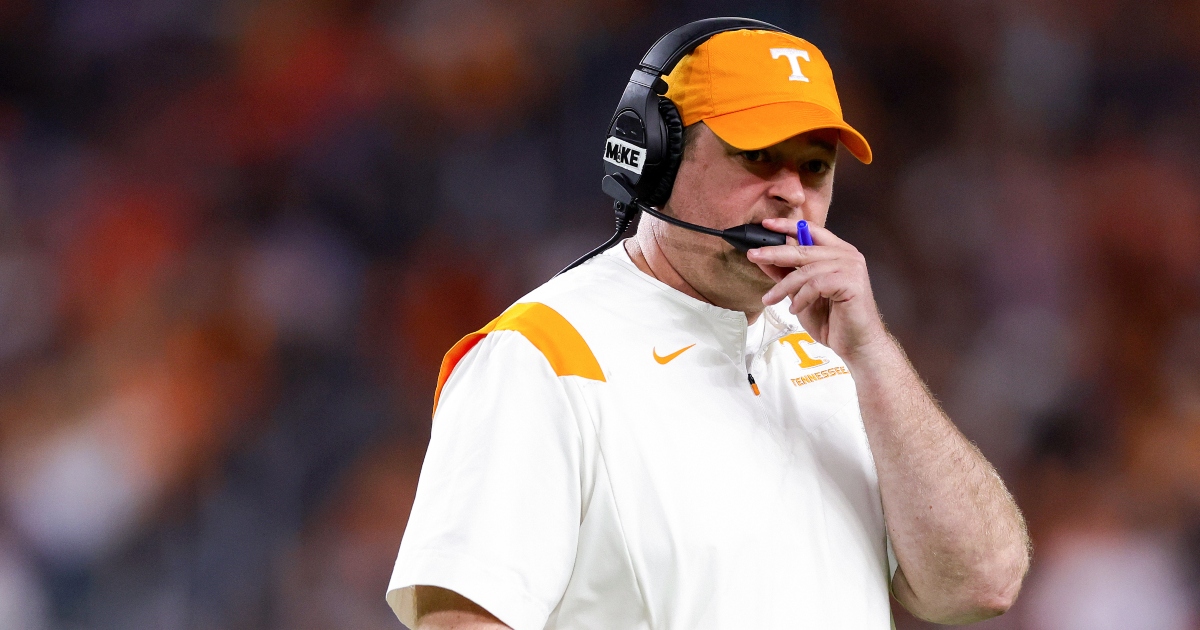 We begin this edition of the War Room as we always do. The War Room is a collective effort of Tennessee notes and news gathered throughout the week by the Volquest staff. And now, it's on with the news.
Tennessee wraps up their annual coaches' clinic on Saturday with their first major scrimmage of the spring. 
For the newcomers it's their first real scrimmage and an opportunity to show where they are with no coaches on the field. 
The vibe on the newcomers continues to be good particularly on the defensive side of the ball with guys like Arion Carter and Caleb Herring. Herring is dealing with some soreness in his knee that started during Thursday's practice and he likely will not be a participant tomorrow, but he has impressed to this point. 
It's not just about the newcomers impressing. Elijah Simmons and strung together the best set of practices of his entire career. Simmons still wants and needs to lose some weight but he has had a good winter. Simmons has dropped his body fat about 8% and seems to be as dialed in as he has been in his career. The question is can he continue to sustain it as consistency has not been a part of his game to this point in his career. 
Another returning defensive linemen who has had a good couple of weeks is Dominic Bailey. 
It's going to be interesting to hear the returns on things in the secondary after Saturday's scrimmage. Gabe Jeudy has been solid along with Doneiko Slaughter at corner. Most feel they have been the two best corners to date, but those freshmen have had their flashes as they get more and more comfortable with the speed of the game. 
We mentioned this early in the week but Ramel Keyton has been the most consistent receiver to date. Keyton and Joe Milton have a real chemistry going back to the 2021 season when both were running second team. 
As for pro day, it was a good day for the Vols. It was a really good day for Cedric Tillman who showed good quickness and ran crisp routes. Tillman doesn't have elite speed but no one in the league seems to be worried about his speed. Tillman seems like a solid third round pick who could move into the second round especially if there is an early run on receivers. 
Jalin Hyatt helped himself the most when he stepped on the scales on Thursday 10 pounds heavier than he was at the NFL Combine, weighing in at 186.
Jerome Carvin helped himself as well. Carvin, didn't have much buzz about him, before Thursday. He definitely helped himself with his workout. Not sure where or if Carvin will be drafted but Thursday's work is going to land him more visits and workouts with teams. 
Quarterback Hendon Hooker spent about 90 minutes or so visiting with the Tennessee Titans and head coach Mike Vrabel. The buzz around Hooker continues despite him not being able to throw. As most experts pick quarterbacks apart during workouts, Hooker's buzz hasn't hit any snags the last few weeks. Hooker will visit with several more teams in the next couple of weeks leading up to the draft the last week of April. 
Recruiting
Tennessee picked up their sixth commitment for 2024 with quarterback Jake Merklinger pulling the trigger to the Vols on Thursday. Having Nico Iamaleava already on campus could have made it difficult but Merklinger is a competitor and chose a tougher path to the field with the school he feels most comfortable at over a greater chance at immediate playing time somewhere else.
Tennessee had a successful weekend last week as they moved the needle with several prospects. One player that stands out to us is Louisiana linebacker Tylen Singleton. We feel like the Vols have the momentum coming out of the weekend. He will visit Knoxville officially in June and right now the Vols are the team to beat.
Tennessee is likely taking between two and three linebackers and with Edwin Spillman being a major target and others like Sammy Brown, Peyton Pierce and a few more, it will be interesting to see how things shake out at linebacker.
Chattanooga Baylor tight end Max LeBlanc certainly left town feeling like he is a priority. Ohio State is Tennessee's biggest competition here and he visits Columbus this weekend. The Vols will need to survive that trip if they are to land him. 
His Baylor teammates, wide receiver Amari Jefferson also had a great weekend  in Knoxville and the Vols got some momentum coming out of it. Georgia is the one team that looks to be standing in Tennessee's way but the Vols should have time to continue to work the relationship for Jefferson. 
Arkansas running back Braylen Russell will be in town on Friday. Tennessee is hoping for a big showing with him as they look to cement themselves firmly in the race for him. 
Mississippi tailback Daniel Hill has Tennessee in his top 3 and will visit in the month of April. Tennessee covets both Russell and Hill immensely so getting both here goes a long way to becoming a realistic option for them in our mind.
Alabama defensive back Travaris Banks is set to return to campus on Saturday. He has continued to feel like Tennessee has made him a priority over the last few months. His bond with Tim Banks is growing more and more. He will still see several schools before his planned June 18th commitment. Auburn and Florida State are heavily in the mix here, as are the Vols at this stage. 
Atlanta-area Edge Kameryn Fountain continues to report positive conversations with the Tennessee staff, especially Rodney Garner. Fountain will see Tennessee for the annual Orange and White Game on April 15th. Arkansas is one school swinging hard here right now as well. 
In checking with multiple people this week, Tennessee continues to stand out to Virginia running back Peyton Lewis, who is continuing to climb recruiting boards across the country. Lewis's on-field speed and ability obviously stand out, but when you talk to people about him, his character and work ethic are two things that are raved about consistently. 
We mentioned earlier in the week the potential for Williams Nwaneri to be in town this weekend with California Power for the Pylon 7v7 event in Knoxville. The standout defensive lineman confirmed those plans with Volquest, as he and other teammates, including elite tight end Jaden Reddell, are set to check out Tennessee on Saturday as they work time around the 7v7 tournament. It is going to be hard to pull Nwaneri out of the midwest, but getting him back to campus again for the second time in three months will give Tennessee a shot at securing one of his official visits, which he could potentially start using in June.
Daniel Calhoun is scheduled to be in Knoxville again this weekend. Things have not changed much in this recruitment over the past few weeks as Alabama and Georgia seem to be the teams to beat, with Tennessee firmly in the mix. 
This weekend will allow Tennessee to attempt to re-establish some momentum with Calhoun. His family likes the relationship with Glen Elarbee and Josh Heupel. This visit will be a nice refresher for him, as he plans to start using official visits in June and work towards a late summertime/early fall decision. 
Tennessee showed well with Ronan O'Connell last weekend. In speaking with him, he mentioned some interest in Notre Dame and having hope for that offer to come at some point. In talking with a source this week, there is a belief the Irish are not going to take any more interior OL in this class following their most recent commitment on Wednesday. That could always change, but with that, Wisconsin feels like the biggest competitor for the Vols currently, as Tennessee sits in good shape with the mid-state prospect right now. 
Aaron Scott sang high praises for Tennessee after checking out of his visit last weekend. In checking with multiple people this week, it was clear it will be hard for any school to pull him away from Michigan or Ohio State, but one common theme was the Vols are one of a few schools in play that could have a real shot of doing so. Tennessee will have to continue to get him to campus, but he has built a nice relationship with Willie Martinez and Tim Banks. 
Players who have indicated they plan on being here sometime this weekend:
Hoops
Tennessee's season is over but transfer season is heating up. We've seen tons of players (literally) from all over college basketball enter the portal in the last two weeks. As of yet, only one Tennessee player has entered the portal, and from our point of view it wasn't someone that the staff appeared to be expecting back in Knoxville. 
The news that Olivier Nkamhoua was moving on wasn't really a surprise, the news that he is doing so as a graduate transfer was a little surprising. Based off buzz that we have gotten, barring an NIL windfall (which didn't seem likely) Nkamhoua was expected to move on from Tennessee and most felt, likely to try his hand at playing professionally overseas. 
That still seems like the path he will eventually take, but not before entertaining interest from other college programs (and presumably their collectives).
It would be weird to see Nkamhoua suiting up for another program, but again, it didn't feel like Tennessee was expecting him back. The bigger question is, will he be the last one?
We're not trying to start any rumors here, at this stage we haven't heard of other specific individuals who are leaning towards leaving let's be clear on that front, however, we believe that there may be a player or two who is still mulling things over before making a final decision on returning. 
The fact that Tennessee didn't have any underclassmen immediately jump in the portal when the season was over is a good sign, we'd just caution against assuming that everyone has arrived at a decision regarding their futures just yet. 
Everyone wants to know about the Vols' seniors who technically have the option to return for a 'Covid year.' The remaining three seniors in question; Josiah-Jordan James, Santiago Vescovi, and Uros Plavsic, have all been asked about returning at various points in recent weeks and all have essentially said in one form or another that they hadn't made a final determination or they were 'leaving the door open,' or something to that effect.
We have it on good authority that as of Thursday evening neither James, Vescovi or Plavsic had informed the staff of their intentions and were still mulling over their options. Time is a factor though as the staff needs to have a handle on numbers as they explore opportunities in the transfer portal.
It goes without saying that NIL opportunities will probably have an impact on at least some decisions. We'll obviously continue to monitor this situation. 
So what about transfers that Tennessee may be interested in? It's our belief that Tennessee has reached out, or is evaluating the situations, of a lot of different guys right now.
There are four transfers we feel that Tennessee is serious enough about right now to the point where they're trying to set up official visits. Those are Harvard transfer Chris Ledlum, North Carolina transfer Caleb Love, Western Kentucky transfer Dayvion McKnight and a blast from the past, former Bearden standout Quez Glover who is moving on as a graduate transfer from Samford. By no means are we suggesting those are the only guys that Tennessee is looking into, but those are four we feel like the Vols have done enough due diligence on that they're moving aggressively in recruiting them and trying to get them on campus.
Local fans will remember Glover, a teammate at Bearden of Drew Pember, who signed with Florida out of high school. Glover played sparingly in two seasons with the Gators before transferring to Samford. His career took off with the Bulldogs. He averaged 14.2 ppg as a junior and 19.2 ppg this past season. 
In addition to the Vols; Clemson, LSU, Memphis, Minnesota, Ole Miss and Purdue are some of the programs who have reached out to Glover.
Ledlum is a 6-foot-6, 225-pound Harvard forward. Tennessee is heavily involved here, competing against Indiana, Michigan State and St. John's among others. The Vols spent Thursday working on getting a visit set with Ledlum. 
The Vols will be in Boston on Friday to see Ledlum as the recruitment has picked up some momentum. He averaged 18.8 points and 8.5 rebounds in 28 games at Harvard this season, shooting 47.3 percent from the field. The Brooklyn, N.Y., native, averaged 16.7 points and 9.3 rebounds during a breakout sophomore season in 2021-22. He started 27 times in 28 games this season, averaging 31.5 minutes per game. 
Tennessee also has a connection to North Carolina transfer guard Love and will be involved in that recruitment. The 6-foot-4, 195-pound Love averaged 16.7 points, 3.7 rebounds and 2.8 assists in 33 games for the Tar Heels this season, shooting 37.8 percent from the field. He averaged 14.6 points, 3.3 rebounds and 3.3 assists over his 101-game career the last three seasons at North Carolina. Love is a former five-star prospect who was ranked in the top ten in the 2020 class out of St. Louis.
McKnight, who is originally from Shelbyville, Ky. (Basically Louisville) led WKU in scoring last year at 16.5 ppg. At 6-foot-2 he also averaged 5.0 rebounds per game and led the team with 3.8 assists per contest. In addition to Tennessee McKnight has heard from Kansas, Purdue, NC State, Xavier Oklahoma, Mississippi State, Iowa State, LSU and Memphis among others. 
Judging by how last spring went it's safe to say that NIL is going to be a big factor, for Tennessee and everyone else, in landing heavily recruited players out of the portal.
Baseball
With Tennessee already in action this weekend at LSU, just a few notes. Kavares Tears is making progress, but with a hamstring, they are being cautious as he's day-to-day. He took BP at practice Wednesday night but did not shag flyballs in the outfield or in pregame on Thursday. He came on as a pinch-hitter in the ninth inning in game one's loss, so that's encouraging. We'll keep you updated on his status as the weekend progresses, but it's likely we won't see him in the field this weekend.
Christian Moore was held out as a precaution on Tuesday. He's got a little bit of a sore shoulder and it was a short week. He's red-hot entering the weekend and even tied the ballgame Thursday in the eighth. He's fine and should remain in the lineup.   
Frank Anderson was on-hand to see some local talent earlier in the week as Hardin Valley Academy played host to Farragut. Admirals' right-handed pitcher Stratton Scott and outfielder Brennan Seigler are both Tennessee commits (2024). HVA starter (RHP) Adam Baker is also a guy Tennessee is interested in. No offer as of now, but plenty of JUCO schools are involved.
These two talented programs will meet again in two weeks and it's likely these two guys will counter one another again.    
The post War Room: Football chatter, big recruiting weekend set, hoops news and more appeared first on On3.