War Room: Recruiting visits, spring football, baseball, hoops, more
12 min read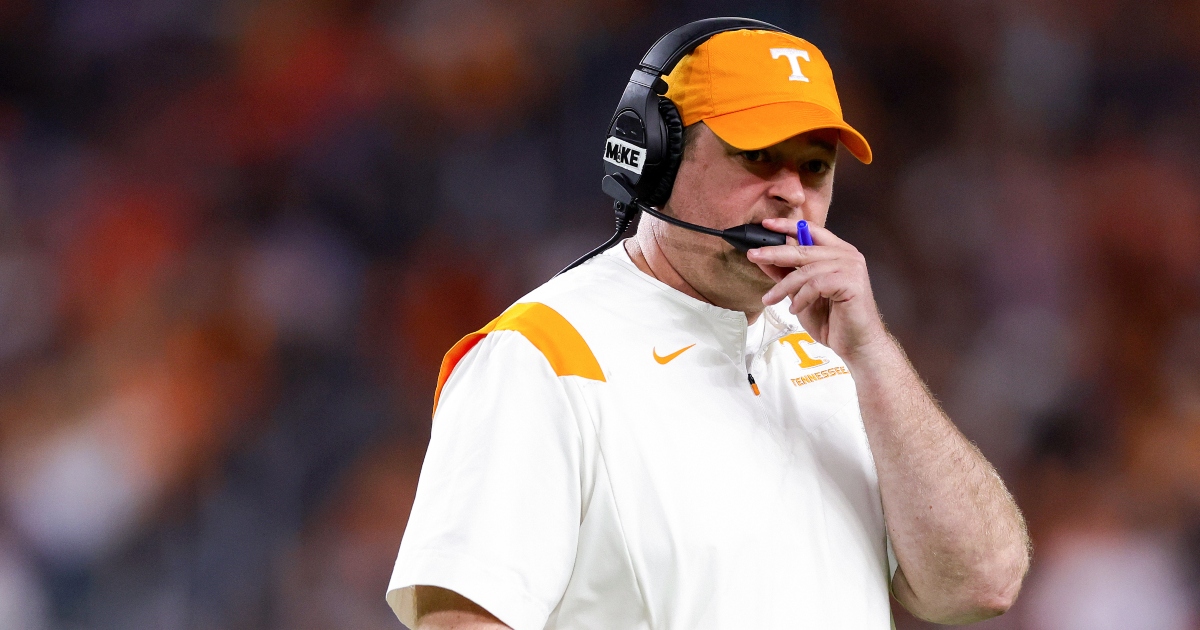 We begin this edition of the War Room as we always do. The War Room is a collective effort of Tennessee notes and news gathered throughout the week by the Volquest staff. And now, it's on with the news.
Tennessee wraps up their first wee of spring practice on Saturday while hosting several unofficial visitors (more on that below). 
As for practice, it's clear things are running faster and more smoothly overall as the program returns a lot on the field as well as staff continuity. 
As they move into pads and scrimmage work we will learn more, but there's plenty of positivity surrounding the newcomers. 
The athletic ability at the linebacker position with the freshmen as well as the secondary is noticeable. One defensive back who's athletic ability is obvious and has been bragged on by teammates is freshman Rickey Gibson. Now how does that translate into pads and football time will tell. 
Bottom line is there has been optimism for this class especially on the defensive side of the ball since they all signed/arrived and through the first week of spring practice no one is disappointed. 
Many of have asked about who looks different, who's added weight, etc. One guy who has lost weight is Joe Milton. The senior quarterback is down 10 pounds by design. Milton felt like he needed to be quicker and move better laterally which is why he dropped the weight. 
We asked Milton if he felt he was too heavy last fall. He said "nah, my backflips were still easy." But he wanted to be more elusive as a runner and in his pocket movement so he dropped the weight. He said he has noticed the difference.
While Milton is down, freshman Ethan Davis is up. Davis is nearly 240 pounds and would like to play around 245 after arriving at 227. Nico Iamaleava is up 12 pounds as well and is up to 210. The staff would love to have him up to 215-20 by fall camp.
Jeremiah Telander went from 214 to 226 since arriving at midterm. He has impressed the staff with his knowledge and physical mindset.
The strength and conditioning program at Tennessee is arguably the least talked about S&C program in the country. Head strength coach Kurt Schmidt isn't about any attention, but his work and the continuity of him being here since Heupel's arrival is a big deal and there are clear results with it. 
On the scheduling front, Tennessee's non-conference is set for 2024 with the Vols playing Chattanooga, NC State, UTEP, and Kent State. 
With the SEC expected to go to 9 games, the Kent State game would be the game dropped. The contract with Kent State plainly states that Tennessee can get out of the game with no financial penalty if the SEC goes to a 9 game schedule. 
As for the decision to play the NC State in Charlotte that was the best option the Vols could find on short notice with no return game to be scheduled. With the SEC not changing his mandate to play a power 5 non-conference game every year, Tennessee couldn't simply stay with Kent State and schedule three buy games. 
Now the question is will the SEC, assuming they go to a 9 game conference schedule, keep the power 5 non-conference mandate in place? Many have thought it could go away but you know TV would like for that rule to remain in place as it give them fewer payday blowout games. Will TV get their way or will the mandate be rescinded after the 2024 season? It's certainly a spring topic and one that will definitely be discussed at SEC Spring Meetings. 
It's bonus season for the hoops coaches and Danny White. Kellie Harper receives $75k for her team making the Sweet Sixteen. If the Lady Vols win on Saturday, Harper's bonus will go to $100k Rick Barnes receives $600k for his team making the Sweet Sixteen. Barnes also gets 100k for his team being ranked in the top-25 in the final AP poll. 
As for White, he gets a 2% bonus on his base salary of 2.2 million for the men's team being in the Sweet Sixteen and a 2% bonus for the women being in the Sweet Sixteen. Remember that White's bonus structure maxes out at $300k. 
Recruiting
Vol quarterback target Jake Merklinger will be here this weekend as he continues his run of visits. Merklinger was at Georgia earlier this month but we don't feel like Georgia is going to be a player there. We still feel like this is a North Carolina and Tennessee battle with the path to the field being easier in Chapel Hill. With that said, we feel like he really likes Tennessee a lot and knows there is much more stability in Knoxville.
We have made some calls this week and feel like Tennessee is still in solid shape for Ryan Wingo. He left his Georgia visit and has said he will take an official there but doesn't have a date set up yet. We believe he will take an official to Tennessee but has yet to set up a date. Wingo is in the middle of track season and is balancing recruiting and track with a focus on track. 
Another wide receiver that Tennessee and Georgia will be players with Chattanooga wideout Amari Jefferson. He returns to campus tomorrow for the first time since the Alabama game back in October and so this will be a big visit to re-establish personal relationships with the Baylor product. Tennessee was by to see him in January and they have had lots of communication with him but it's been a while since he was here so we emphasize how big this visit is.
Kaleb Beasley and Boo Carter will be in town this weekend and that's good with Beasley taking visits and Carter trying to narrow his focus before a summer decision.
Beasley's teammate Edwin Spillman will take multiple official visits this summer. He told us this week that Ohio State will be the second weekend in June with the Vols getting him the third weekend. He may also visit FSU and Georgia but nothing is on the book there. We still feel like Tennessee is in good shape heading into April. 
Two of the instate linemen that Tennessee would love to have will be here this weekend. Ronan O'Connell and Jesse Perry are both coming to town to get a better vibe of things. O'Connell plays with a mindset that they love and you can't beat Perry's length.
Teammates Ify Obidegwu and Edrees Farooq will be in town next weekend as the Vols push to land the duo from St. Francis. The Vols are really high on both as Farooq seems closer to a decision of the two. Obidegwu feels like a summer decision to us.
Tennessee hosted 2025 QB Cutter Boley again earlier this week. The Vols are involved with multiple top-signal callers in the class and will have options at the position. At this point, the Vols are as strong of a contender as anyone in the mix for Boley, who has a strong belief in the offensive system and Josh Heupel and Joey Halzle. 
One of the most important prospects coming in this weekend is Jonathan Echols. The Tennessee commitment has heard from several schools over the last few months, but wanted to get up here and spend time with new tight ends coach Alec Abeln. We are interested to hear his take on the weekend. Echols worked out in Atlanta last weekend and in talking with multiple sources, other schools are continuing to swing here, but there remains a strong belief in why Echols chose the Vols last July among his inner circle. This was never going to be a recruitment that shutdown once he committed but this weekend will have a chance to reaffirm his original feelings. 
Texas offensive tackle Bennett Warren is one that has a strong desire to get to Tennessee soon. April seems most likely at this point. Since the Vols extended an offer in January, he has been in frequent communication with the staff and feels like they have related to him on a personal level as much as any staff recruiting him. He wants to see how things work academically when he makes it to Knoxville, but he already considers Tennessee a strong contender despite having not set foot on campus at this point. 
Jerrick Gibson continues to be one the Vols are a dark horse for. Texas is pacing the way, but Gibson maintains that he wants to see the Vols on an unofficial visit this spring before taking a summertime official visit. The hope was for this weekend, but he was unable to make travel plans work with family. 
Some of the players that have indicated they will be here this weekend:
Baseball
It's a big weekend for Tennessee baseball for obvious reasons. It's still early in conference slate, but this is about as close to a must-win series you can have in March as the Vols are currently sitting with an 0-3 mark coming off last weekend. Trying not to worry about what you can't change, Tony Vitello is only concerned about what can happen from here on out.
"I think you got to be careful about putting too much value on something, but it's a balance. You also can't ignore the fact, yeah we didn't win any games last week, but I think the more relevant topic today is we didn't play our best baseball," the skipper said on Thursday. "So, there should be motivation to learn from things that we have control over that caused that, and improve them or erase them, even, but then also have a little bit of that Roger Clemens competitiveness where, if the guy had a bad outing, which was rare, you could take it to the bank that the next one was going to be good."
The coach sent a message to his team on Tuesday, benching practically every starter for the midweek win over Western Carolina. Veteran Christian Scott made the most of his opportunity, launching a home run, walking twice, stealing two bases, scoring three runs and making two good catches in centerfield. The coach said postgame that whatever Scott gives you with the bat is a bonus as he gives the team something they are missing in the field and on the bases.
That's why we wouldn't be shocked if they start a platoon-like option of Scott and Hunter Ensley in centerfield. Tennessee needs to get faster in the outfield and needs a 'point guard' out there to control everything. Ensley can give you a right-handed bat in the order against lefties and has held is own to date with opportunities given.   
"I think he's deserving. He's been with us for quite some time. He's had to battle through some injuries. I think the repetitions or the opportunities are increasing because the way he does things when he's out there," Vitello said of Ensley. "Statistically, I can't rattle off what he's got going on, but when he's out there, if he does make a mistake, it's an aggressive one. Or it's one where he's got conviction in what he's doing. He's not afraid to run into the outfield wall. He's not afraid to compete in the box. Regardless of the result, the way he does things is encouraging for the coaching staff and makes us want to put him back out there."
Jared Dickey logged some innings behind the plate in Tuesday's shutout victory and we wouldn't be surprised if Dickey were to steal a game behind the plate every now and then to try and help strengthen the defense for the Vols. It would be an option, not the starter moving forward as Charlie Taylor and Cal Stark will still catch. Remember, Dickey and Griffin Merritt will have their bats in the order on a daily basis, it's just about trying to find the other puzzle pieces to make this thing work – something Vitello admitted is still taking time as the season progresses.
As for the rest of the team – starting pitching included – it's about responding the right way. You got punched in the mouth last weekend, so how are you going to respond? There's nothing mechanical the staff has picked up on Chase Dollander in the first innings this year. They aren't worried about him long term, but Tony admitted he left him in too long Friday. There's no talk of switching Chase Burns back to Fridays at this time. It is of note that of the 12 runs Dollander has given up this season, seven have come in the first inning.
It's a monster weekend for the Big Orange against a talented club who return a ton of experience in Texas A&M. Should be a good one at Lindsey Nelson Stadium. One final note, Saturday's game will be at noon and air on ESPN 2. 
Hoops
Some big news is dropping this afternoon at 5:00 p.m. when Juke Harris will go live with his commitment on instagram with on3's Joe Tipton.
Harris has a final six of Tennessee, Wake Forest, Virginia Tech, LSU, Miami and Kansas. In reality it's probably more like a final three as Tennessee, Wake Forest and Virginia Tech are the only schools that he's made an official visit to see. And in actuality it feels like a two team race between the Vols and Demon Deacons. 
Two weeks ago I felt like this one was pretty much a done deal to Tennessee. Now, frankly, less than 24 hours before Harris is going to go I don't know what he's going to do and in this age of recruiting that is exceptionally rare. 
Wake Forest has made a strong push in the last few weeks and as of now I'm hearing things from both sides that make me believe both Tennessee and Wake Forest feel like they have some momentum. No one is talking about Virginia Tech, but some on the Hokies side feel like they may be a dark horse. 
What I do know is that Harris has been on Wake's campus twice in the past six days for what amounts to an unofficial visit. Last Saturday his CP3 Nike travel team (sponsored by Wake Forest alumnus Chris Paul), practiced on Wake's campus and Harris and his mother stayed after and visited with the Wake Forest staff. 
He and his mother were back at Wake Forest on Tuesday for another unofficial visit to spend time with the staff. 
The lure to Wake Forest is obvious, the campus is 39 miles from his home in Salisbury, N.C. He may also see a quicker path to not only just playing time, but a bigger role on the team earlier in his career. 
It's hard to ignore the fact that he's been on Wake's campus twice just this week, but I also don't believe he's told Tennessee 'no,' and we've picked up consistent buzz that the Vols feel like they have some momentum.
With a gun to my head I'm going to say that the Vols get good news today, but that's an educated guess, not a '.50 cent GIF.'
On the transfer front Tennessee is going to be active. We anticipate that the staff will reach out and do research on a ton of kids. Three that we know for certain at this point the Vols have reached to are B.J. Mack (Vols were not included in a top-10 he just released), guard Damian Dunn from Temple who is a grad transfer and Northwestern State's DeMarcus Sharp, another guard. 
On the coaching front keep an eye on Tennessee associate head coach Justin Gainey and the High Point job. That job has been open for three weeks since Tubby Smith's son, G.G., was fired as his replacement after just one season. 
High Point officials have reached out to Gainey but we don't believe that he's been offered the job at this point. Gainey grew up in High Point before playing collegiately at N.C. State. Tennessee has certainly benefitted from Gainey's recruiting ties in the Carolinas and it's not hard to see why he might be an attractive option for the program. 
The post War Room: Recruiting visits, spring football, baseball, hoops, more appeared first on On3.