WATCH: Brad White, Kentucky Defensive Line after Spring Practice No. 8
2 min read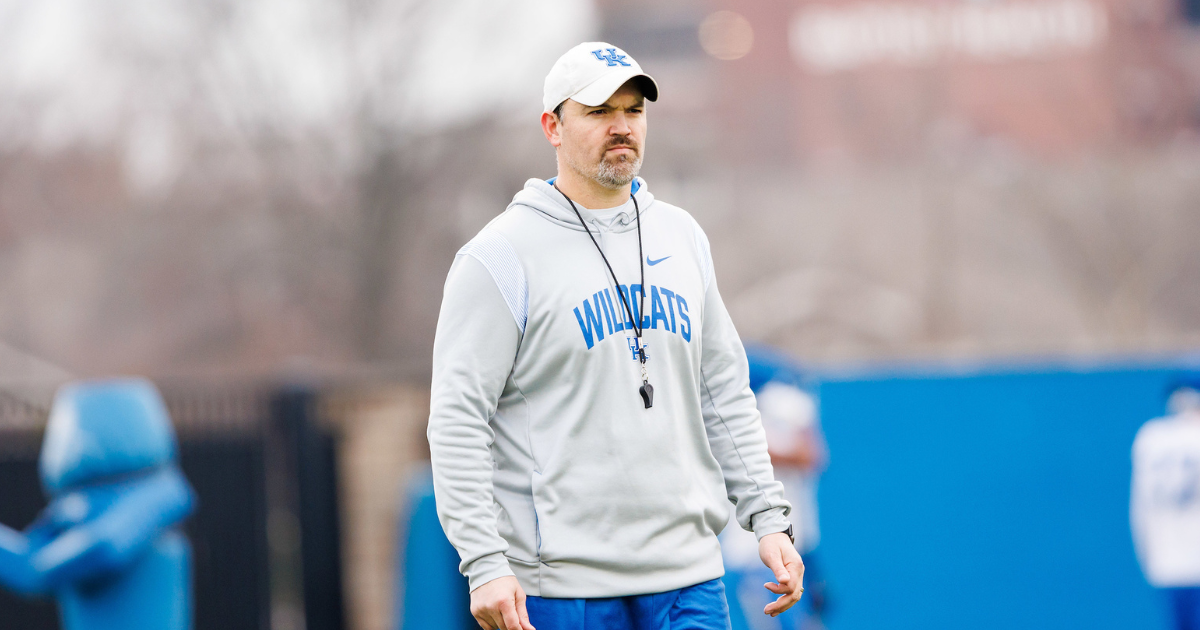 Kentucky football spring practice has turned into a grind with no end in sight. Now the team is eight practices deep, that's the equivalent of two game weeks, without a game to prepare for. Fortunately, the Wildcats will get a change of pace with an open practice Saturday afternoon. What's going to happen?
"I don't have my dice under here to roll and see what we got. There's no way to predict," defensive coordinator Brad White joked Thursday morning.
Coaches must play a balancing act to get the most out of their team. They want to get the players fired up, but not too fired up. They also want the players to provide some of that energy from within themselves.
"When you're dealing with 18-22 year-olds, you don't know what you're dealing with, what happened that morning. If they ran out of Lucky Charms and they had to eat Frosted Flakes, now they're in a bad mood, you just don't know," White said. "But hopefully there will be good competition. You get to this point in camp there's sort of a natural chippiness and competition. They don't want to lose their one-on-ones, but they gotta play composed."
Kentucky Pass Rush Ready?
The Kentucky defense struggled to produce havoc stats on defense in 2022. The Wildcats ranked 11th in the SEC in sacks (20.0) and last in tackles for loss (54.0). A point of emphasis this offseason, White was asked how the group has made progress behind the line of scrimmage.
"They haven't let us tackle the quarterback yet. We don't have a single one yet. We don't have one. Maybe that makes us worse," White said with a tongue in his cheek.
Early in his tenure, during one fall camp White said, "One thing I won't have to worry about is our pass rush." Famous last words. Kentucky struggled to rush the passer that season. He's not making that mistake again.
"In spring ball and (fall) camp, you can get a false sense of security or hope because you go against the same tackles, protections. You can do some things and sometimes you can feel like you're in a better situation than you actually are. That's something I've had to learn. I'm not going to fall into that trap. We're going to see on Saturday's in the fall."
Watch Brad White, Ox and Silver from Kentucky Spring Practice
In addition to our lengthy conversation with Brad White, Octavious Oxendine and Keeshawn Silver shared how the defensive line is developing during spring practice. Enjoy!
Subscribe to the KSR YouTube Channel for press conferences, interviews, original shows, fan features, and exclusive content.
The post WATCH: Brad White, Kentucky Defensive Line after Spring Practice No. 8 appeared first on On3.