WATCH: Dawn Staley congratulates LSU on reaching Final Four, hopes for all-SEC national title game
2 min read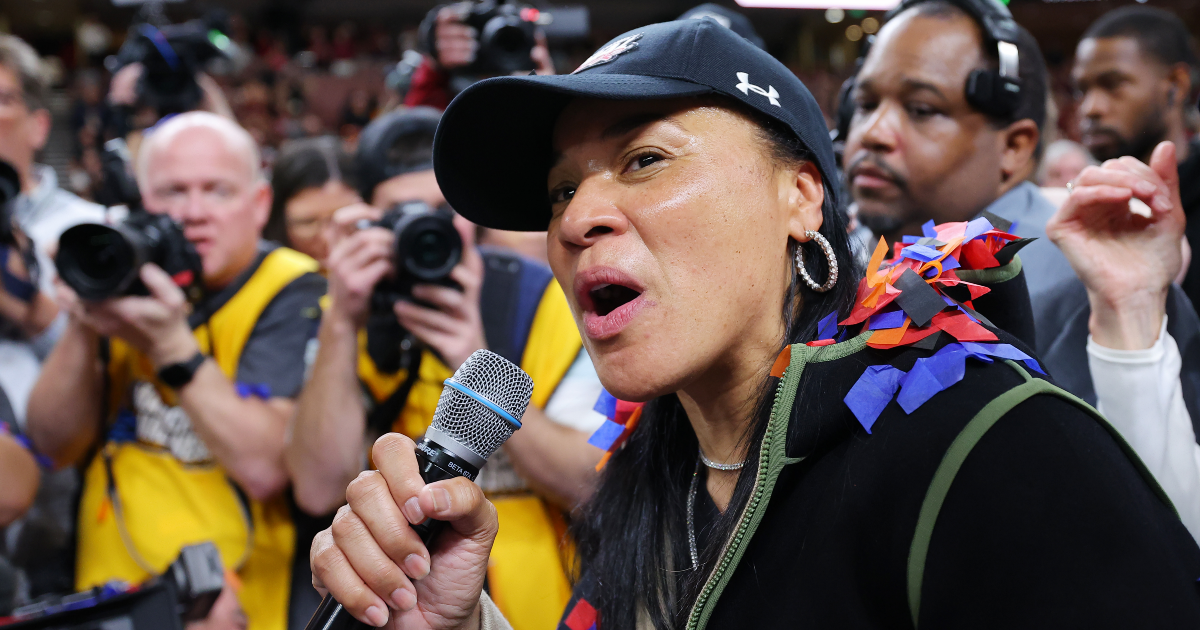 South Carolina coach Dawn Staley wants to see LSU in the national championship. Following the Gamecocks' 86-75 win against Maryland in the Elite Eight on Monday, Staley issued a challenge to the Tigers, who are one of two SEC teams to reach the Final Four along with the Gamecocks.
"I'm gonna to shout out to the SEC," she said. "SEC is well-represented in the Final Four. Shout out to LSU. Let's go do this thing. Let's have an all-SEC finals."
LSU reached the Final Four on Sunday following a 54-42 victory against Miami. It is the first appearance for the Tigers in 15 years, and they know just how difficult it will be to take down South Carolina.
The Gamecocks have yet to lose a game in 2022-23, breaking the school record for most wins in a season on Monday by notching their 36th to reach their third straight Final Four. LSU and South Carolina met once during the regular season, with the Tigers suffering an 88-64 road loss.
The Gamecocks have now won 42 straight dating back to last season's national championship win. If they are able to complete the undefeated season, it would be just the 10th time in the history of women's college basketball that any team has done so.
A national championship matchup between South Carolina and LSU would pit Staley against Tigers coach Kim Mulkey. The two are among the most successful coaches in all of women's college basketball, with a combined 10 Final Four appearances and five national titles between them.
Additionally, the matchup between the Gamecocks' Aliyah Boston and Tigers' Angel Reese would also be worth tuning in for. Boston is the claimed National Player of the Year in 2021-22 and has averaged 12.9 points and 9.8 rebounds this season. Reese led the SEC with 23.2 points and 15.8 rebounds.
In their matchup during the regular season, Boston had 14 points and nine board while Reese came away with 16 points, four rebounds and four blocks.
Before either team gets ahead of itself, however, they must focus on taking care of business in the Final Four. The Gamecocks draw a tough game against Iowa and guard Caitlin Clark, whose 27.3 points per game rank third in the country. LSU will take on Virginia Tech, which defeated Ohio State in the Elite Eight on Monday.
The women's Final Four is scheduled to begin on Friday in Dallas.
The post WATCH: Dawn Staley congratulates LSU on reaching Final Four, hopes for all-SEC national title game appeared first on On3.