Watch Will Levis On The Clock with the Mannings
3 min read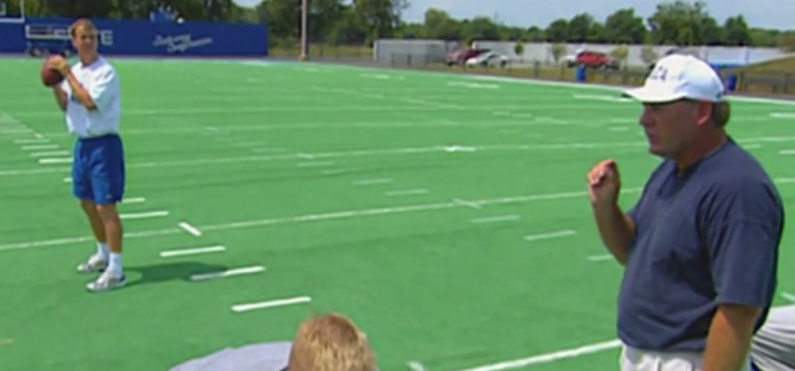 NFL front office personnel aren't the only ones that kept a close eye on Will Levis over the last year. Camera crews from Omaha Productions followed the Kentucky quarterback from his time at the Manning Passing Academy through his senior year and the pre-Draft process. On the Clock with Will Levis debuts tonight at 5:30 pm EST on ESPN2 and can be watched anytime on ESPN+.
KSR got an early look at the 30-minute program. You'll be able to see the Kentucky quarterback mixing it up with the First Family of Football and watching film with some of the best to ever play quarterback in the NFL.
Early Lesson Will Levis Learned from Peyton Manning
Long before Will Levis was a pro prospect or a camp counselor at the Manning Passing Academy, he was a student of the game. He still recalls an instructional tape with Bruce Arians and Peyton Manning from 1999. Levis used the words Peyton said almost 25 years ago to teach the kids at camp.
"The best advice I ever got about play action was from Peyton," Levis recalled. "He said that he would work tirelessly to make sure that when they're running inside zone, it looked exactly the same as when they're doing play action off of inside zone."
Omaha Productions pulled the clip. Levis wasn't lying. Arians and Manning each had a lot more hair back in '99.
Archie Manning plays a prominent role as On the Clock's executive producer and as a resource for Levis. You'll enjoy hearing the long southern draw as he chit chats with the former Wildcat.
"I'm always amazed by bad fakers. They just don't pay attention," said Archie. "Who you think you're fooling?
Peyton and Eli Break Down Levis' Tape
The show spends time documenting the obstacles Will Levis overcame throughout his senior season, while also highlighting some of his best moments. Before the Florida game he was reassuring his teammates they were ready to pull off the Top 25 win on the road. "No nerves. We're ready," said Levis.
Peyton Manning sat down and went over some tape with Levis. Not only did they go over some of his best throws against Florida and Georgia, they break down his Tik Tok tape. When it was over, Levis received the Peyton Manning stamp of approval.
"I think you're definitely ready for this next chapter," said Manning.
"I get it. I'm drinking the Kool Aid. I spent some time with this kid. I think he's a real deal," Manning added. "I think this guy might have been genetically engineered to be an NFL quarterback. I can see what the scouts like from him: tough, durable, makes tight throws in tight windows. Saw a couple of cool plays where he's moving away from free rusher and throws his guys open."
Watch Will Levis On the Clock tonight at 5:30 pm EST on ESPN2 or on demand with ESPN+.
The post Watch Will Levis On The Clock with the Mannings appeared first on On3.