Way-Too-Early Bracketology: ESPN gives Tennessee similar seeding in 2024 NCAA Tournament
2 min read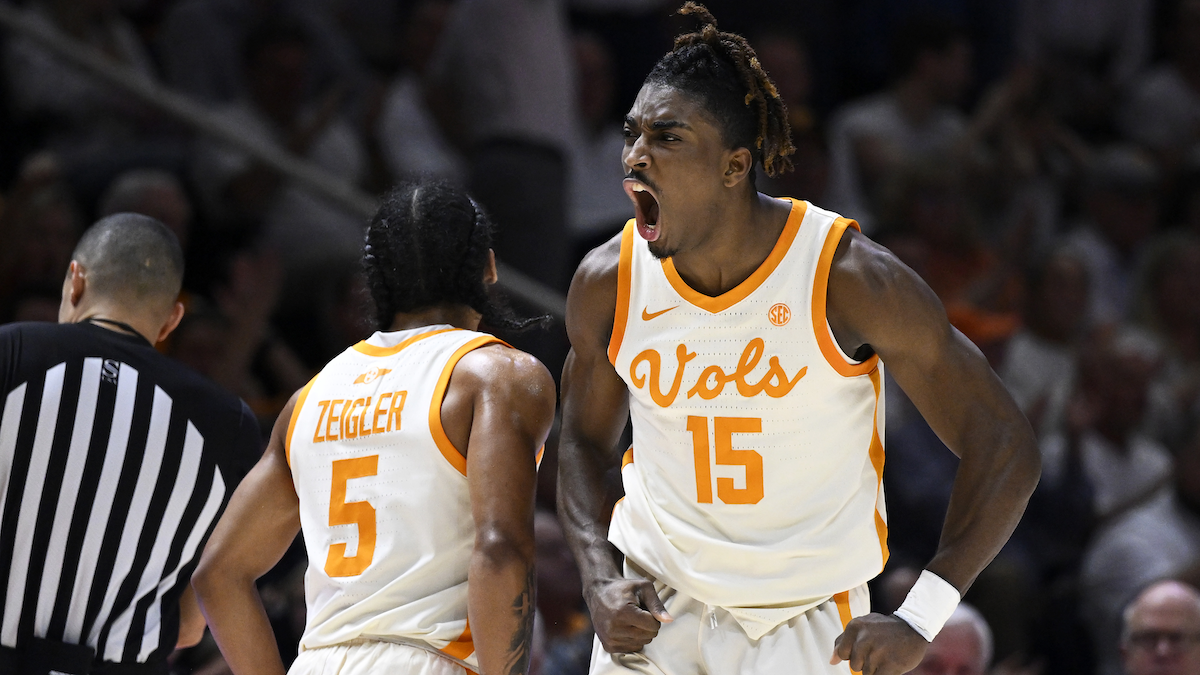 Tennessee basketball's roster construction for the 2023-24 season is just getting started, but the question marks entering the offseason isn't stopping ESPN's Joe Lunardi from getting started on his NCAA Tournament bracket projections for next season.
Lunardi this week had the Vols back as a No. 4 seed for the second year in a row, facing No. 13 Marshall and opening the tournament at Barclays Center in Brooklyn, N.Y. San Diego State, fresh off its appearance in the national championship game, and No. 12 Liberty were opposite of the Vols and Thundering Herd in the East Region bracket. 
UConn, the top overall seed, is the No. 1 seed in the East Region. Marquette, Michigan State and Purdue were the other No. 1 seeds. Iowa was the first team out of the 68-team field and Indiana was the last team in.
Other SEC teams in the bracket included Alabama (2), Arkansas (4), Kentucky (5), Texas A&M (5), Auburn (7) and Florida (8).
Four dates currently on schedule for Vols in 2023-24
There are only four dates currently on schedule for the Vols in 2023-24 are three games in the Maui Invitational, November 20-22, with opponents to be determined. The eight-team bracket has not yet been announced, but includes the Vols along with Gonzaga, Kansas, Marquette, Purdue, Syracuse, UCLA and Chaminade.
Lunardi's bracket had Marquette as a No. 1 seed, Kansas as a No. 3 seed, UCLA as a No. 3 and Gonzaga as a No. 4.
Tennessee will host Illinois on December 9 at Thompson-Boling Arena. The Vols are also expected to play at Wisconsin next season, making the trip to Madison after the Badgers came to Knoxville in December 2019, before the COVID pandemic cancelled the game originally scheduled at Wisconsin in December 2020. 
Tennessee is also expected to play a road game in the new ACC-SEC Challenge, which replaces the Big 12-SEC Challenge and ACC-Big 10 Challenge. 
Tennessee's new-look roster adds Freddie Dilione, DJ Jefferson to rotation next season
The Vols were a No. 4 seed in this season's NCAA Tournament, beating No. 13 Louisiana in the first round and No. 5 Duke in the second round at Amway Center in Orlando, advancing to the Sweet 16 at Madison Square Garden in New York. Florida Atlantic, on its way to the Final Four, handed the Vols a season-ending 62-55 loss.
Rick Barnes and his Tennessee coaching staff are still waiting on decisions regarding next season from senior Santiago Vescovi and Josiah-Jordan James, along with freshman wing Julian Phillips.
The Vols will add guard Freddie Dilione and wing DJ Jefferson to the rotation next season after both sat out this season as redshirts, with Dilione enrolling early and joining the team in January. Tennessee will also add four-star power forward signee JP Estrella, four-star wing Cameron Carr and three-star forward Cade Phillips. 
The post Way-Too-Early Bracketology: ESPN gives Tennessee similar seeding in 2024 NCAA Tournament appeared first on On3.