What is Texas looking to fix in the portal?
5 min read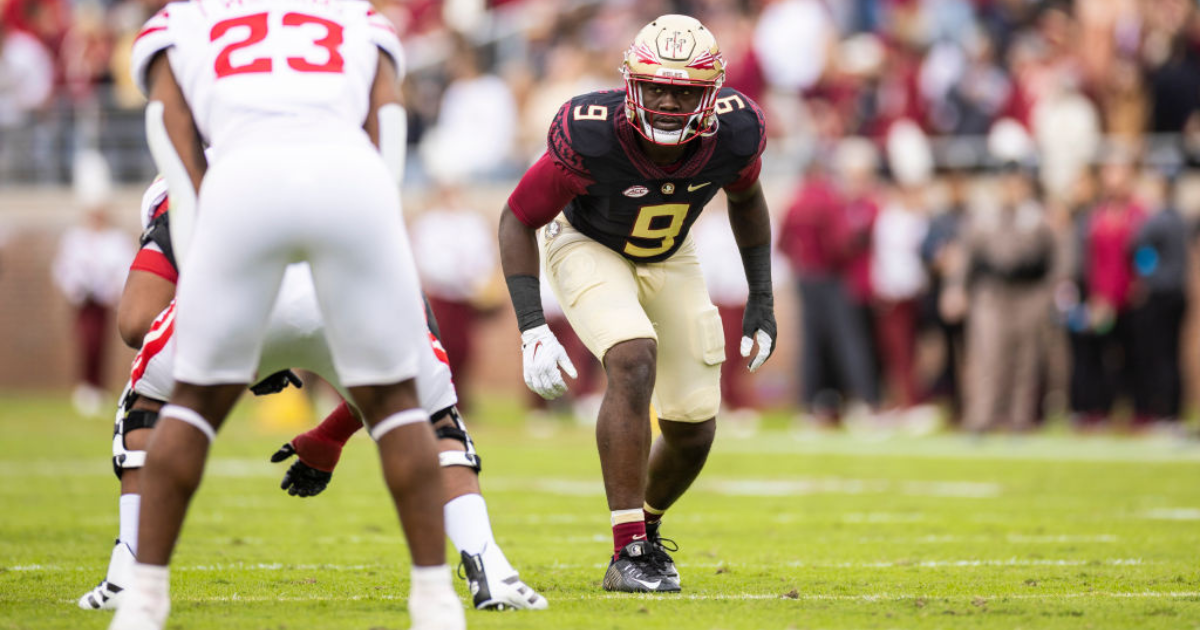 Texas has started to take aim in the transfer portal for additional help after seeing how spring practice went. One of the benefits of the transfer portal for observers is how it offers a window into how programs have evaluated their own roster.
Recruiting doesn't offer quick-fix solutions like the transfer portal can. What Texas is prioritizing after a chance to evaluate the prospective 2023 over winter conditioning and spring practices offers insight into what they do and don't regard as potential team weaknesses.
Thus far Steve Sarkisian and his staff have aimed for two players who both fill a similar role within the defense. They've shown interested in Minnesota defensive tackle Trill Carter and Florida State Edge Derrick McLendon, who would both help Texas as run defenders.
Scouting McLendon and Carter
McLendon is evidently a long shot to actually transfer to Texas, but his inclusion as a target offers the window into what the Longhorns feel they need for the coming season.
He was rated at 89.00 coming out of Georgia in high school and has used four years at Florida State, the last of which he spent as a starter in their equivalent of Texas' "Buck" Edge position. Out of high school he was regarded as a promising edge rusher and his body has filled out to 6-foot-4 and somewhere around 250 pounds. In 2021 as a rotational player he had 3.5 sacks and in 2022 as the starting boundary Edge put up 37 tackles, five tackles for loss, and another 3.5 sacks.
Those stats give a pretty good window into the kind of player McLendon became within the Seminole program. He has some size and length he's learned to translate into good defense on the edge, but he isn't an arc-bending pass-rusher who can win matchups against tackles who are dropping back to greet him. Here was one of his few sacks last season:
On snaps where he's reading and reacting against the run he's a more obvious asset, akin to a long Mike linebacker who can find the point of attack and handle himself when he gets there.
For Texas he'd essentially be a replacement for Ovie Oghoufo as a vet who knows how to set the edge.
Trill Carter is another redshirt junior who was originally rated 85.03 out of Georgia and went north to help row PJ Fleck's boat in Minnesota. He had 19 tackles, two tackles for loss, and 1.5 sacks in 2022 as a 3-technique in their defense. He's low to the ground and quick off the ball, so he's good at shooting gaps at times or standing his ground against down blocks from the offense, but lacks the length or elite athleticism to make a lot of plays behind the line of scrimmage.
He's similar to McLendon in having used his four years thus far in college to learn how to translate his size and quickness into reliable run defense but offering little additional impact as a disruptor or pass-rusher.
Most players Texas recruits up front on defense are guys who project to be able to present problems for offenses against the run or pass. From there, it often takes a few years before a prospect can even play a bit part in building a run defense, much less dismantling an offensive scheme. Both of these guys have been around the game long enough to reveal they aren't going to be dismantling but they can do their parts.
What is Texas missing for 2023?
The early targets in the portal suggest the chief concern of the staff is having enough reliable run-stoppers up front on defense. The frontline starters at defensive tackle, T'Vondre Sweat and Byron Murphy, are terrific in this regard. However neither Vernon Broughton nor Alfred Collins were particularly good at stopping the run in 2022 and Aaron Bryant is still a redshirt freshman. Carter could be useful for ensuring the Longhorns don't get into a bad situation where they can't field enough guys who can hold their ground.
McLendon's inclusion as a target comes alongside some concerns about the state of Texas' run defense at Buck. Justin Finkley has struggled to hold off Ethan Burke, who had a ways to go in 2022 as a run defender yet seems to be poised to beat him on those merits.
Finkley was quite good against the run in 2022 as the back-up Jack, often holding his ground when covered up by a tight end or even an offensive tackle. His struggles at Buck in spring point to a worrying conclusion, that the shorter Finkley who played mostly defensive tackle in high school, might be a tweener who lacks the length to play effectively on the edge.
As an interior defender his strength, motor, and natural ability to play low is an obvious benefit but when he has to work in space or create angles against long, powerful tackles he's less comfortable. This is essentially the Prince Dorbah story. Dorbah was an extremely disruptive player in high school as a 4i defensive end who was too quick for opposing O-linemen to handle, but he lacked the length or twitch to move outside to the edge and was too small to stay inside as a D-lineman in college.
Perhaps Finkley can overcome those issues with more time, or maybe he can even grow into a tackle, but his run-stopping prowess as a Jack isn't translating. Playing outside-in is more natural for Burke who did exactly that at Westlake, but even in high school Burke relied on speed around the edge and length to stop plays against the run. Building the strength and the technique to hold his ground is all relatively new for him as well.
Texas' potential weak spots in pursuing a Big 12 Championship are becoming clear, but there's plenty of time and opportunity for the program to shore them up this offseason.
The post What is Texas looking to fix in the portal? appeared first on On3.