What to Watch in Florida's spring game: Has Austin Armstrong started to change the Gators' defensive DNA?
5 min read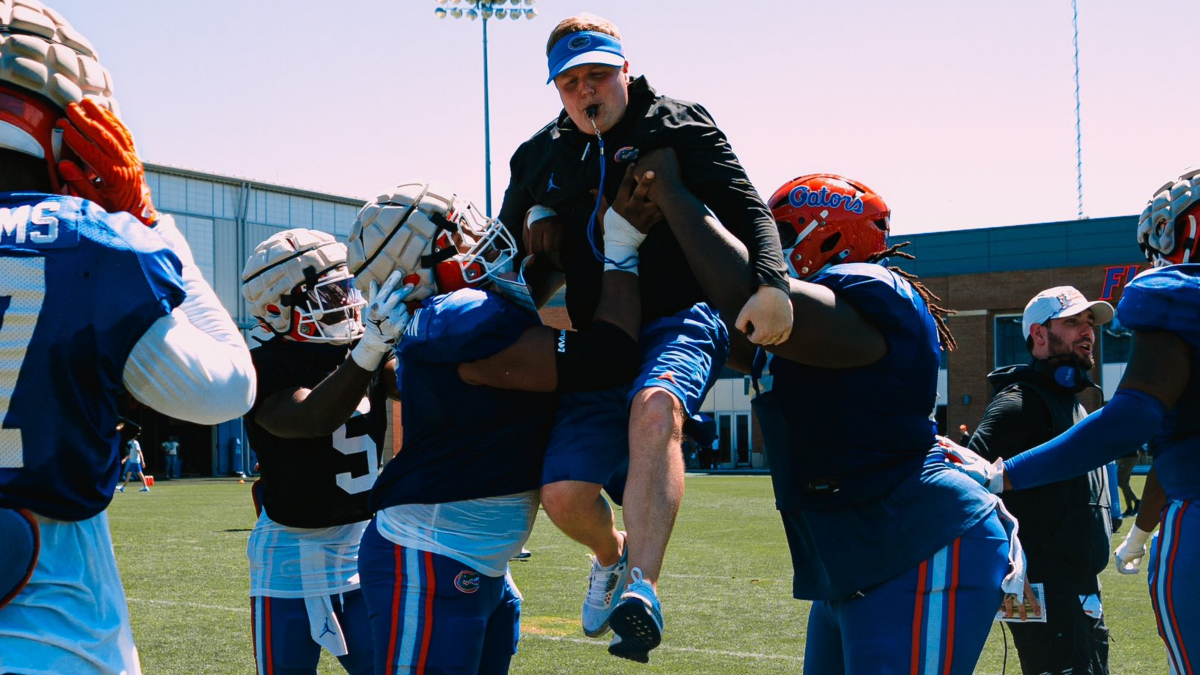 Florida fans will flock into The Swamp tonight for the Gators' annual Orange & Blue spring game, with much of the focus on who will replace potential Top 5 NFL Draft pick Anthony Richardson at quarterback. 
But while the battle between Wisconsin transfer Graham Mertz and former Ohio State backup Jack Miller remains ongoing, what's more interesting this spring has been the buzz on the other side of the football for UF. 
Go back to about six weeks ago, just before the start of spring practice. The coaching carousel had mostly stopped spinning when suddenly head coach Billy Napier was tasked with replacing his defensive coordinator, as Patrick Toney left for a job with the Arizona Cardinals. 
Toney's short tenure in Gainesville didn't work out. The Gators' already bleeding unit got worse in one season under Today, with 2022 perhaps the nadir for a struggling group following years of regression under former DC Todd Grantham. 
UF finished 10th or worst in the SEC in more than half a dozen categories in 2022. The Gators allowed 28.8 points per game. Opponents essentially flipped a coin on third downs (last in the SEC, 49.7% conversion rate). 
They couldn't pressure or sack the QB or and were pounded in the red zone on the ground (most rushing TDs allowed in the league). They gave up the second-most explosive plays in the SEC. 
Have I painted the picture clear enough? Or dark enough in this case.
Bad doesn't do Florida's defense justice.
And yet, losing your coordinator — despite the unit's significant struggles, Toney was a well-regarded 32-year-old football brainiac and someone many viewed as a fast riser in the industry — was hardly ideal on the eve of spring practice. 
But sometimes, change, albeit abrupt, is good, though. 
No one this spring has drawn more rave reviews in Gainesville than Billy Napier's replacement for Toney: Austin Armstrong. 
Napier plucked the baby-faced assistant from Alabama with the stamp of approval from Nick Saban and Kirby Smart (he was an analyst at Georgia in 2019), and the former Southern Miss coordinator hit the ground running immediately.
In his introductory press conference, Armstrong, who barely lasted two months in Tuscaloosa, talked a mile-a-minute, explaining how Florida plans to be "the hammer" and "multiple" on defense. 
"We don't have a toolbox, we like to say we have a toolshed of scheme," said Armstrong, who served on Napier's staff at Louisiana for a season under Toney as the Cajuns' linebackers coach.
"Mainly our deal is gonna be a multiple four-down front team that plays split safety, man match for close coverage. We're gonna pressure. 
"We say we try to negotiate with a hammer, right? Like, we're going to be aggressive. We're not going to let them dictate the terms of engagement. We're gonna be able to run all our stuff against all circumstances of offense." 
For the last several seasons, UF's defense has been on the other end of that hammer. As in nailed by most offenses with a pulse. 
Austin Armstrong plans to flip that, and the 29-year-old who is the youngest coordinator in the Power 5, has begun infusing a group with lots of recent scars with energy and confidence. 
It's been a welcomed reset for a group of guys who needed a change in personality and pace. Throughout spring practice, Florida players and assistant coaches alike have praised Armstrong's unique ability to connect with people, with many citing his "fire," "passion," and "aggressiveness" as an example of how he's started to alter the attitude on that side of the football. 
Todd Grantham coached with his hair on fire, too, but something's different with Austin Armstrong. 
"I think one of the cool things is he's a lot younger. He brings fire and energy to the team, to the defense especially," UF linebacker Derek Wingo said.
"Being able to kind of just get after guys. I feel like in this program that's something we need. We need somebody to get after us. Everyone is going to mess up and make mistakes. It shows he cares a lot when he's on you."
Florida's defensive personnel was an issue last season, and while a couple of notable transfers (Memphis' Cam Jackson and Louisville's Caleb Banks) are now on the roster, depth remains a problem.
There's some real talent, though, with the hope that former top recruits like Kamari Wilson, Jason Marshall and Shemar James make a leap. And they also have college football's mountain man in 450-pound defensive tackle Desmond Watson. 
Still, Austin Armstrong, who is UF's third different DC in as many seasons, was never going to be able solve Florida's overall defensive roster deficiencies in a single spring. 
For now, he's got what he's got.
UF's scheme isn't going to change, either. Armstrong plans to add his own flair to the system (namely more blitzing as Southern Miss had a Top 10 blitz rate in 2022), but the verbiage and foundation remain the same. 
Instead, Armstrong's focus this spring has been improving UF's basic fundamentals on defense. 
You can't be the hammer if you're misaligned. You can't hunt opponents if you can't tackle or pressure the quarterback. You can't be an aggressive unit if you lack an attitude.
Armstrong is essentially tasked with pushing a boulder uphill, but if all the happy talk this spring is to be believed, then the ball is at least rolling for the Gators. 
So while all eyes will be on UF's quarterbacks and offensive line reshuffling tonight, I'll be most curious to see if Austin Armstrong has started to truly change Florida's defensive DNA. 
The post What to Watch in Florida's spring game: Has Austin Armstrong started to change the Gators' defensive DNA? appeared first on On3.