What Was Said: Kirby Smart after first scrimmage of spring practice
14 min read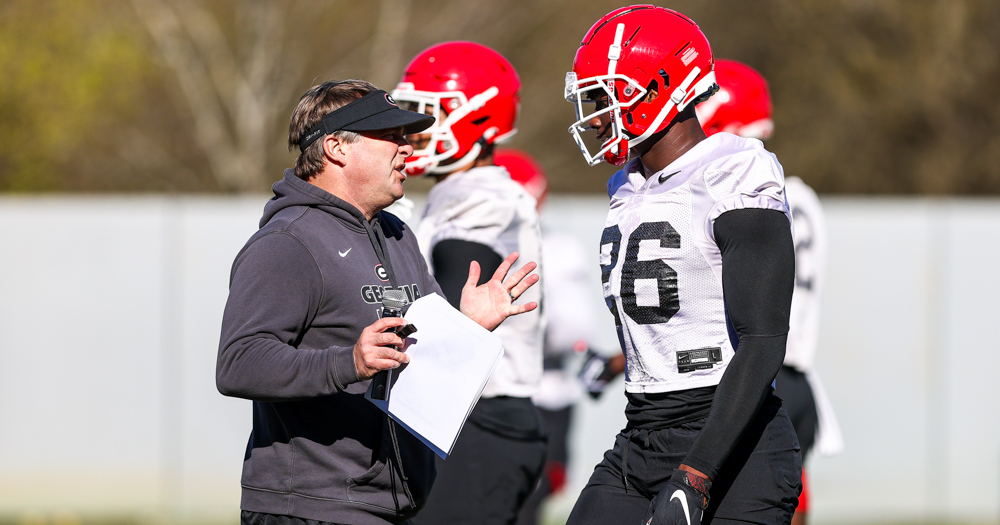 ATHENS, Ga. — Georgia head coach Kirby Smart addressed reporters after the Bulldogs' first scrimmage of the spring on Saturday. Of course the quarterback battle was addressed, but that's far from all. Everything from running backs to cornerbacks, offensive line and linebacker play, Smart shares what he saw in the action. Here's what was said…
Kirby Smart Opening Statement
"We had our first scrimmage today and I think this is my eighth spring here and it's the same every time. We don't tackle well. We are a little lackadaisical. Probably more penalties than I'm used to having in the first scrimmage. Administrative penalties, the signal getting in. Delay of game. Communication. Things that you shouldn't have but that we typically have in the first scrimmage, but I was proud of the guys for pushing through. It rained this morning. The field was a little damp but they competed. It's hard to talk about individuals because I like to watch the tape. Over nine practices, pretty pleased with the effort of the guys. I keep thinking defensively we should be ahead of where we are and we're probably not where we need to be in terms of that. We've played really physical up front on the offensive line. We've got some dinged up that have been out but we've got some young guys that are coming along and picking things up. The good news those 21 freshmen, new guys, mid-years, whatever you want to say, they're going to be a lot closer to being ready the next time we have scrimmage one in the fall. I'm excited about where they're going to be but maybe not where they are."
Smart's thoughts on the quarterbacks today and where they are at this point in spring
"It's like everything, the ebb and flow. I can think of really good things each one did and I can think of really poor things each one did. So, it's not like one guy is sticking out. Carson has really good command of the offense. He understands it inside and out. He communicates it, gets things correct. He had a couple of poor decisions and choices today, but he also made some plays. He made some really good throws. He has really good presence in the pocket to move around. Brock made some plays. He made some plays getting out of the pocket. He made some good throws. He had a couple of downfield throws I think he wish he had back, give us a chance in some 50-50 situations and keep the ball in bounds with that, but he did a really good job in two minute and then Gunner made some plays. Gunner made some plays with his feet. He's still, the administration of the offense and getting everybody lined up, getting going, getting the call in, which is not all on in, he's growing and getting better. He made some nice throws. I'm going to keep repeating myself, but we've got three pretty good quarterbacks. They've grown each one of them and they're all three different in their own right."
Smart on if the dynamic of the quarterback battle has changed since start of spring
"I don't think the dynamics have changed. Brock and Carson are both getting reps with the ones. Gunner got some reps with the twos, predominantly threes, but our threes are in a better state. There are times where you have your threes and they couldn't function. This three group has really good skill players in it. We're not used to having this many wide receivers on our threes so he had some good guys to throw to, the offensive line with the threes has some experience – a couple of walk ons – but it functions so you can evaluate Gunner better where there's not always a chance to do that with the threes. I can't sit here and say that the dynamic has changed in any way shape or form. I think we'll evaluate this scrimmage and come back in on Monday and be able to say, 'Okay, what did they do well or poorly with no coach on the field?' It's still a tough evaluation because there's probably ten plays out there in the scrimmage where I have to say a guy got sacked. Well, did he get sacked or did he not get sacked because we didn't tackle? So you give the benefit of the doubt to the defensive player that's standing there unblocked, but they actually have to get them on the ground. Until you tackle a guy live, which we're not going to do, it's not going to give you a true evaluation."
Kirby Smart on the overall speed of the wide receiver group
"I don't know that (they're the fastest). It's hard to say that because you throw Arian in there and you know he's fast, he's as fast as we've had but he's been a part of the recent receiver groups. CJ Smith is really fast, and he's done a really good job growing up. Anthony Evans has been dealing with a little bit of an ankle sprain. He went early in practice, but didn't get to finish out. He didn't reinjure it, he's just got a nagging injury but he's fast. It's hard to say. I think it's one of the largest sheer group we've had in terms of numbers. We're able to put ones, twos, threes out there where I can remember in past springs we were just depleted at that position. So I can't answer whether it's the fastest or not."
Smart on Austin Blaske and Earnest Greene at left tackle
"Oh, (Blaske is) a competitor. I don't know that there's anybody on the offensive line that practices as hard and as physical as he does day in and day out. He doubles as a center, too. He goes in and plays center as well, so he's really intelligent. He's worked really hard. He's really good on our loose plays, he can cover down, he's athletic, he does a good job. Earnest is doing a really phenomenal job as well. Earnest gives us something we didn't have in the last couple years, you know, in the run game, he's really physical. He moves people and he [inaudible]. So those two guys are battling it out there. And we've got to be able to flip, too, we can't just all be one side. So whether Amarius is there or Amarius is at left, you've gotta have at least a couple tackles that can flip and go back and forth. They've both done a good job doing that."
Smart on the outside linebackers
"Green. Extremely green. Never seen one as green. I mean, the issue is even the old players, calling Darris (Smith), Marvin (Jones Jr.), CJ Madden old, none of them really have true playing experience. I mean, Marvin probably has the most and he's out, CJ was injured all year and going through a shoulder surgery a lot of the year and kind of recovered from that, so he's out there getting reps and then you've got the incoming mid-years. It's very unique. But I like what we have. I wouldn't trade the room for somebody else's room, because we've got some good players in there. They've just got a long way to go. I go back to Nolan's freshman year, you watch all the clips, he wasn't where he was Year 3. And he's not supposed to be. And they're not. Jalon Walker last year, played a lot in pass rush situations. So he's been able to do that as well."
Kirby Smart on injuries and the running back room 
 "I don't think we lost anybody today. We had some guys who were not able to scrimmage today, but we didn't lose anybody within the scrimmage. 
"Daijun has been dealing with a hamstring, so he's been in out and out. He's hitting some good miles per hour, he's really close and might could have pushed it over the edge today to go give us some more depth at back. We didn't do that, but hopefully after having days off Sunday and Monday, we'll have him ready to go Tuesday. Obviously, Kendall's injury, he's out. Branson did a good job. I think we ended up giving him 10 carries for him and about 10 carries for Rod (Roderick Robinson). That's a lot for us in a scrimmage, we tend, the guys who haven't played in games in the fall, we tend to get them 10 or 12 in a scrimmage. Guys that play a lot of  games, we try to get them four or five in a scrimmage, but those guys did a nice. Clark did a nice job, Cash has been working at that position and has done a really good job. We got a couple of guys – (Joseph) Daniels and (Miles) Thornton – have moved there from DB and receiver, and they've actually been a blessing for us – two walks ons, who have done a really good job." 
Smart on the tight end room without Darnell Washington
"It's not the same. We don't have that same mass and movement. It doesn't just affect the run game, it affects the play-action pass game. Where Darnell was elite, yeah, he could block you, he could go out on the perimeter and block you, he could get vertical on play action. But when we max protected, it was like having an extra offensive lineman in. Oscar is doing that. Oscar has been a pleasant surprise blocking this spring. He's come so far. You don't know much Oscar got better versus who are the people he's blocking. He's not blocking Robert Beal and Nolan, he's blocking, Gabe, Sam, C.J. and even Chaz. Oscar has done a good job going against Mykel when he was out there, and (Ingram-Dawkins). I like the competition at tight end, but we don't have the depth, especially with Pearce out that we need." 
Smart sharing Mykel Williams update
"Mykel had a foot injury that bothered him all year. He did not get a new injury in practice, he had a continuation of a small sesamoid bone that Ron felt like if he couldn't handle it with maintenance, meaning treatment and getting better recovery, that we would have the possibility of (surgery). So, we decided to do that. He'll b back running in June and working out, so it was more of a choice that he and his family made on advice of the doctors, but not a true injury. It's something that's been nagging him. We wanted to clean it up for him and get him healthy." 
Kirby Smart on Javon Bullard's best position 
"He's a really good blitzer, he's a really good star, he's really one of these naturally good football players. He reminds me a lot of Chris Smith because Chris could play star, Chris could play safety, and some corner. When we recruited Javon out of high school, he was a deep part of the field player, he broke on balls, made lots of tackles. The things we saw on tape, we see now. He's competing for the strong safety spot; he's repped at star and nickel, so I'm very pleased with where he is but we're trying to get him better."
Smart on what he looks for out of the quarterbacks in a scrimmage
"Demeanor. Demeanor and communication. So, like, I can get the stats. It's like, a true quarterback is a decision-maker in our system because some systems take all the pressure off the quarterback and they just go really fast. We don't do that. We're a quarterback-driven offense, so can you process the information — that means get the signal, get people lined up then see what the defense is in and figure out are we in the right situation? Which of these three choices that Coach Bobo is giving me am I going to utilize on this play? And then the play happens. There might be a mistake or a breakdown, and you not go full metal jacket and have catastrophe mode and put us in a bad situation. 
"So, decision-making is the number one thing I want to see at the quarterback position. Can you make consecutive decisions over and over that don't cost our team games? Because we have enough playmakers and we have enough plays that you will make a play inevitably. Don't make a boneheaded play, and that's what we're trying to avoid."
Smart on Georgia transfers, impact they're making early on
"Yeah, RaRa had — I don't know what day it was — he had a little bit of a bone bruise on his knee, so he missed one or two days, came back Thursday, had a good practice Thursday, was catching his wind and then he had a pretty good scrimmage today. Biggest thing with RaRa is he's shown us some ability to make plays downfield, which we think we really need. He catches the ball well. He's got to learn the system. Like with him, it's these little administrative things: What's my split? What's the call? How do I get the signal? Where do I line up? Because he wasn't in a system where he had to do all those things. So there's a little bit of a learning curve there, but we've got a guy with good ability. He's got to be more dependable.
"And then Dom has picked things up nicely. Dom's very intelligent. Dom's been able to make some plays down the field. I've been very pleased with Dom. He's been matched up on Tykee and Bull and Joenel a lot, and he's made some plays on those guys. I've been really proud of what Dom's been able to pick up.
"And then Deyon Bouie is another guy that, you know, he's got to learn the defense. He's got to a long way to go in terms of picking it up, but he's not afraid to compete and go out there and work."
Kirby Smart on Branson Robinson, jump he's making in his second season
"He's working. I mean, I can't think today — I don't know if he had any catches out of the backfield. We had several guys with catches out of the backfield. I don't know that he got any opportunities. I know he got his share of carries. He continues to work on that. I thought he looked quick and powerful today. He broke some tackles like you would expect. He could've easily played last year and played more. We had guys that were capable and in front of him, and he was, you know, [facing] a learning curve of pass protection. So the biggest jump he has to make from year one to two is can we count on you in pass protection and can you catch the ball when we're free releasing you out as a back. He's shown the intelligence and toughness to do that."
Smart on Nolan Smith, what an NFL team gets with him
"Oh, he's going to make the organization better. He's going to make the community better. First of all, he's a very bright individual. He's a huge personality. He's a hard worker. He's coachable. That's why they draft those guys in the first round: they want to look and say where are the pitfalls? When you look at Nolan Smith, you're not going to get many because his character stands out. He's got a great mama and grandmom at home. They raised up a bright young man. He's fun to be around. He texts me all the time, and you can tell he's — I miss him because when you walked into the team meeting room, he was sitting right there smiling, loud as hell, always talking. And they're going to get a great personality that I think will represent whatever organization takes him. He'll represent them the right way."
Smart on the cornerback battle
"I would say Kamari has played well. He's ahead, not where he needs to be in terms of needing to continue to grow and get better. The steps he's been taking have been toward leadership and toughness. He's showing people how to practice. There's really open competition. Those guys roll through their Daylen (Everette), Nyland (Green), Julian Humphrey and really A.J. Harris and Deyon (Smoke Bouie). We're trying to find out who is going to play the best, who can match with the guys.
"A lot of it is not just who can make plays. Who's not going to give up explosives? Our defense is going to allow us to stop the run and do a lot of things. Who's not going to give up plays on the perimeter?
"It's very similar to the quarterbacks. All three of those guys have flashed. So who is going to be the best after the next 26 practices we've got to have. I don't know if we're ready to say that yet. They've all had moments of success, and they've also had moments of failure, probably even today, a couple of those guys mentioned had picks and big plays, and they also gave up big plays."
Smart on play of Jamon Dumas-Johnson this spring
"He and Smael, I think they started out the spring not knowing like, ok,  a curious position (because) last spring, I've got a chip on my shoulder, nobody knows who I am, everybody is questioning us, I'm the new leader and they are out there hungry and just eating off the floor. Then they have good seasons, both of them did in their own rights, Smael played really well, and Smael had a great offseason in terms of lifting weights and working and Smael has come on and is playing really good and they go out in spring ball and there was a point in time there were I felt like I needed to call them in because I don't know that they were practicing with the same ferocity that they would have been practicing with last year. I showed them some clips, I said, 'here's last spring, last fall camp, and this is the way you were practicing, because you had something to prove, but now, here's the first four practices of this spring, is that the same two guys?" I think they both acknowledged that it probably wasn't, and it needed to be.  That's the disease that's out there. I'll say this, since that conversation they've both really picked it up and been great leaders. It wasn't that they were doing anything wrong. It's just they weren't doing it right enough to the Georgia standard."
Kirby Smart on the receiving skills of running backs, who has stepped up
"It's almost impossible with the situation we have with Kendall and Daijun, and you're not going to replace Kenny's receptions with the backs we have. Andrew Paul is out, so you're sitting there going, Andrew Paul is almost back, but he's not, Daijun is almost back but he's not. Kendall is out. It's been tough. But that's why we have a wideout that's 200 pounds moved to running back in Thornton and we've got a DB that's 200 pounds that's moved to back, and those two guys, Daniels and Thornton have done great, man, they're part of the culture at Georgia of, you go out and get really good high school players from the state of Georgia and they can play any position, and they have helped with their receiving skills. Now, Branson is still working on that, and Rod is still working on that."
The post What Was Said: Kirby Smart after first scrimmage of spring practice appeared first on On3.