What we know after a (publicly) quiet day at the ACC spring meetings
6 min read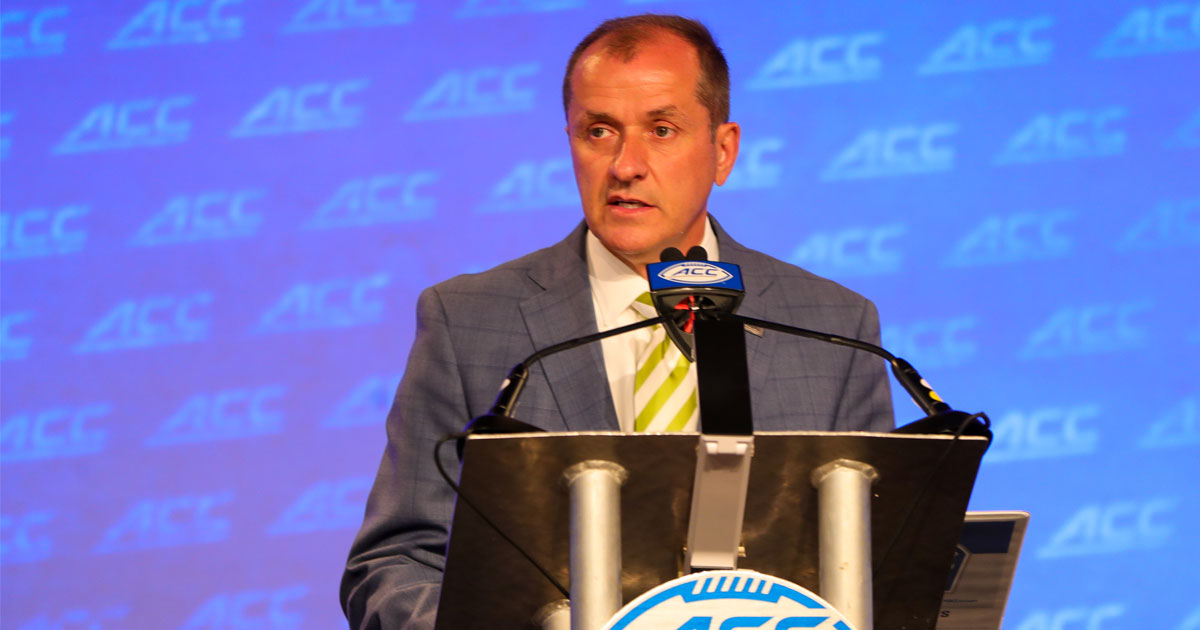 AMELIA ISLAND — Athletics directors, coaches and ACC staff members were still gathering in a lobby of the Ritz-Carlton resort here Monday afternoon when longtime college football reporter Brett McMurphy pressed the send button on his Twitter account.
McMurphy's soon-to-be-viral tweet was a follow-up to an article posted earlier in the day by Sports Illustrated's Ross Dellenger. In that piece, Dellenger reported that representatives from seven schools in the ACC have been holding clandestine meetings in recent months to discuss their future and what they describe as an "untenable situation" in the ACC.
"Officials from the seven schools, led by Florida State and Clemson, have met a handful of times over the past several months, with their lawyers examining the grant-of-rights to determine just how unbreakable it is," Dellenger wrote.
McMurphy's tweet then went a little further, actually naming the other five schools who are working alongside Florida State and Clemson: Miami, North Carolina, N.C. State, Virginia and Virginia Tech.
Naming the schools was quite the development, especially given the timing.
The first round of ACC spring meetings weren't scheduled to begin until 3 p.m., but the lobby was quickly abuzz with conversation about the reports.
There also was plenty of talk about Florida State athletics director Michael Alford's recent comments to Warchant. The second-year A.D. said he would continue pushing for larger payouts from the ACC in light of reports that schools in the SEC and Big Ten will soon be receiving an additional $30 million — or more — each year, compared to the Seminoles and other schools in this league.
"I've made it abundantly clear that there's a $30 million gap that's starting next season," Alford said. "And that can't go on for years, because then you just can't catch up."
With all of that as a backdrop, ACC coaches and administrators held a series of meetings Monday with media partners and other guests inside the Ritz-Carlton.
At 5 p.m., the league's athletics directors went into a separate meeting that was scheduled to run until 6 p.m. — after which, several A.D.s said, they would speak with reporters about the day's events.
That meeting went past 7 p.m., at which point ACC Commissioner Jim Phillips returned from a different area of the resort and joined the meeting in progress. About five minutes later, he and all of the athletics directors exited the room and quickly walked past reporters, saying that they were late for their 7 p.m. dinner function. More than one athletics director said he would speak with reporters on Tuesday.
It was a peculiar conclusion to a peculiar day.
While no university officials wanted to speak with the media on Monday, here are a few things we can gather and put into context after observing the events of the day and recent weeks.
The number of schools is significant …
According to a source with knowledge of the situation, eight is an important number in this discussion because it represents the number of schools needed to make certain decisions regarding the future of the Atlantic Coast Conference.
If the seven schools mentioned in McMurphy's tweet are all unified with the intent of doing something drastic, such as breaking apart the conference, it would only take one more school to reach the simple majority of eight. And Dellenger suggested in a subsequent podcast Monday that Notre Dame could be the eighth.
… but it's not everything
Even if Florida State, Clemson and six other schools all wanted to take such drastic measures, it's not known if the remaining seven schools (and the conference and television partners) would be able to mount a successful legal challenge. And if they were, it's also unknown what the expenses and penalties might be, considering the Grant of Rights currently extends to 2036.
While we know that attorneys from Florida State and Clemson have gone to the ACC's North Carolina offices to review documents related to this whole saga, we do not yet know if they feel completely confident about challenging the Grant of Rights.
Uneven revenue sharing not likely the solution
Alford, Clemson A.D. Graham Neff and Miami A.D. Dan Radakovich have all stated publicly that they want the conference to switch to uneven revenue sharing, something the ACC has been studying for the last year. And the topic is definitely going to be addressed in great detail during this week's meetings.
However, there is very little optimism it will solve all of the league's problems.
What is most likely to garner support from the rest of the conference is a formula where schools would receive larger payouts based on performance on the field. The idea is to reward teams who are investing in their programs and turning in successful seasons.
But that approach alone won't likely appease Alford and some A.D.s at big-name brand athletic programs. They believe their schools deserve larger portions of television revenue because they draw the highest TV ratings, regardless of their win-loss records in a given year.
That approach will be a much tougher sell to the smaller schools in the conference. And even if it worked, it's unlikely to make a major dent in the $30 million annual gap.
Destinations will be crucial
At this point, it's no secret that Florida State and some other schools would like to hop on the next chartered bus out of the ACC. Heck, maybe even the next Greyhound.
The question is whether each of those schools would be guaranteed of landing in a conference that would pay them more money than they currently receive each year from the ACC.
Arguments could be made for several of the schools McMurphy mentioned being picked up by the Big Ten or SEC if they were to come on the open market. Florida State and Clemson would definitely be desirable to one or more conferences, and there's a feeling that the other schools would have suitors as well.
But is it possible for schools like Virginia Tech or N.C. State to know that for a fact before they actually take the plunge? And with so much money at stake, would they really take a leap of faith without a certain destination?
Seems like a matter of when, not if
Since the ACC meetings are held behind closed doors and because no athletics directors spoke publicly Monday, we don't know how serious the conversations were in general — and whether the A.D.s even discussed plans for the future.
What we do know is the conference is extremely unstable right now.
For well over a decade, there have been moments of unrest within the ranks of the ACC — and that's bound to happen when one conference earns substantially less than its peers. But it doesn't seem like it's ever been quite like this.
Several A.D.s have now publicly complained about the ACC's payouts in recent months. Seven schools have apparently been meeting behind the rest of the league's backs. Notre Dame A.D. Jack Swarbrick has repeatedly made comments about the SEC and Big Ten being the largest forces in college athletics. And then there was Monday's lengthy meeting and the silent treatment with the media.
I don't know when things are going to change for the ACC and its current membership, but it doesn't seem like anyone in the industry believes the league is poised to turn things around.
When issues like these have bubbled up in the ACC in the past, the big question was always whether anything significant was actually going to happen, or if it was all just noise.
These days, the idea of change in the future seems almost inevitable. The biggest question now seems to be when, not if.
Contact Warchant managing editor Ira Schoffel at [email protected], and follow @iraschoffel on Twitter.
Talk about this story with other die-hard FSU football fans on the Tribal Council.
The post What we know after a (publicly) quiet day at the ACC spring meetings appeared first on On3.