Where does Dak Prescott's salary rank following Jalen Hurts' new deal with Philadelphia
2 min read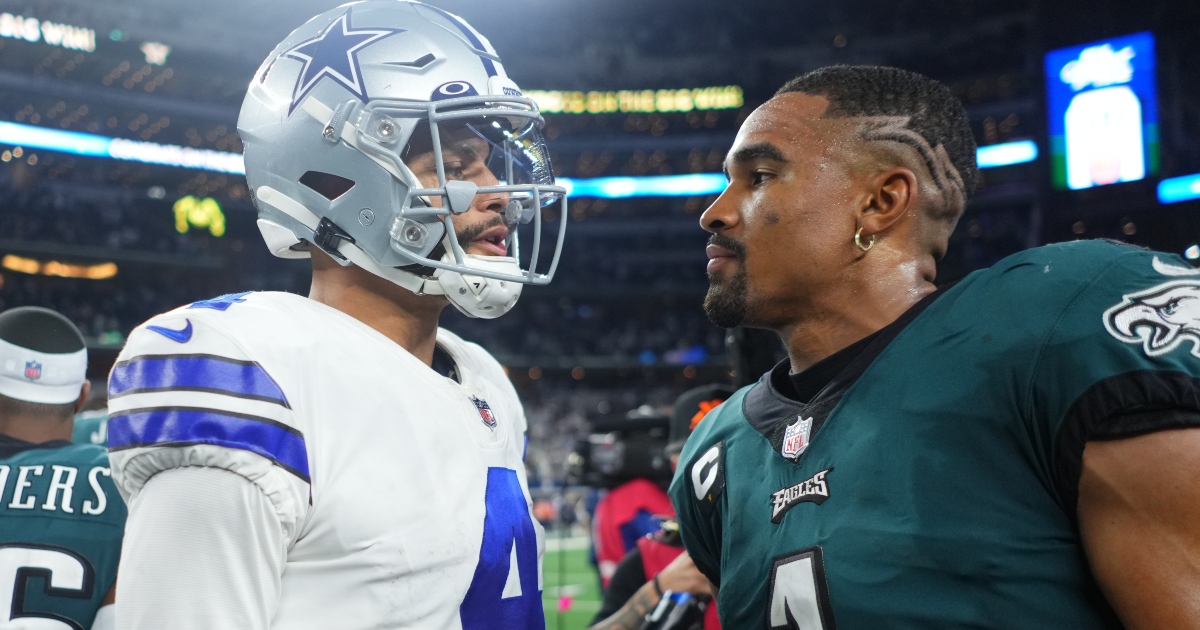 The Philadelphia Eagles reset the market for NFL franchise quarterbacks this week, inking Jalen Hurts on a five-year, $255 million extension on Monday.
Green Bay Packers quarterback Aaron Rodgers previously held the NFL's title for the highest average annual salary at $50.3 million but Hurts now takes over at $51 million.
Hurts' new deal with the Eagles gives the NFC East three starting quarterbacks making $40 million or more per year. Like the Philadelphia Eagles, the Cowboys and Giants are also cutting large checks, meanwhile, the Commanders are still working out their long-term future at quarterback.
Check out the updated ranking of NFL quarterbacks' average salaries ahead of the 2023 season, via Jon Machota:
Jalen Hurts: $51 million
Aaron Rodgers: $50.3 million
Russell Wilson: $49 million
Kyler Murray: $46.1 million
Deshaun Watson: $46 million
Patrick Mahomes: $45 million
Josh Allen: $43 million
Dak Prescott: $40 million
Matthew Stafford: $40 million
Daniel Jones: $40 million
Pressure up for Cowboys to extend Prescott
The Dallas Cowboys front office is considering an extension for Dak Prescott this offseason and the heat just went up with Hurts' signing.
The former Mississippi State Bulldogs star signed a four-year, $160 million in March of 2021. His current contract includes a 2024 cap hit of $59.5 million. When he signed his deal, it was the second-biggest, behind only Patrick Mahomes.
Despite already negotiating a contract restructuring with the face of the franchise, team owner Jerry Jones told reporters two weeks ago that Dallas isn't in "active" talks about an extension.
Although the Dallas Cowboys have said they have to have "a plan" to extend Prescott, Jones said those talks haven't begun yet.
Prescott hasn't divulged more than that in the last few weeks.
"100% I'm excited to be a Dallas Cowboy, as I said, always dreamed I'd be here," Prescott said, via the Dallas Morning News' Calvin Watkins. "Now I'm here, I don't expect to play for any other team. Now, it's just about winning.
"Just trying to get that done. To hear from the front office, as you said, looking forward to an extension. When the time comes, it'll happen. I'm with Stephen on it, it may just happen overnight. But when it happens, it happens. It'll be great."
Heads of the Cowboys' front office have said on the record several times this offseason that they intend to keep Prescott around for as long as possible.
The post Where does Dak Prescott's salary rank following Jalen Hurts' new deal with Philadelphia appeared first on On3.