Where SMU Basketball recruiting stands ahead of Final Four
2 min read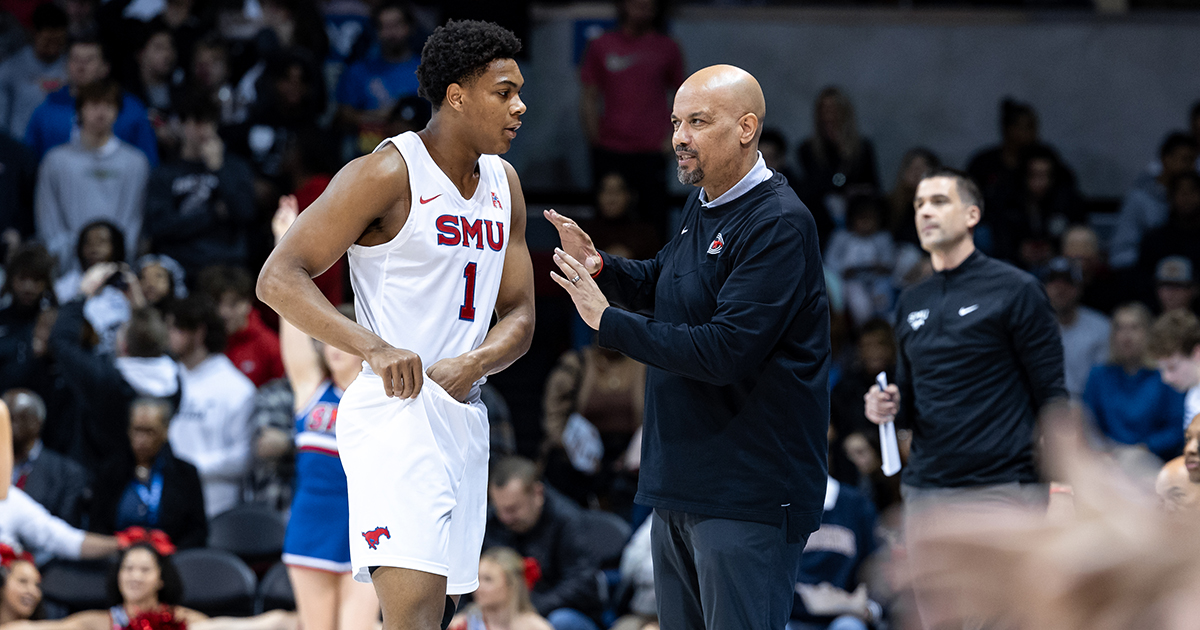 SMU Basketball won't be hosting any transfer visitors this weekend, but neither will anyone across the country with the Final Four dead period in effect. Rob Lanier and his staff are continuing to target players for next year's roster.
Here's the latest on those efforts and where things stand.
SMU hosted a trio of visitors that we know of last weekend, bringing in Temple guard Hysier Miller, Georgetown guard Denver Anglin and Butler guard Chuck Harris.
For Miller and Harris, visits could continue, but we won't know until next week rolls around and we see if they do in fact take them. Both were players SMU prioritized right away by the staff and gotten to campus, which is impressive. Now, getting one of those players would add a veteran guard into the backcourt.
Anglin is a former four-star prospect who is regarded as one of the best, if not the best shooter, in the class of 2022. Things went awry for him along with others on the Hoyas this season. He's still plenty talented and SMU sits in a good spot.
I briefly caught up with Anglin and he shared that he loved his visit. He added that he doesn't have any visits set elsewhere at this time. So, can SMU close this one out? There's still time for him to evaluate whether he wants to take more visits or go ahead and shut things down. Getting him in to upgrade the shooting department would be huge.
While players won't be coming in this weekend, SMU is already gearing up to bring in more players. One player to circle that SMU is moving in the right direction with it seems is Iona big man Nelly Junior Joseph. SMU could very well get him on campus next weekend.
The 6-10, 240-pounder was named MAAC Rookie of the Year in 2020-21 when he averaged 11.1 points, 7.5 rebounds and 1.3 assists per game over 18 contests. He's now started 82-of-85 career games and will have two seasons of eligibility remaining. He has risen in points and rebounds per game each of the last three seasons. This year, he averaged 14.9 points and 9.3 rebounds per game while bringing over a block a game to the table.
There were rumors he'd be committing to New Mexico, but the Senegal native shot those down. West Virginia, Vanderbilt, Murray State, New Mexico, Nebraska, and San Diego are among the programs who've been in contact. St. John's is also a program to watch with Rick Pitino taking over there.
Stay tuned for more info on SMU Basketball targets.
The post Where SMU Basketball recruiting stands ahead of Final Four appeared first on On3.