Who has the most to gain (or lose) for Kentucky this week at the NBA Draft Combine?
6 min read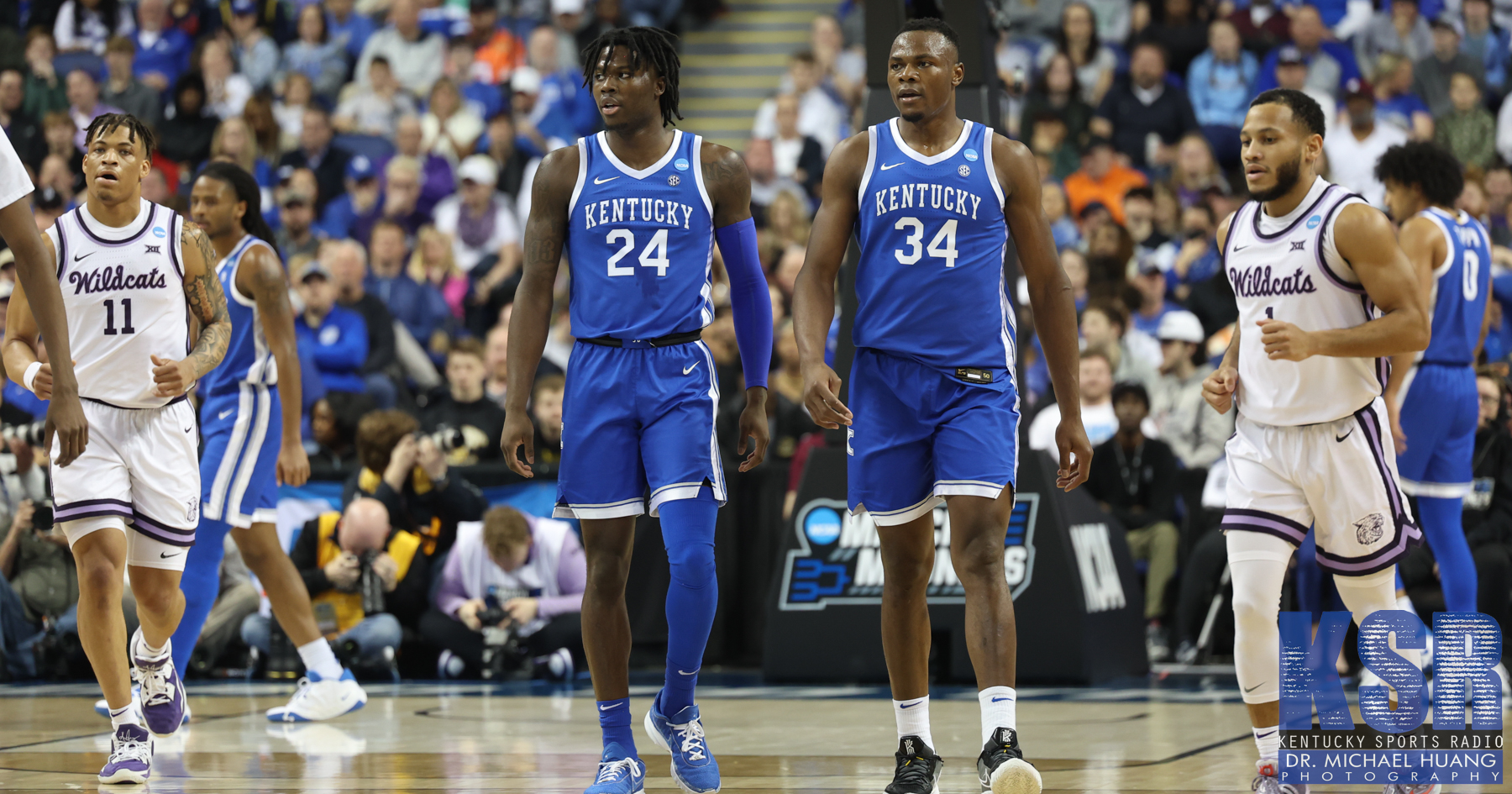 It's NBA Draft Combine week in Chicago, where 78 players have been invited to compete in five-on-five games and strength and agility drills while also interviewing with teams from May 15-21. At the conclusion of the NBA G League Elite Camp also held in Chicago from May 13-14, eight additional players have been called up, bringing the total to 86.
Kentucky guard Antonio Reeves was a participant in the G League Elite Camp, averaging 10.0 points and 3.5 rebounds over the course of his two days in Chicago — four points (2-8 FG) and three rebounds in game one, followed by a team-high 16 points (7-13 FG) and four rebounds in game two. He was not among the eight players invited to stick around for the Combine. Former Wildcat Jacob Toppin was previously on the invite list for the Elite Camp, but did not make the official roster — he won't be at the Combine, either.
Toppin's decision is final regardless, previously forgoing the remainder of his college eligibility to turn pro. Reeves, though, left the door open for a potential return to Kentucky after testing the draft waters. That was the expectation going into the process and his two-day stint in Chicago didn't do much to change that. He's ultimately expected back in Lexington.
And then there's the Combine, where three Wildcats have been invited to participate in Cason Wallace, Oscar Tswiebwe and Chris Livingston. Like Toppin, Wallace's time at Kentucky has come to a close, deciding to keep his name in the draft. As for Tshiebwe and Livingston, though, it's a major week for both players. Neither are seen as surefire draft selections — certainly not first-rounders — and could decide to return to Kentucky for the upcoming 2023-24 campaign. Or they could play their way into flier picks for NBA teams looking to cash in on Tshiebwe's niche as an elite rebounder or Livingston's potential as a former top-10 recruit.
Receiving invites indicates there's at least some intrigue there. It's also an indication that this process will drag out the remainder of the week for both players — the Combine wraps up on Sunday, just ten days before the withdrawal deadline on May 31. That's when stay-or-go decisions will be finalized for everyone in college basketball, right before student-athletes are scheduled to arrive back on campus for the start of summer classes in June.
Who has the most to gain (and lose) this week in Chicago? Let's go through the participating Wildcats, listed in order of ESPN's best available draft prospects:
Cason Wallace
ESPN's Best Available Rank: No. 12 overall
The versatile guard probably has the least to gain or lose among Kentucky players going through the draft process. Wallace is a plug-and-play prospect with a high floor, a playmaker on both ends of the floor. He could play his way up or down a few spots in Chicago, but he's pretty firmly locked in as a lottery talent. When weighing boom-or-bust vs. risk-free options, the 6-foot-4 combo sits comfortably atop the latter category as a low-maintenance winner. He won't have to wait long on draft night regardless of how things go this week at the Combine.
Oscar Tshiebwe
ESPN's Best Available Rank: No. 64 overall
"NBA teams want to see him play outside the Kentucky system. (The Combine is the) best way for him to know if he should stay or go back. Rebounding translates and I personally know he can shoot it a little better than he showed at Kentucky, too."
That's what an anonymous NBA scout told KSR ahead of the Draft Combine regarding Tshiebwe, adding that they envisioned a team would be comfortable selecting him in the second round. He's got his defensive deficiencies and he likely won't test well this week in Chicago, but if he produces in five-on-five as a clean-up specialist with shooting touch — out to the perimeter, preferably — he could work his way into the draft conversation. If he's exposed defensively and the turnover bug bites, teams could write him off completely this draft cycle — and maybe permanently, at least as a serious NBA prospect. At some point, he simply is who he is; another year in college likely wouldn't fix their concerns.
But again, he's got a clear niche and an elite pro trait, something most fringe draft selections don't have. It'd be a surprise if Tshiebwe is ever a long-term starter in the league, but as a spark plug energy guy off the bench capable of getting you a few quick buckets and rebounds against opposing back-of-rotation bigs? Why not?
The process of finding out whether he can earn a guaranteed contract in the draft and if that's enough to compensate for potential NIL earnings by returning to college starts now.
Chris Livingston
ESPN's Best Available Rank: No. 74 overall
All of the talk about role and usage with Chris Livingston at Kentucky is now thrown away at the Draft Combine. His basketball future is in his own hands regarding what position he plays and how he feels he can prove his worth as a pro in front of league personnel. Going into the process, his stock was essentially nonexistent, with the Klutch pull and his prior status as a blue-chip recruit doing some of the heavy lifting regarding draft conversations. Now, though, it's on him to show he's draftable.
What does that entail? If he's going to be a wing in the NBA, 43/30/72 shooting splits aren't going to cut it. And if not, ball handling and hand strength have to improve to be a pure slasher. He's got multipositional defensive versatility, but if that's going to be his calling card, an emphasis on fluidity has to be there and engagement is crucial. If there is a belief (there is) within Livingston's camp that his talents weren't put on full display in Lexington, now is the time to prove it against other players fighting for their professional lives.
What does Livingston have to gain by going through the Combine? Clarity, honest feedback from NBA teams who would be signing his paychecks from this point forward. What does he have to lose? Well, his eligibility should he decide to bet on himself and forgo the remainder of it at the collegiate level. Being a one-and-done sounds good on paper, but at the expense of starting your career in the G League rather than returning to NIL money and an expanded role as a sophomore at a blue-blood program?
Livingston could prove all of his critics wrong with a strong week in Chicago, standing out as one of the top performers in five-on-five games. John Calipari says he's "taken another leap forward" since his freshman campaign wrapped up: "Chris is one of the most driven, caring, smart kids I've ever coached. I absolutely love him." Maybe a team falls in love with him and he earns a draft guarantee — again, his Klutch connection won't hurt there. That's his ultimate goal.
It may sound like hyperbole to say Livingston has everything to both gain and lose at the Combine, but it's simply reality. If things work out the way he hopes, he's an NBA player making real money with some of the most powerful voices in basketball at his side serving as his representation. If not, he could find himself riding buses from small town to small town making tens of thousands in the G League.
Antonio Reeves
ESPN's Best Available Rank: N/A
As mentioned before, Reeves' time in Chicago has already come to a close, participating in the NBA G League Elite Camp this past weekend. He struggled on day one before finding his groove on day two, but it wasn't enough to receive the call-up to the Draft Combine. The standout scorer was already on the outside looking in as a draft prospect this go-round and needed to emerge as a clear head-turner to change that perception. That didn't happen.
Now comes his draft decision, one that could come down the pike sooner rather than later at this point as teams focus on players at the Combine and those with follow-up visits and workouts scheduled leading up to the withdrawal deadline. Kentucky desperately needs Reeves back, and now after testing the waters, it'd be a pretty substantial surprise to see things unfold any differently.
His return would (and should) be a welcomed result, pairing a fifth-year microwave scorer with an all-in youth movement in the backcourt — headlined by DJ Wagner and Rob Dillingham.
The post Who has the most to gain (or lose) for Kentucky this week at the NBA Draft Combine? appeared first on On3.