Who's Next? A look at five 2024 Texas A&M commit candidates
4 min read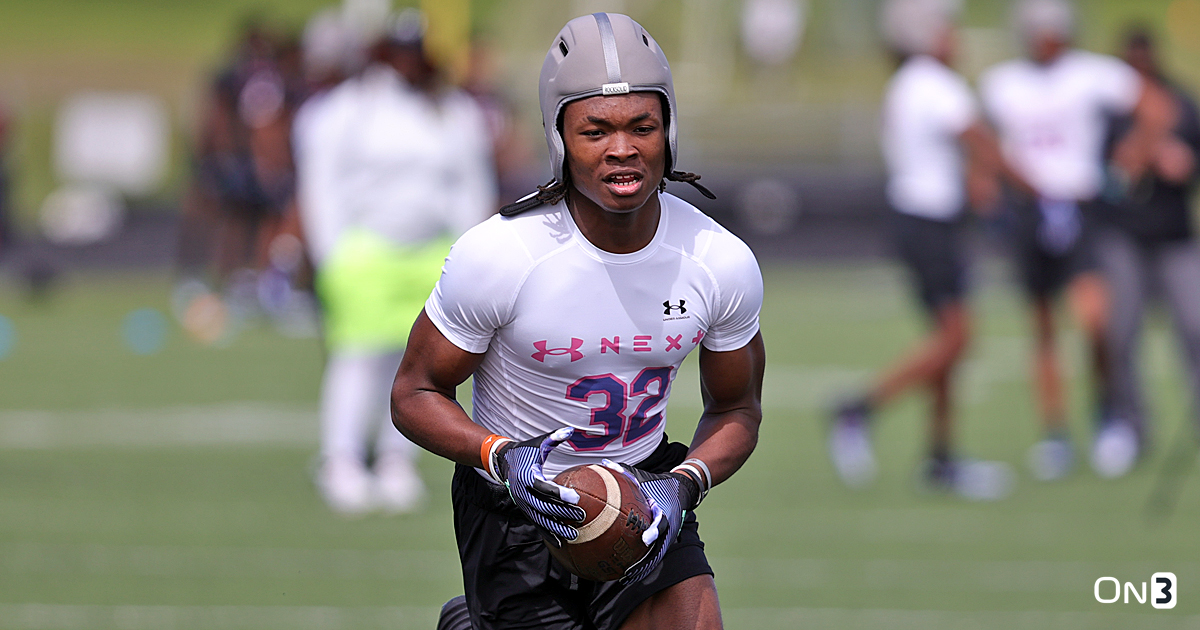 It is now April and Texas A&M only holds four commitments in the 2024 class. While there has only been commitment in 2023 for the Aggies, I think it is possible we some commitments this spring that could build upon Texas A&M's small but talented class.
To date, Texas A&M holds four commitments in the class of 2024 in four-star Hattiesburg (Miss.) Oak Grove quarterback Anthony Maddox, four-star Longview (Texas) Pine Tree defensive lineman Dealyn Evans, four-star Katy (Texas) Tompkins offensive lineman Ashton Funk, and four-star Alpharetta (Ga.) Milton wide receiver Debron Gatling.
So who are some other 2024 prospects that could jump on board early and continue to build the momentum? Here are five candidates.
Bussey is one of the premier talents in the nation, whether it be on the offensive or defensive side of the ball. And Texas A&M is the clear leader in the clubhouse to land Bussey. It was only last week that I put in a prediction for the Aggies to land the No. 1 ATH in the nation. In recent weeks and months, many thought it was around August that Bussey would make a commitment decision. However, with how busy Bussey is, balancing basketball, track and baseball, along with offseason 7-on-7 and, of course, his classwork, some sources now believe he will a decision sooner.
In fact, due to his schedule, it is possible he makes decision in June or July, before the summer ends. Several sources have indicated that Texas A&M is the leader in the clubhouse for Bussey. And with more spring visits on the horizon for the Aggies, it is time for the Aggies lead to only grow stronger.
OL Nate Kibble, Humble (Texas) Atascocita
Texas A&M has built a solid pipeline to Humble (Tex.) Atascocita and three-star offensive lineman Nate Kibble could be next in the line. The rising junior landed an offer from the Aggies in June 2022, and is quite familiar with College Station and Texas A&M's campus. He's played tackle through his high school career, but likely projects to the interior of the line at the next level. The Aggies elevated to the favorite to land Kibble the moment they offered him and it wouldn't be surprising if he lands in this class not too far from now. Kibble is a three-star prospect and No. 29 IOL in the On3 consensus rankings.
WR Zion Kearney, Missouri City (Texas) Hightower
The Aggies offered Kearney last June, just hours after the 6-foot-2, 200-pounder recorded a 4.28 40-yard dash at the TCU DFW Showcase megacamp. The four-star has visited Texas A&M more than five times since landing the offer, twice to work out at Texas A&M's camps, returned while in the area for the State 7-on-7 Tournament, for the Aggies' pool party event in late July as well as during the season in 2022.
Texas A&M is in Kearney's top-6 along with Oklahoma, Nebraska, LSU, Arkansas, and Houston. Aggies currently lead the On3 RPM at 37.9%. Kearney is the No. 10 wide receiver and No. 67 overall in the On300.
RB Jeremy Payne, Missouri City (Texas) Hightower
Payne is an offensive counterpart of wide receiver Zion Kearney at Missouri City (Texas) Hightower, and the Aggies would like to see them move that relationship to the next level. Texas A&M offered Payne over a year ago and all proceeded to then put up 1,329 total yards and 19 touchdowns as a junior. Currently at 5-foot-10, 170 pounds, Payne is a two-sport athlete, playing baseball as well where he plays second base, shortstop, and center field. He is a fantastic athlete and would give the Aggies yet another multi-use weapon to use in their offense in the future. Payne is the No. 23 running back and No. 258 overall in the On3 consensus rankings.
LB Xavier Atkins, Humble (Texas) Summer Creek
Yes, Atkins remains committed to LSU, but Texas A&M is making a move for the new Texas resident. Atkins committed to LSU while he was still living in Louisiana and it seemed like a natural fit. He then transferred to Summer Creek this offseason and is now closer to Texas A&M territory which has given him the ability to connect with the Texas A&M people and culture. It is my belief that Texas A&M is setting up the pieces in this recruitment to make a move for a commitment flip. He recently visited campus and the staff rolled out the red carpet and gave Atkins a top shelf treatment which should likely go a long way in potentially flipping the 6-foot-1, 190 pound tackling machine.
The post Who's Next? A look at five 2024 Texas A&M commit candidates appeared first on On3.