Why Cutter Boley is a critical recruit for Kentucky football
6 min read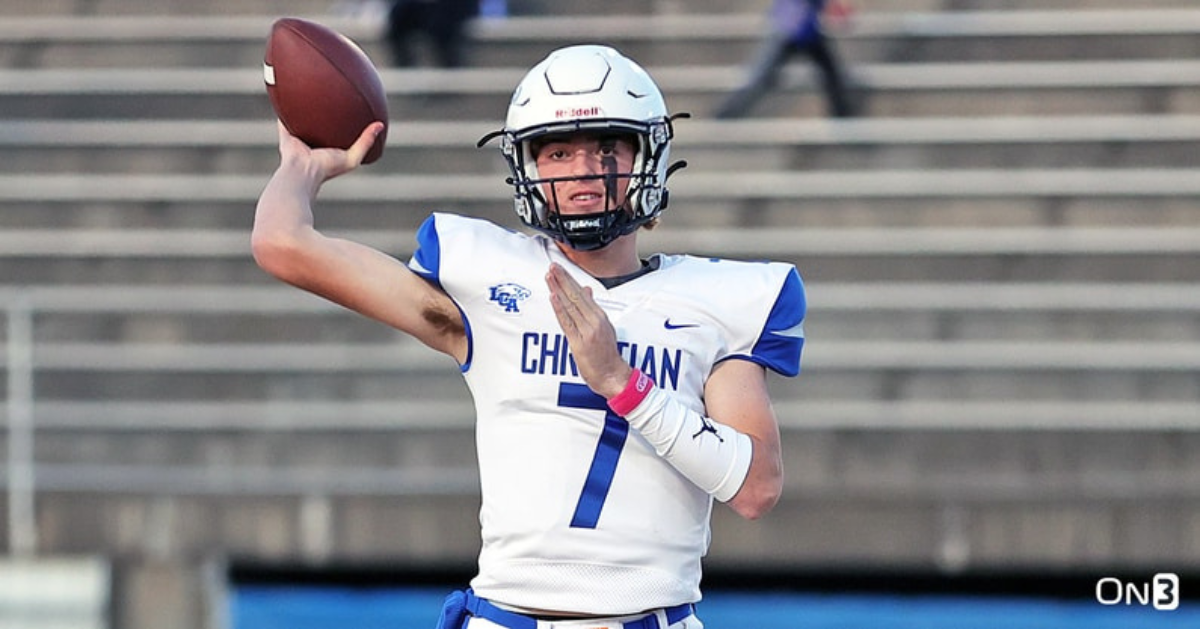 Kentucky football is behind in the 2024 recruiting cycle. There is time to make up ground, but some moves will need to be made soon. A big fish can be landed on Thursday when top-100 prospect Cutter Boley makes his college decision.
The Lexington (Ky.) Christian Academy quarterback has locked in an announcement for Thursday at his high school, and KSR will have boots on the ground to cover the event. Kentucky is on the verge of landing one of the top quarterback prospects in high school football, and it is needed in a big way. On3's Recruiting Prediction Machine says that the Big Blue Nation will be extremely excited during Thursday's lunch break.
The fact of the matter is that Cutter Boley can check multiple boxes for Kentucky when he ultimately signs with the in-state school. This is a massive recruitment for Mark Stoops' program for a plethora of reasons.
A blue-chip high school recruiting win
When offensive coordinator Liam Coen was hired by Mark Stoops in December 2020, the first order of business was to hit the transfer market to find a player that could come in and start immediately behind center. Coen found Penn State transfer Will Levis who would start for two seasons at Kentucky before becoming a second-round pick in the 2023 NFL Draft.
To replace Levis, Kentucky went back into the transfer portal to land NC State quarterback Devin Leary. Another northeast native, Leary will work with Coen in 2023 and could give the Wildcats consecutive draft picks at quarterback. That has never happened in program history.
Kentucky is one of many schools in power conference college football that has benefitted from the transfer portal. Big programs are no longer allowed to horde quarterbacks as the one free transfer rule has given players more power to find playing time. In the SEC, more than half of the projected QB1s entering the season were former transfers. Looking for quarterbacks in the portal is a real roster-building option that should be looked at yearly, but high school recruiting still matters.
The top quarterbacks in the NFL Draft typically are not transfers. The best players are usually able to find starting spots right away in college football. Who are those top quarterbacks? They were highly-ranked recruits. Both Bryce Young and C.J. Stroud were top-100 recruits. Players like Kenny Pickett and Justin Herbert can slip through the cracks by playing above their recruiting expectations, but more times than not, the best players in high school are the best players in college. Some programs can find ways around this due to good evaluation and development. Unfortunately, we haven't seen that in Lexington over time. Inefficient high school recruiting at the quarterback position has put the Kentucky offense behind the 8-ball for most of the Stoops era.
In Kentucky's first full signing class under Stoops, the Wildcats kept top-125 prospect Drew Barker home and built a top-25 recruiting class around the blue-chip QB. Mike Edwards and Boom Williams were key recruiting wins in that cycle. Quite often in college football recruiting, quarterbacks have a ton to do with strong recruiting hauls. After another slow start for the second cycle in a row, the Boley bump can be the jolt this program needs. A high-profile quarterback could now be publicly recruiting for the Wildcats.
Evaluating quarterbacks is difficult. In many ways, football organizations are investing in a lottery ticket that they believe has a good chance to cash. However, the NFL has a draft based on order of finish, and college football has recruiting based on sales and resources. Getting an in-state prospect that could reclassify to the 2024 class gives Kentucky a puncher's chance at finding the best quarterback in this recruiting cycle and has added another influential recruiter heading into the official visit season next month.
A locked-in QB plan
A lot is still up in the air regarding when Cutter Boley will enroll in college. The blue-chip quarterback is currently a class of 2025 prospect but is eligible to take an official visit this cycle due to originally being a 2024 recruit. There is a thought that Boley will ultimately reclassify by joining Kentucky's 2024 recruiting haul.
So let's assume that Boley does move into the 2024 class and become Kentucky's third commitment and third in-state prospect to join the class. That immediately helps solve the future plan for Kentucky football.
Devin Leary is the man in 2023. After the season, Liam Coen and the offensive staff will again need to add another transfer to the equation at quarterback in 2024. After a redshirt year, Boley should be ready to compete for the starting job in 2025. Kentucky would then have a legitimate built-in three-year plan at the most important position in football with flexibility to go in the portal again in 2025 if things don't go as planned.
Constant high school recruiting misses have forced Kentucky to enter the transfer market. Stephen Johnson (junior college, Terry Wilson (junior college), Will Levis (transfer portal), and Devin Leary (transfer portal) were/will be the starting quarterbacks for Kentucky on Week 1 in seven consecutive seasons. Plugging in a transfer when there is a recruiting miss now and then is acceptable. However, it shouldn't be the only way a program can find quality QB play.
Boley will give Kentucky its first high-ceiling high school option that can grow with the program in a decade.
Some 2024 recruiting momentum
Boo Carter is a four-star defensive back/wide receiver in the class of 2024 who has an official visit locked in with Michigan. Tennessee is currently the favorite for the top-300 recruit, and Colorado is also making a push for the Chattanooga Brainerd athlete. Kentucky has fallen behind in this recruitment.
That can change with the addition of Cutter Boley.
Boley has an established relationship with Carter as the two are members of NPA, which is a football development program for prospective high school prospects. The duo made a trip to Lexington for a camp last summer and flashed a strong connection as a passer and receiver. The arrival of Boley should make Kentucky a contender in this recruitment again.
Don't be surprised if Kentucky gets an official visit scheduled with Carter soon. Having Boley in the fold will also add some recruiting mojo at a key time due to some important weekends in June being just around the corner.
To kick things off, Boley will be joined on his official visit to Kentucky by top-200 EDGE Brian Robinson, top-250 EDGE Jacob Smith, top-300 tackle Kevin Heywood, high three-star defensive lineman Dominic Kirks, and three-star tackle Jordan Floyd. All positions of need. All premium positions.
The Cats are trying to hold off Michigan and Penn State for Robinson. UK is looking to gain ground on Michigan for Smith. Penn State is currently the favorite for Heywood. Kentucky is in a great position for Kirks and is the only official visit that Floyd has scheduled.
Some other big prospects visiting later that month, but the June 9th weekend is a monster one for Kentucky football. Having Boley officially in the class could give the Cats a boost. It also helps that Boley lives in Lexington and can essentially get to the Joe Craft Football Training Facility at any time when the staff has recruits on campus to be the face of the signing class.
Cutter Boley will immediately make a seismic impact on Kentucky football before taking snaps in a college football game.
The post Why Cutter Boley is a critical recruit for Kentucky football appeared first on On3.