Why Southern Miss coach Will Hall has 'great confidence' in new Florida defensive coordinator Austin Armstrong
6 min read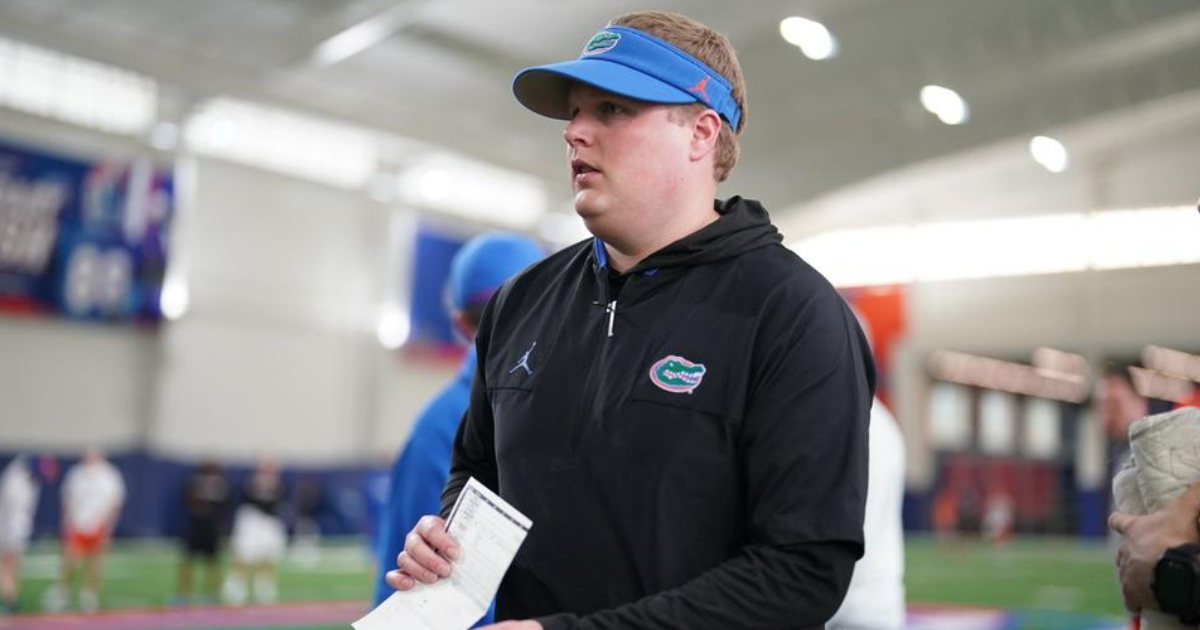 The process and communication that ended with Patrick Toney leaving his post as Florida's defensive coordinator for a job with the Arizona Cardinals lasted more than a week before Toney formally accepted the job February 22. That allowed Gators coach Billy Napier to be in a position where he had a replacement lined up even before the Toney-to-Arizona news became public: Austin Armstrong, a rising-star 29-year-old assistant who previously worked under Napier at Louisiana.
Armstrong was the defensive coordinator at Southern Miss the past two seasons, then was hired as Alabama's inside linebackers coach in January. He then moved to Florida as defensive coordinator a month later.
Under Armstrong, Southern Miss improved from 85th nationally in scoring defense under the previous staff in 2020 to 45th last season. The Golden Eagles ranked third nationally last season in tackles for loss (8.39 per game), fifth in sacks (3.39 per game) and tied for seventh with 17 interceptions.
While Armstrong's youth and the lack of Power 5 experience lead to fair questions about whether he'll be successful, some noteworthy coaches who have been around Armstrong (outside of just Napier) are confident in his readiness for his new job at Florida. Southern Miss coach Will Hall, who has known Armstrong as long as anyone in the coaching world, is one of them.
To help provide an understanding of why coaches like that have confidence in Armstrong, On3 asked Hall about Armstrong, his background and the new opportunity at Florida.
Q: What is the Will Hall scouting report on Austin Armstrong?
Hall: He's a football lifer. He's a guy that knew at a very young age that he wanted to be a coach. He grew up in a home in York, Alabama, that loved Alabama football, and everything in his household revolved around that. He had a cousin and family in Forest, Mississippi. They all played football at Forest High when Forest was going through a run in in the early '90s where they won several state championships in a row under Jack French. So he grew up going to high school football games at Forest, which at that time was one of the top high school football programs in the South. And so he was just always captivated with football and knew what he wanted to do and has been a lifer, and he's been blessed to be around some really good staffs. 
He played for Mike Turk at Huntingdon College (in Montgomery, Alabama), who is one of the top head football coaches in the whole South. Then he came with us at West Georgia. That whole staff is doing unbelievable things now. I was the head coach there. (Current Southern Miss offensive coordinator) Sam Gregg. (Southern Miss wide receivers coach) Desmond Lindsey was there. (Current Arkansas offensive line coach) Cody Kennedy. The d-coordinator at SMU was our d-coordinator, Scott Symons. The linebackers coach at Auburn (Josh Aldridge) was our d-line coach. The corners coach at SMU (Rickey Hunley Jr.) was there. Chad Williams was there, who's our linebackers coach here. So he was in a staff that all ended up being somewhat stars in this profession. Cayden Cochran, the tight ends coach here, was there. So he was a GA there for a year. Then we went to (Louisiana) and he was there, and then when we got fired, Ron Roberts (who's now the defensive coordinator at Auburn) kept him on. So then he was able to be under Ron. And then from there, he got hired at Georgia with (current Oregon coach) Dan Lanning and Kirby (Smart). Then Billy hired him back at Lafayette. He and Patrick Toney became dear friends. And then I hired him, gave him his first coordinator job. 
He's an old soul. If you talk to him on the phone or you just walked up on him and started talking to him and you didn't know his age, you would think he's 60-something years old. He's just an old soul in the type of music he listens to and the way he acts. He's just an old soul. He's a great motivator. He really studies the game. And he's been around a lot of great leaders of defense and programs at a young age, and he's prepared himself the right way. I love the guy. He's like a little brother to me. I love his wife, too, and her dad is one of the top high school coaches in the whole South, Coach (Trent) Taylor at Andalusia (in Alabama). He's just a football guy, man.
Q: How far back does your relationship go with Armstrong – 2016?
Hall: That's when we first hired him. My relationship with him goes back further. When I was the head coach at West Alabama (in Livingston, Alabama), he was in high school at Sumter Academy. They used to practice on our fields sometimes at West Alabama. So I knew his family. The neighborhood I lived in, he had some really close friends who were dear friends of mine and they were dear friends of his family. So when he got out of school and he was trying to get a (graduate assistant) job under me, he flooded me with phone calls from people that we were both connected to. And then also his kinfolk over in Forest, Mississippi, that were playing high school football when he was young, they knew my dad really well and had gotten to be friends with my dad. And so they were flooding my dad with calls, too, to give him an interview. So I was getting hit from everywhere. We had a defensive GA spot come open and 20 minutes into the interview with him, I called for a break and I told the defensive staff, 'I'm good if ya'll are good.' I said, 'Y'all let me know if you're going to hire him or not. I'm good with hiring him. If y'all don't, I'm going to create a spot on offense and hire him on offense.' They ended up hiring him and the rest is kind of history."
Q: Were there any specific areas that Armstrong impressed you most with his growth and progression in the past few years?
Hall: He was the leader of the defense and did a great job. We took a program that had been much-maligned and in a rut, and he did some really good things. Year 1, he took the talent we had and we improved a whole lot. And then this past year, he did a great job of creating havoc plays defensively. We had a lot of fourth-down stops [opponents were 7-of-27 on fourth down]. We had a lot of sacks. We had a lot of tackles for loss. He created a lot of havoc plays.
Another thing that he did, and I really appreciate this, was we inherited a program that was really behind the eight ball offensively. We only had seven scholarship o-linemen and one scholarship quarterback when we got here, and the rules were still in place that you could only sign 25 a year at that time. So we couldn't just flip our roster immediately like you can now, and we were not very good offensively like I've been in my past. He never once pointed fingers or blamed. He knew what we were going through as a team and always was a team guy. And I appreciate that. Me and him are close, so that probably helps in that, but that's rare nowadays.
Q. I know you covered some of the areas already, but what makes you confident in Armstrong heading into this opportunity at Florida?
Hall: He's been under great coaches. He's proven his worth everywhere he's been. He's gotten a chance to be a coordinator at the Group of 5 level and did a really good job. Natural progression is you get to a Power 5 coordinator job. People can say, 'Golly, he's never been a Power 5 coordinator?' Well, everybody has to get their first shot. Austin Armstrong has succeeded at every stop he's ever had. I have great confidence he'll succeed there. If that d-staff will buy into him and do what he says, they'll be successful.
The post Why Southern Miss coach Will Hall has 'great confidence' in new Florida defensive coordinator Austin Armstrong appeared first on On3.