Why Wyoming lineman Emmanuel Pregnon has become early hot commodity in spring transfer portal window
3 min read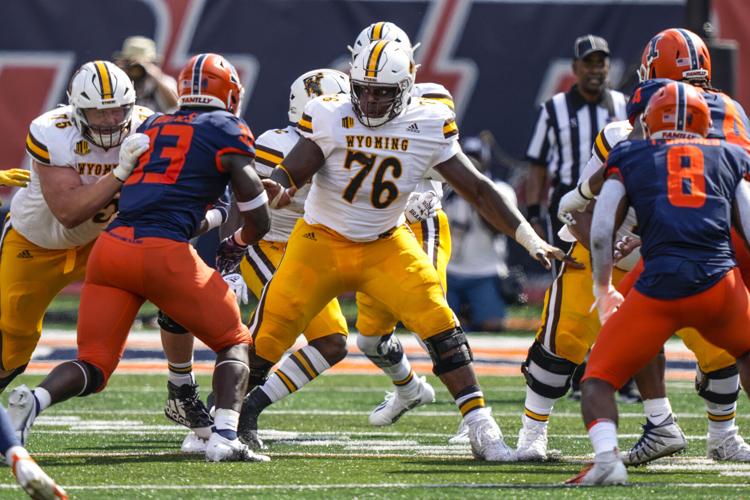 Through two years at Wyoming, Emmanuel Pregnon hadn't even played, let alone started.
Now, just months removed from his first season as a starting right guard for the Cowboys, the former no-star recruit could become the latest smaller-school offensive lineman to land at a big-time program via the transfer portal.
Similar to what happened during the winter transfer portal cycle with fellow offensive linemen such as Ajani Cornelius (who transferred from Rhode Island to Oregon) and Jeremiah Byers (who went from UTEP to Florida State), the 6-foot-6, 320-pound Pregnon has gone from an unknown to most people on a national level to quickly becoming one of the hottest commodities in the transfer portal.
Since entering the transfer portal Saturday, Pregnon has already received several Power 5 offers, including from Oregon, Ole Miss and UCLA. Based on feedback shared with On3, there are plenty of other upper-tier teams very interested as well.
"He's big, he's powerful, he moves well and he has multiple years (of eligibility remaining)," an SEC offensive line coach told On3. "That's what everybody's looking for. I know he's a weight room guy. He's just yoked up. Not really any fat if I'm not mistaken. You can tell he's got a high ceiling, a huge ceiling."
While one SEC personnel official mentioned that he doesn't have Pregnon with quite the same level of grade as Cornelius, multiple Power 5 personnel officials told On3 that they view Pregnon as the top overall prospect among the 89 FBS scholarship players that officially entered the transfer portal Saturday during the first day of the spring portal window being open.
That doesn't include Georgia defensive lineman Bear Alexander, who intends to enter the portal but hasn't officially done so yet.
Pregnon, who has three years of eligibility remaining, was a Pro Football Focus third-team All-Mountain West selection last season and a College Football News second-team Freshman All-American.
"When you look for an NFL caliber type of player, this is that," an SEC personnel official said. "I feel like he's got all the traits. He still has to become refined and still needs to develop a little bit more technique and learn to play through his hips, but I feel like this guy has a chance to start at guard, not just for us, but at a lot of schools. And everyone's looking at o-linemen."
Pregnon is the latest Power 5 transfer portal prospect to come out of Craig Bohl's program at Wyoming.
He'll likely be the eighth Cowboys player since the 2021-22 portal cycle to land at a Power 5 program, including the third this offseason after wide receiver Joshua Cobbs (Houston) and defensive lineman Oluwaseyi Omotosho (Oregon State) left for bigger schools during the winter portal cycle.
The 2021-22 portal departures for Wyoming included wide receiver Isaiah Neyor (Texas), running back Xazavian Valladay (Arizona State), rush end Solomon Byrd (USC) and defensive backs Azizi Hearn (UCLA) and Keyon Blankenbaker (Texas Tech).
Valladay ended up leading the Pac-12 with 16 rushing touchdowns last season.
That list of players led to some unprompted praise for Bohl and Wyoming from a Big 12 personnel official during a conversation about Pregnon.
Bohl, who has been the head coach at Wyoming since 2014 after winning three straight FCS national championships at North Dakota State, has led the Cowboys to a 46-38 record the last seven years.
He's guided Wyoming, which exceeded six wins just three times between 2000 and 2015, to seven wins or more five of the last seven seasons.
"Wyoming does a good job out there, man," the Big 12 personnel official said. "They're one of the best developmental programs in the country. They do a really good job. Tip of the hat to freakin' Wyoming. Every guy they have that gets in (the portal) goes somewhere big. People forget Craig Bohl was the one who started that North Dakota State train up over there. The guy knows what he's doing over there."
The post Why Wyoming lineman Emmanuel Pregnon has become early hot commodity in spring transfer portal window appeared first on On3.